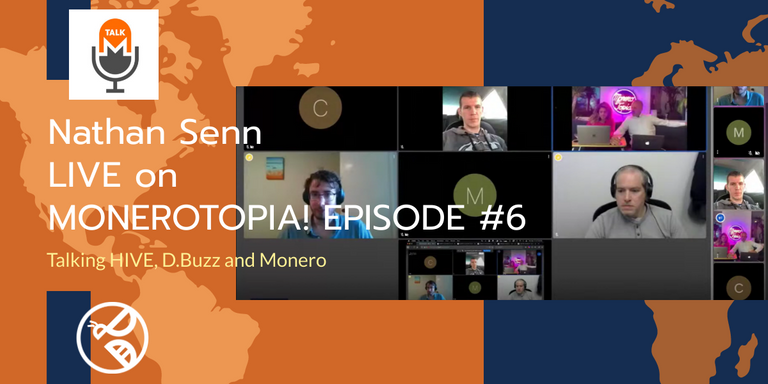 Lead Investor of D.Buzz, Nathan Senn on MONEROTOPIA! EPISODE #6
What's good friends?
D.Buzz coming back at you with some fun news for the day.
As part of our marketing efforts, we (D.Buzz) are reaching out to various online live streaming communities and setting up interviews. One of the first interviews we got the ball rolling on was with MONEROTOPIA.
What is MONEROTOPIA :
MONEROTOPIA: A laid back, chill out session with Chowbungaman, Sunchakr and Monero fans! …Oh, and a game where the more LIVE viewers tune in, the BIGGER the XMR prize! MAKE SURE TO SUBSCRIBE TO THE MONERO TALK YOUTUBE CHANNEL TO GET NOTIFIED!
source from YouTube link below
In this video one of the founders of D.Buzz, Nathan Senn ( @nathansenn ) talked shop about D.Buzz and HIVE. While this interview/pod talk is based around the awesome privacy token known as Monero (XMR), @nathansenn did talk about HIVE and D.Buzz. WOOT!
We are looking for more opportunities to jump on podcasts and live stream videos to talk about D.Buzz, HIVE, Hive.pm and Privacy. If you have any links or suggestions relating to people to talk to, please reach out to us on Discord and let's set it up!
MONEROTOPIA! EPISODE #6 VIDEO
LINK : https://www.youtube.com/watch?v=DjkGR99IEkY
| Note / Nathan air time | Time Link |
| --- | --- |
| Nathan joins the chat | 8:53 |
| Drops D.Buzz woot | 9:54 |
| Talks about HiveKey chain! | 10:30 |
| Transaction costs free on HIVE, YES! | 12:53 |
| IPFS BABY | 13:53 |
| Crypto Domains | 14:49 |
| Business Model | 15:30 |
| Open source ? | 16:09 |
| Monero story | 16:52 |
| Questions about Future of Monero | 31:58 |
| Is Monero Hackable? | 40:28 |
---
There were many more points that we wanted to talk about, but due to limited airtime we didn't get to touch upon all those points. We hope in future interviews to discuss more HIVE projects as well as talk about the awesomeness that is our ever-growing D.Buzz community.
If you have a suggestion or links to potential podcasts or live-streaming video sites, or you would like to do an interview with us, please reach out to us in Discord and contact @ChrisRice.
Thanks for reading, and we hope to see you back here again soon for more great content!
Over and out.
---
---
Is a censorship-resistant short form microblogging platform that empowers you to share your thoughts in 280 characters or less.
Censorship resistant and built for the community with love.
---
We strive to have a fun and neutral stance on topics. If you have any concerns with the content, please contact @jacuzzi, who writes and generates the content for our articles, or the @dbuzz team for clarification.
---