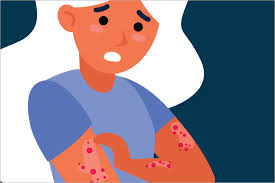 Source image
In recent months, various studies have been published aimed at investigating the correlation between the administration of sera and the onset of various diseases, including serious ones.
One of these, on which various publications in specialist journals focus, is herpes zoster, caused by a reactivation of the virus responsible for chickenpox. It manifests as a painful rash covered with blisters that can take months to heal and is usually treated with pain relieving, anti-inflammatory, and antiviral medications.
A Japanese study published on 25 August 2022 in the Journal of cutaneus immunology and allergy examines a case of herpes zoster that occurred after the anti-Covid19 messenger RNA vaccine. A 64-year-old man with rheumatoid arthritis developed painful rashes in both legs and hands that appeared 13 days after the first dose of Pfizer serum and aggravated after the booster. He was diagnosed with herpes zoster infection, with skin lesions lasting over three months. The Japanese researchers analyzed the tissues involved in the lesion and found the presence of the vaccine Spike protein.
Surprisingly, the Spike protein encoded by the COVID-19 virus vaccine was expressed in vesicular keratinocytes and endothelial cells in the dermis.
According to the authors, vaccination with serum mRNA could induce the persistent reactivation of the virus responsible for chickenpox and herpes zoster by disrupting the immune system:
Further vigilance is needed on the side effect of the vaccine and investigations on the role of the Spike protein.
Another study, published in March 2022 in the journal Metabolism open and which is based on the case of a 53-year-old patient, suggests a possible correlation between the anti-Covid19 vaccine and herpes zoster. The man had no pathologies and was not taking drugs. 11 days after the first dose Pfizer, he went to the hospital with a herpes zoster rash. It should be noted that the man had been vaccinated two years earlier, with a full cycle, precisely against chickenpox. Researchers suggest that the anti-covid19 vaccine may have reactivated the virus. The study report that a total of 2,527 cases of chickenpox virus infection have been reported in the UK following vaccination against Covid.
References:
https://www.sciencedirect.com/science/article/pii/S2589936822000093
https://onlinelibrary.wiley.com/doi/10.1002/cia2.12278


BLOGGING
GEOPOLITICS | ENVIRONMENT | WAR | ECONOMICS | SOCIETY | GAMING

CURRENTLY PLAYING



IF YOU SIGN UP ON THIS GAMES WITH MY REF LINK CONTACT ME FOR HELP