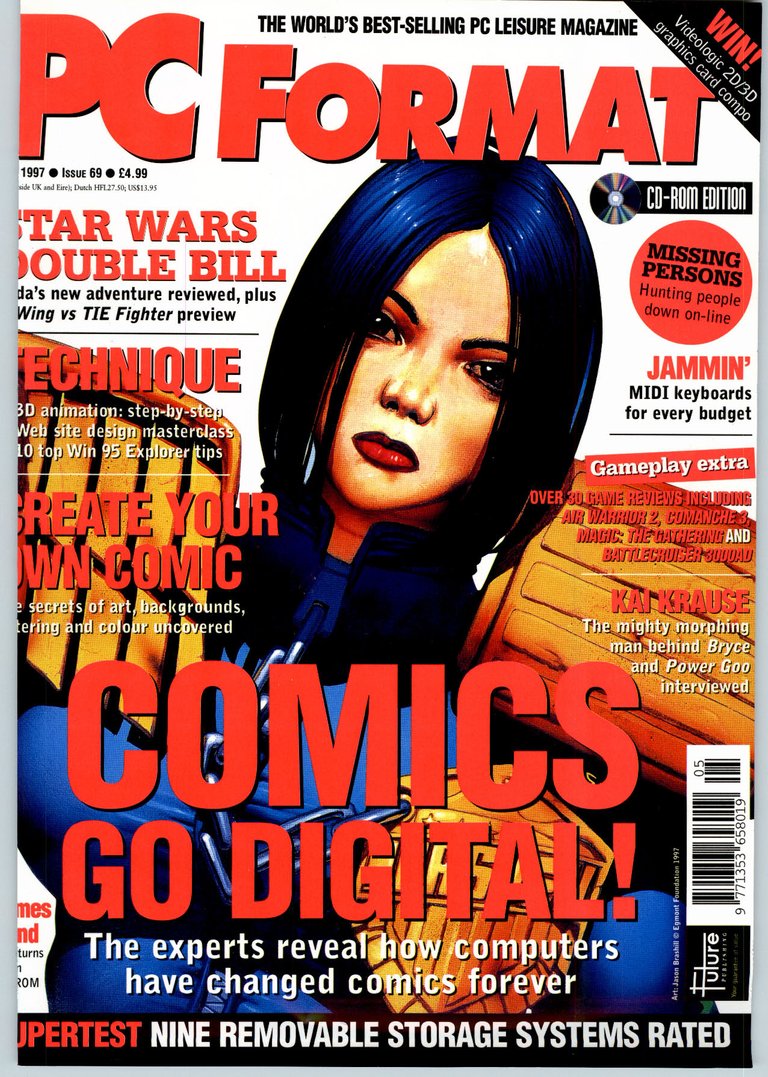 https://megalextoria.blogspot.com/2020/11/pc-format-may-1997.html
PC Format is a U.K. based PC magazine published from 1991 until 2015. It was an entertainment oriented magazine that covered things like gaming, video editing, etc. The May 1997 issue inclues:
Comics - Put away your pen, your ink and your drawing board, and pull out your PC instead. PC Format gets together with 2000AD and tells all about creating comics on your desktop, with tips from the experts on achieving graphic perfection.


Gameplay - Judgement day is here. Will these games be swept up in the rapture?

Coming Soon

Slam 'n' Jam
X-Wing vs. TIE Fighter
Sierra Golf

Reviews

Comanche 3
Yoda Stories
Magic: The Gathering - Battlemage
Phantasmagoria: Puzzle of the Flesh
Air Warrior 2
X-Men

Gameplay extra
Budget games



Tried & Tested - Hardware, software, vaporware - we tar it all with the same brush.

Supertest: Storage - A bit like floppy disks, only a lot bigger. We stare at the latest multi-megabyte units.
Hardware reviews - MIDI keyboards for any wallet size, and the rest of this month's new hardware.
Software reviews - Microsoft Office 97 gets a going-over, as do system tools and Micrografx's new suite.



Interview: Kai Krause - The might morphing Power Goo ranger, the man who brought graphic wizardry to the masses with Bryce and Kai's Power Tools, talks to us about Soap, the art package for all.


Regulars - Swill down a gallon of the fizzy features you know and love.

News - Vote Conservative! It says so on the Internet...
Interview - We say: "How do you Goo?" to graphics king, Kai Krause.
Mail order & subscriptions - And look, some back issues!
Technique - Know it all, fairly quickly.
Wired World - Challenge McCauley returns!
PCF Helpline - Come cry on Luis' shoulder.
Read more: https://www.megalextoria.com/wordpress/index.php/2020/11/09/pc-format-may-1997/