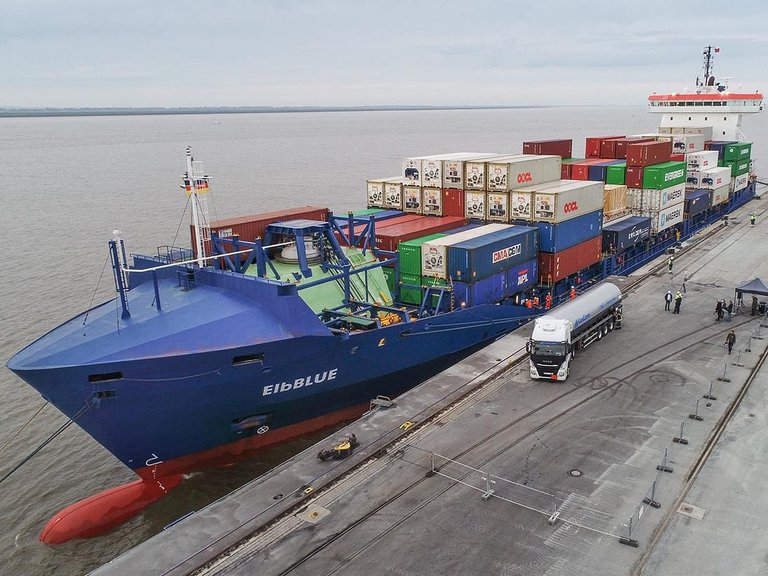 source
Test run set sail on the 29th September and will continue on until next year using the dual fuel systems.
Last month the Elb Blue a container vessel started her trial tests using Liquefied Synthetic Gas. This is so important for all the shipping companies around the world that these tests come out trumps. Going greener is important for not only the shipping companies, but also the customers who use them.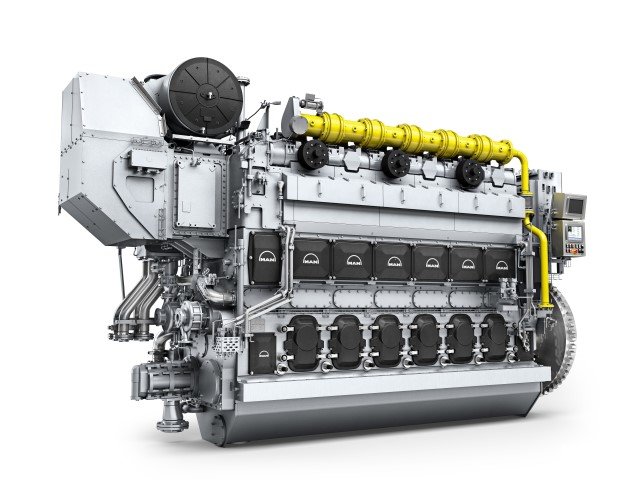 source
Formula One has been using Hybrid dual fuel engines for some time and no doubt their data has helped others with their research.
We have seen huge advancements in most modes of transport except shipping as these are costly experiments and it is normally done by the engine suppliers. This test vessel is a collaboration by a number of interested parties namely Man Energy Solutions, LIQUIND Marine, Wessels Marine,KIWI and the vessel owners Elbdeich Reederei. This SNG fuel has never been used before and is the first sea trial that is being undertaken.
The liquified SNG gas is manufactured in Germany by KIWI which uses renewable energy to create The SNG gas making it carbon free. Funny thing is the only thing in this that wasn't carbon free was the delivery using a truck from the plant to the ship.
The vessel id fitted with a specially modified dual fuel MAN engine that can use various combinations of gas fuel. The first trip will see the ship use a 50/50 mixture of 20 tons LNG and 20 tons SNG gasses which is expected to save around 56 tons of carbon emissions. That is quite staggering how much this small ship actually emits considering this is only a 4 day voyage. We can see how important this fuel combination is and obviously the aim is to have the vessel on 100% SNG at some point.
The reason why this has taken so long is that the cost of creating the SNG gas is so costly with no plant built to create the huge quantities that are required. KIWI has stepped up and created this to be possible but reported that the cost of this special gas is around 6 x more expensive due to low volumes being manufactured. The bigger the volumes the cheaper things become and maybe the carbon credit licenses have something to do with this.
I actually can't believe the shipping industry is so late in the game considering next year we have carbon auctions happening where you basically by your slice of the pollution you create. For every ton you go over your allotted purchase you pay a carbon tax.
The advantage of having a "green" ship is that not only does the shipping company score highly but it also reflects on their customers who could be retailers or other manufacturers. This would benefit them helping their carbon foot print at the same time. I think everyone is expecting others to create and innovate whilst standing by and this is leaving things a bit late compared to other industries and transportation. The positive thing is that it is happening and better late tan never.
Maersk Shipping lines has order 8 Man Dual fuel engines to convert their container ships and expects to be carbon free by 2030. These sea trials are more about fine tuning what is coming as there are not a lot of ships even on LNG fuel right now. If change is going to happen it will most likely feature companies moving directly from their current engine systems directly to the dual fuel power units.
Posted Using LeoFinance Beta