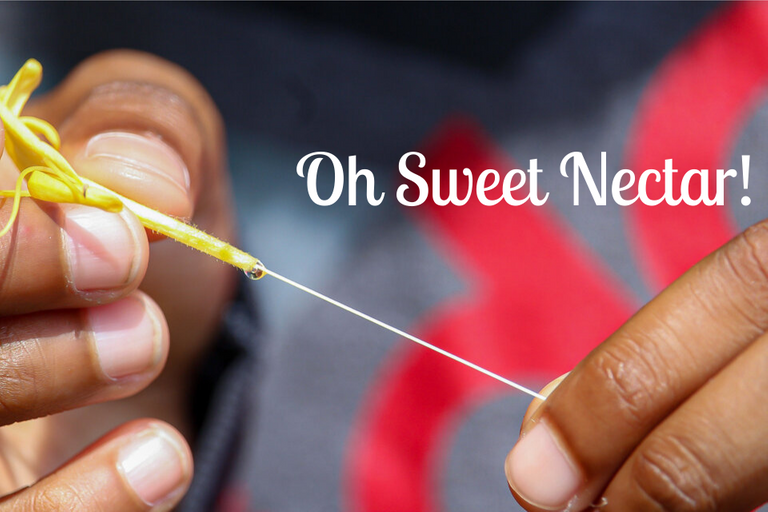 Talk about childhood memories. I was in memory fairyland when I realized what was growing in the wooded area behind our home.
Earlier last month my kids were out back playing. Normally I don't pay much attention to the woods because I don't care to know what's in it. We keep our distance from it after seeing all of the wild that comes out from there as well as the predominantly present poison ivy.
Have you ever smelled something and in an instant it took you back 30 years?
This is exactly what happened to me. When I smelled the aroma of the honeysuckles I immediately pictured my childhood home and the honeysuckle bushes that were aligned along the fence in our backyard.
My parents used to take us out back during the nice evenings and we'd pick so many honeysuckles and enjoy their sweet nectar. Oh what a treat it was!
As I drew closer to the wild chaos of trees and plants I almost couldn't hold my composure. I couldn't believe what was before my eyes. I called all of the kids to me and had them sit down…this was going to be an epic teaching moment.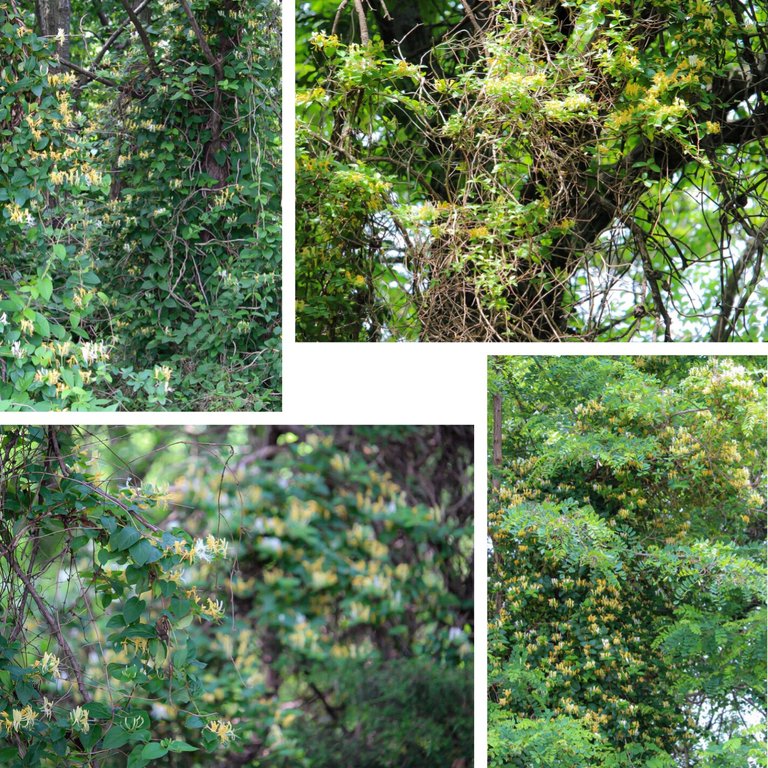 I picked one of the honeysuckles, held it up for them to see and talked a little about my childhood memories of them.
I withheld the fact that you could eat from them, this I wanted to be a surprise.
At the end of my talk I shared about the sweet nectar that each of these beautiful smelling flowers had within. I slowly demonstrated how to reveal the liquid candy and then without a further word slipped it into my mouth.
Can you imagine their faces? It was a priceless response. 😄
They couldn't believe I put that little drop into my mouth. Without further ado they each ran to go get their own. It took some practice but eventually they got the hang of it and were enjoying their own sweet treats.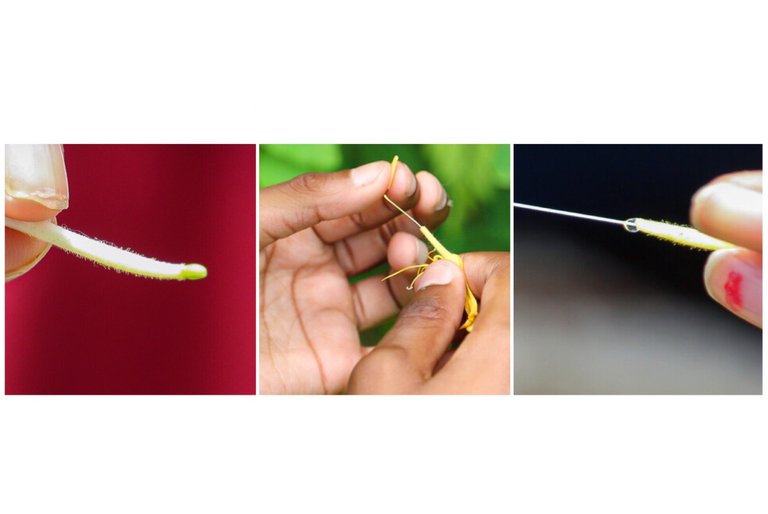 They learned to:
1st - pick the entire flower making sure to leave the little green bud on the end
2nd - gently pinch towards the bottom of the flower breaking through it on both sides but not the stem underneath
3rd - gently pull on the green bud to reveal the style (skinny string inside) and watch closely for the drop of nectar to reveal itself.
The piece on the end of the style gathers the nectar when you pull it down through the middle of the flower. This has to be done slowly and gently or you may not get to experience the treat.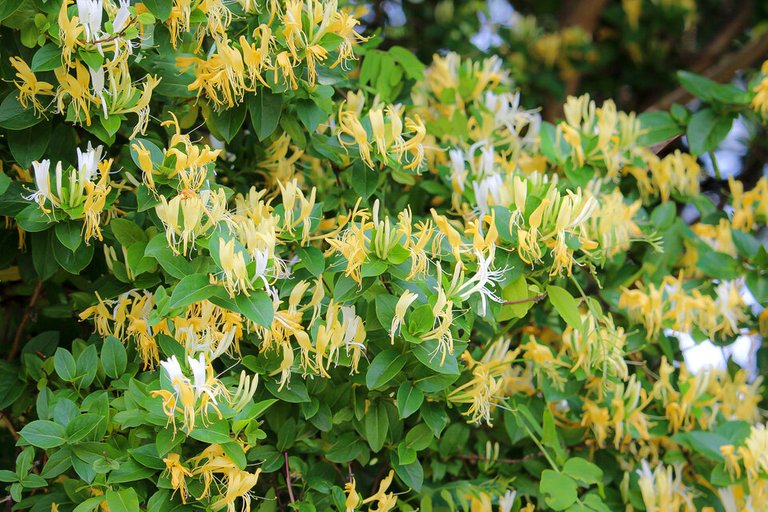 My older kids of course had the hang of it now but my two younger ones were pretty much just ripping the flowers apart hoping to taste something sweet. 😅
I made the big kids take some time to help their siblings, making sure they too were able to enjoy some.
It was a joy watching. It reminded me of how excited I was as a child to have these beautiful flowers right in my backyard. Now, they too are experiencing the same thing…it's quite exhilarating. ☺️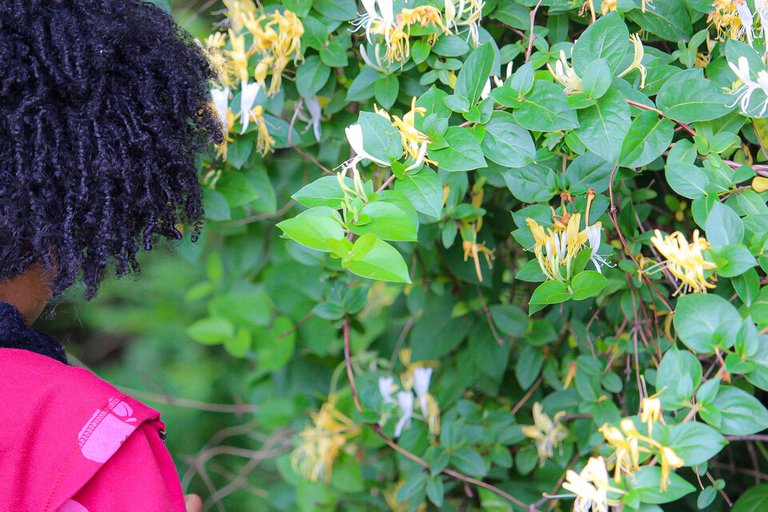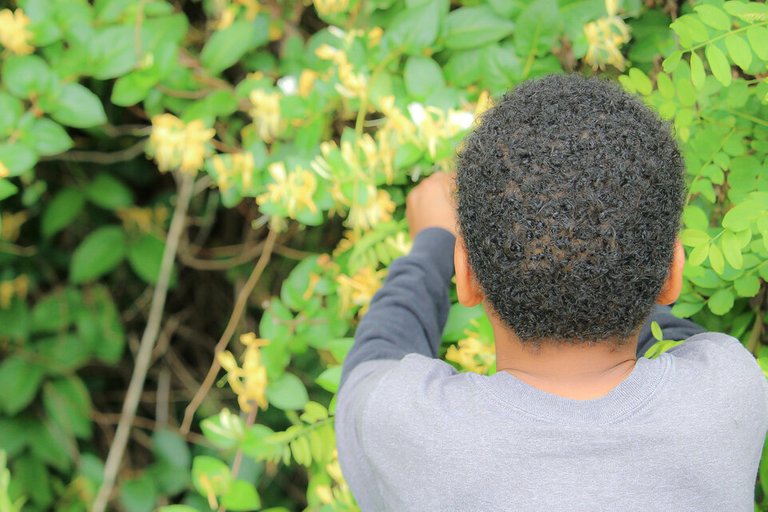 We had to have been out there for at least an hour when my daughter came up with a smart plan. She wanted to sit down and enjoy them as if she were having a picnic.
She gathered a handful or two at a time and brought them to a place where she could lay them out and pick them easily. Soon after her siblings followed suit.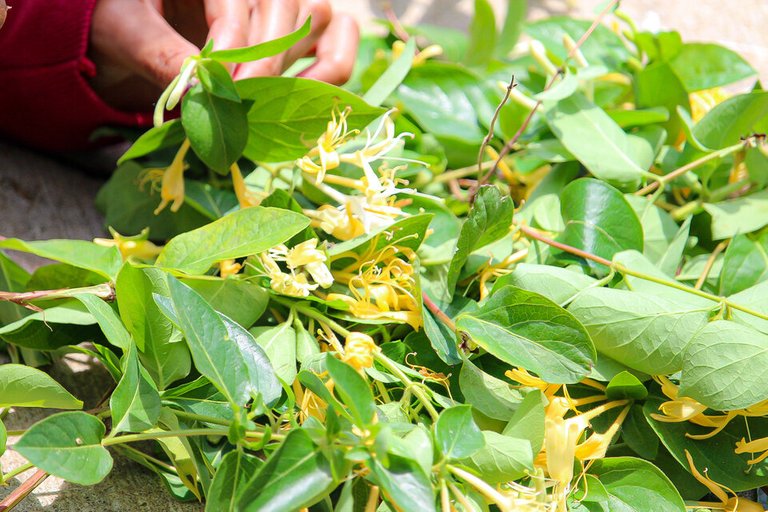 They told me they wished more than one drop could come out of the flowers as they were getting tired from all the work. 😁
It was a good time of learning, working and tasting. 😋
Here are some close ups of the honeysuckles I wanted to share with you…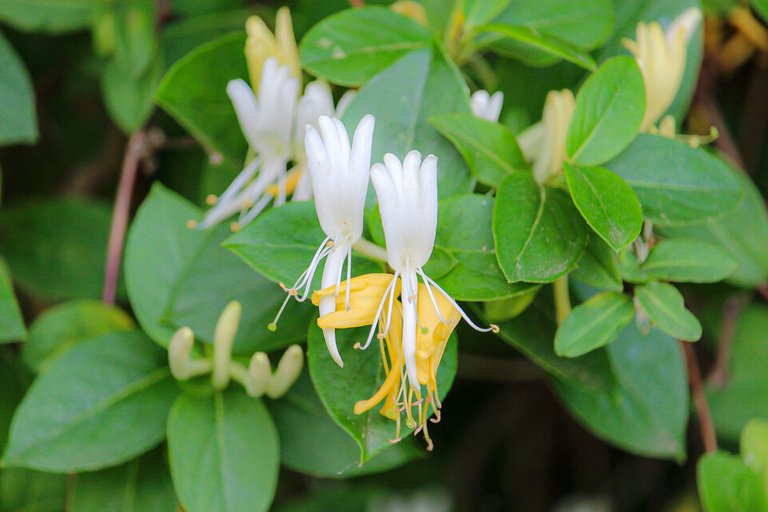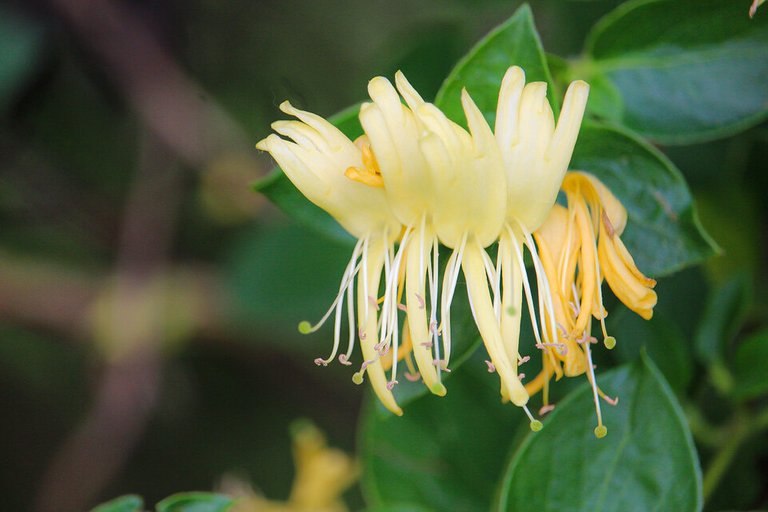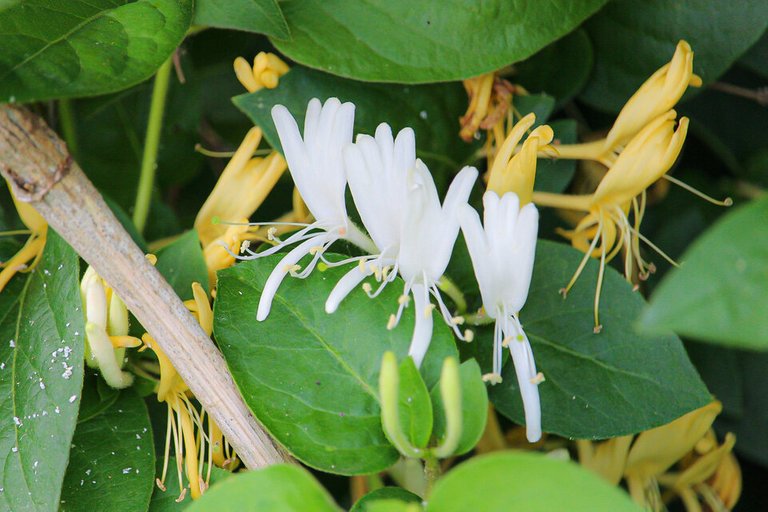 We spotted a beautiful Cardinal also enjoying the flowers. I think out of all the birds we have sighted the cardinal is the most fascinating because of its bright color. Ironically the male birds are prettier than the female birds who's color is predominantly pale brown.
I tried to be discrete as possible but eventually it knew I was near and took off.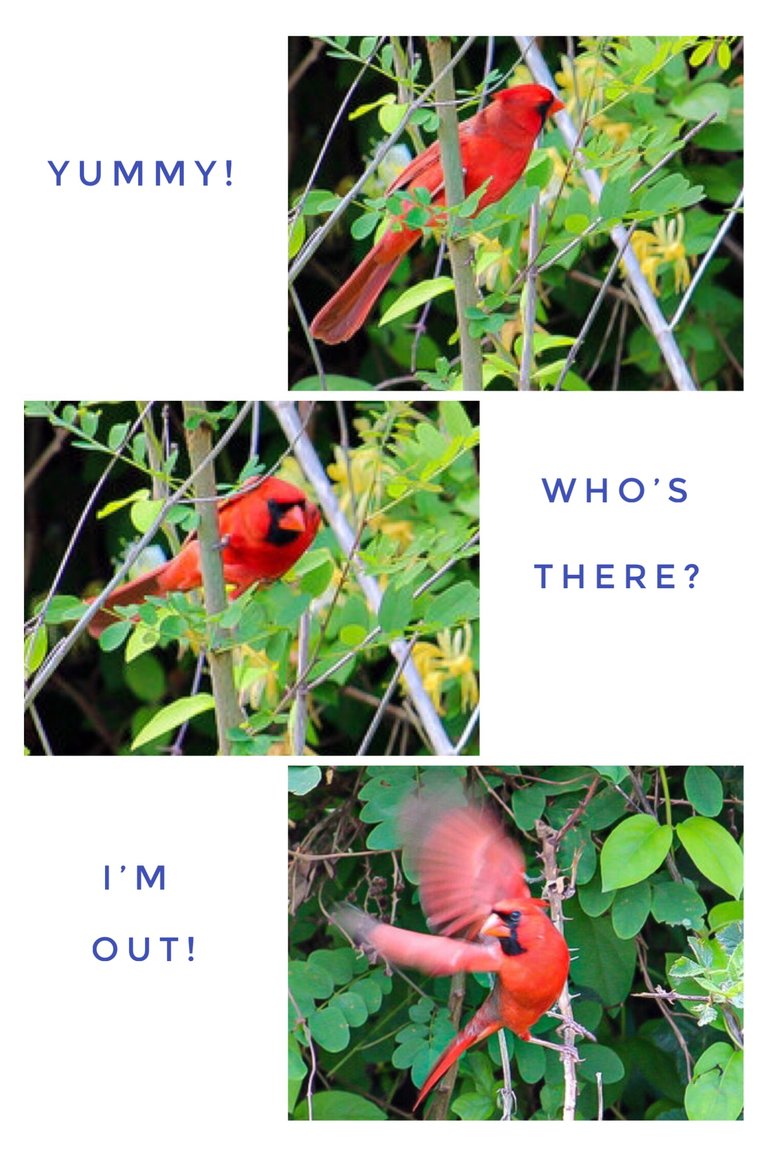 I hope you enjoyed the photos and going down memory lane with me.
Being able to remember moments like this is such a blessing. It warms me up and fills my soul when I can recollect these sweet bits of my life.
The trees and plants of the forest area have grown so much in just a month. On top of that we have been having non-stop rainfall. The honeysuckles have been buried amongst all of this and it's not as easy getting to them now.
I'm glad we were able to enjoy a few weeks of their smell, beauty and taste. 😊
I'll leave you with another flower we found blooming within the wild. This one has thorns but smelled so lovely.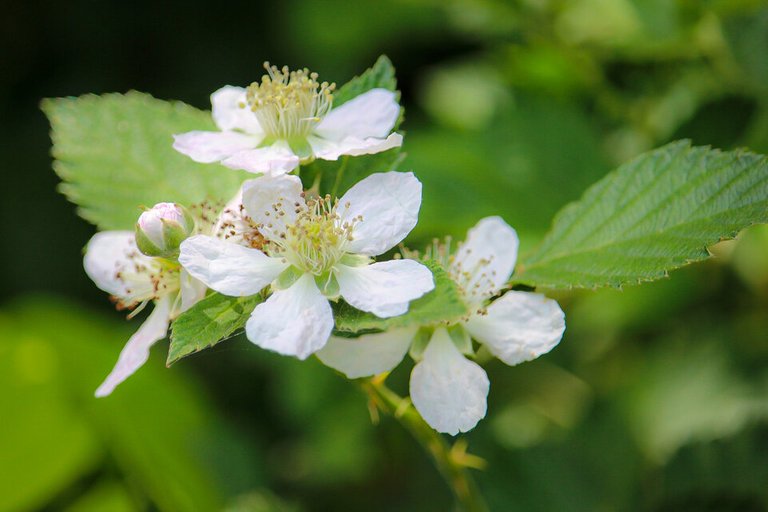 All photos are my own and were taken with our Cannon EOS Rebel T6.
Thanks for Reading ~ 🌸