Classroom of the Elite
---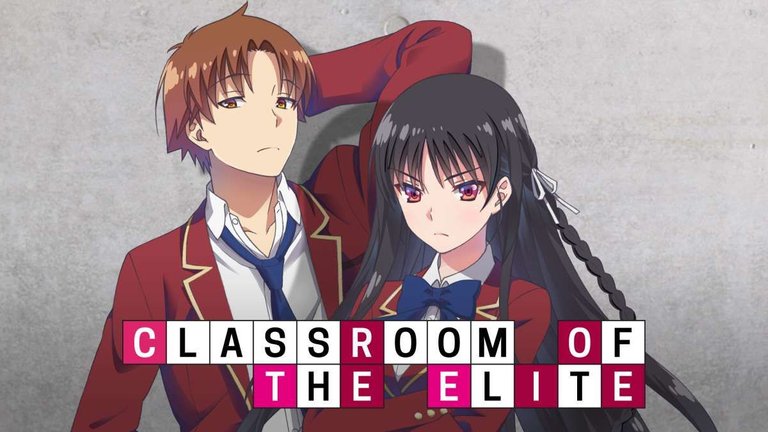 ---
Classroom of the Elite is a Japanese light novel series written by Shōgo Kinugasa and illustrated by Shunsaku Tomose. A manga adaptation by Yuyu Ichino began its serialization in Media Factory's Monthly Comic Alive on January 27, 2016. An anime television series adaptation by Lerche aired from July to September 2017.
In the distant future, the Japanese government has established the Tokyo Metropolitan Advanced Nurturing School, dedicated to instruct and foster the generation of people that will support the country in the future. The students are given a high degree of freedom in order to closely mimic real life.
The story follows the perspective of Kiyotaka Ayanokōji, a quiet and unassuming boy who is not good at making friends and would rather keep his distance. He is a student of D-class, which is where the school dumps its inferior students. After meeting Suzune Horikita and Kikyō Kushida, two other students in his class, Kiyotaka's situation begins to change.
There are overall only 12 Episodes are till now may be they will make new some Episodes of this amazing anime.
The main character of teh anime are-
Ayanokōji Kiyotaka
Horikita Suzune
Kushida Kikyō
Sakura Airi
Karuizawa Kei
Hirata Yōsuke
Kōenji Rokusuke
Sudō Ken
Ike Kanji
Yamauchi Haruki
Yukimura Teruhiko
Sato Maya
Ryūen Kakeru
Ibuki Mio
chinose Honami
Kanzaki Ryūji
Sakayanagi Arisu
Katsuragi Kōhei
Horikita Manabu
Tachibana Akane
Chiyabashira Sae
Hoshinomiya Chie
Thanks a lot for being here stay tuned for more anime series.
let me if you need any other anime series to upload I will be happy to provide you that.