Source
Like most third world countries, Nigeria is suffering from a host of issues ranging from high poverty rate, low standard of living, insecurity and lots of other issues that will take us weeks to cover. Despite these issues, the country's latent potential, particularly with regards to cryptocurrency is very evident.
With an estimated population of over 200 million, the most populous country in Africa presents a viable marketplace and opportunity to push for even more crypto adoption. With such a high population, that accounts for roughly 14% of the entire continent, it is little wonder that unofficially at least, the country is somewhat ahead in crypto adoption.
A break down of Nigeria's population showed that the median age of the country is 18.1 years. Which means that the population is fundamentally young, and with a distinct rise in tech-savviness, the Subsaharan nation is a fertile ground for the development.
A quick look around the country's financial sector shows an increase in Fintech influence in the country. International and local companies like Paystack, Bundle, Opay and a couple of others have proved that there is hope for technology.
These Fintech companies have dramatically improved the financial sphere in the country and reduced emphasis on traditional banks. However, they're sadly limited by certain underlying challenges plaguing the country.
The interest in cryptocurrencies in Nigeria is borne out of a couple of reasons. One of it is that naira has been on a freefall since its creation, and so we want to secure our assets. The other is the potential of making extra through staking, mining, inflation etc. The point is that Nigerians are very active in cryptocurrency-related activities.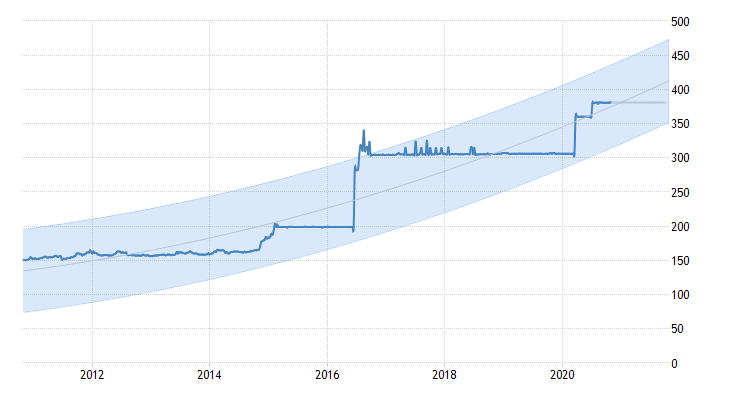 Dollar to Naira exchange rate over the past years
A Chainanalysis report showed that Africa accounts for the least amount of cryptocurrency transaction in the world but it also showed that Nigeria accounted for the most volume. Yet, Seychelles republic has made giant strides in cryptocurrency adoption, but their roughly 97 000 population, pales in comparison to Nigeria.
So it is a bit ironic to find that the Island Nation are far ahead in the crypto race and is home to some top crypto exchanges that accounts that account for billions of dollars of trade.
Unlike Seychelles, where there's an enabling environment for the development of crypto-based companies, Nigeria has none of note. The central bank of Nigeria had previously published warnings in 2018 that indicated their passive view about cryptocurrency but in recent times, their view is more middle ground. However, the authorities offer minimal protection for people in the industry.
On the surface of it, considering the aforementioned large population/market, lack of regulations, and whatnot, Nigeria ought to be a hotbed for crypto companies, but alas, it isn't. In fact, other than crude oil, and this is with a bit more than a pinch of salt, I can't think of anything that Nigeria enables.
Despite having an extremely low cost of living due to the high poverty rate and such, companies will not be excited about building branches in Nigeria. To be completely honest, I can't blame them because there are numerous underlying that issues make the country a very unattractive place to set up shop.
The top of the list of problems is corruption. Corruption and related offences are commonplace in the government. When you combine that with the ridiculous "laws" that I can describe as arbitrary at best, companies that pride themselves in transparency and straightforwardness will generally have a hard time coping.
The government is also run on draconian policies that are based on the whims of whoever is in charge. They call it a democracy but in reality, we've been living under a dictatorship, because the very constitution that we base our rules on were designed by military heads of state in the past. This means that the government has a blank cheque to do as they please, offer zero accountability and basically, they can screw you over at any point if you don't play to their tune(read bribe).
Perhaps an offshoot of corruption, we also have the fact that basic amenities aren't readily available. I mean, yeah, there are places that have constant electricity and whatnot but they're the 1% and most likely the Government; you know, the ones that will kick you out. So, while crypto companies could technically cater to the large "unbanked" population, actually getting to them and providing the service will mean they run at a loss because, well, we lack the basic amenities like roads, electricity etc.
The other way crypto companies could squeeze into the market could be through offering payment solutions for businesses in the country. However, as Flutterwave learnt after simply allowing people to transact on their platform during a peaceful protest, you're never actually safe.
Due to these uncertainties, running a business, particularly one that has to do with cryptocurrencies is an even bigger risk. The fact that it is unregulated and has no protection, much like everything else in the country, means that you're constantly living on the edge.
For crypto holders like me living in Nigeria, there's always a cloud of uncertainty hovering above you. You live in constant fear of what might happen to your holding because there's really no laid down procedure for handling it. For now at least, cryptocurrency and government live in volatile peace, but all that could change if the wrong toe gets stepped on.
The young population have embraced cryptocurrency to a large extent but the older generation is still in control. This means that the powers that be only recognise "traditional" stores of value and will never in their lifetime accept a Decentralised protocol that spreads power. Forgive my digression.
The point is that if a cryptocurrency based business looks at this situation and thinks about the countless risks and looming danger to their business, they'll be taking a few steps back. This means that despite the country's potential, cryptocurrency businesses will not be excited about establishing physical operational bases in the country.
References
Please check out my gigs on Fiverr where I offer the following services;
Contact me