Picking stocks is not an easy job and you need to do your diligence before taking action if you want to be successful. I like to keep my portfolio diversified or at least balanced when thinking of the future. And one domain in which I try to be present is the energetic one and covering both traditional petroleum companies like CHEVRON, but also those that offer alternative energy and the one that I've settled is PLUG Power.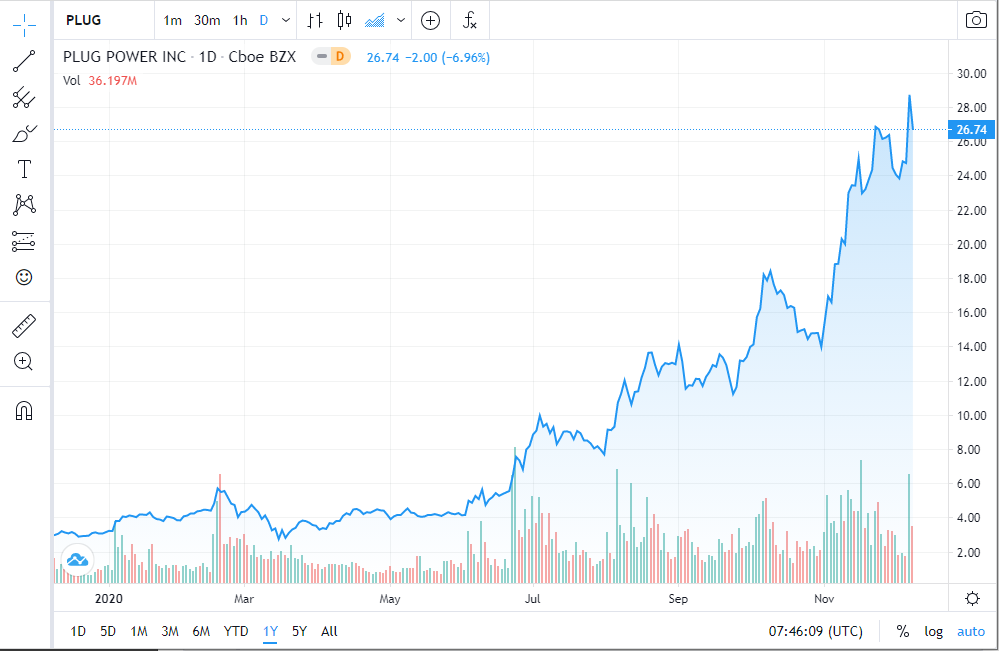 Why did I choose PLUG Power to add it to my stocks portfolio? Let me give you some reasons on that:
Industry leader - 1st to create a market for hydrogen fuel cell technology
Top-tier customer base - 80% Blue Chip Customers
Unparalleled experience in the domain - 562MM+ Operating hours
Advanced technology - 150 Patents
High revenue growth - 800% YTD
Plug Power has been the first to commercialize hydrogen fuel cell technologies and got established pretty well into the space. The company aims to raise its annual revenue from $230 million in 2019 to $1.2 billion by 2024. With a target of more than 1.5 gigawatts output from its planned gigafactory coupled with new contracts coming in this is more than reasonable.

The hydrogen energy sector is on the rise and is one contender on the clean and alternative energy of the future. It already started to get traction and will continue to do so. And also it might have presidential support to expand in both public and private sectors. Through some companies that are using hydrogen powered forklifts are Amazon, Home Depot and Walmart. If those expand (and they are) so those PLUG and it is just one ecosystem that grows together.
Above all I think the price is still reasonable while if I would have bought at the beginning of the year and already made x8 that would have been tremendous. But the hydrogen based energy is yet to see the days of glory and the sector is still building up. There will be a time for expansion and consolidation at a global scale and I think PLUG will be one of the main players with their time to market and expertise that they are gaining. And they have the right support to ensure they will succeed in the future.
Posted Using LeoFinance Beta