Reviewing the oraimo soundview portable wireless speaker and alarm clock [Eng-Esp]

Lately I noticed I've been using my earpods less because each time I use it, after a while it starts to feel like a burden to my ear, or at times someone could call me and I wouldn't hear them. I dislike using only one ear of an air pod especially to listen to music, it's both ears or nothing, and listening to music directly from my phone is never the same thing.

For this reason I decided it was time I get a small speaker. A small speaker solves all my problems, and I still get quality sound. I searched online for cheap options. As usual my data was shared with ad agencies and next thing I knew I started seeing speakers on any centralized app I use. This time the targeted ads were useful as I found the oraimo soundview portable wireless speaker.
---
---
I have a little bias for oraimo as the recent products I bought from them are working and still great, so I decided to give it a look. According to oraimo's official site it's original price is 11,900 naira (about 17 dollars) but it's currently selling at a discount price of 7,900 naira (about 11.5 dollars). It's cheap price attracted me, but what really hit the hammer on the head was that it also doubled as a bedside alarm clock. I already have my phone as my alarm, but this is better.

I placed my order and it arrived on Tuesday (4 days ago). I wasn't around but someone collected it for me. In the end it got to me that evening. I was too excited and I opened it immediately, as a result I can't do an unboxing video. But I'll be sharing the contents and my thoughts on the speaker

IN THE BOX
---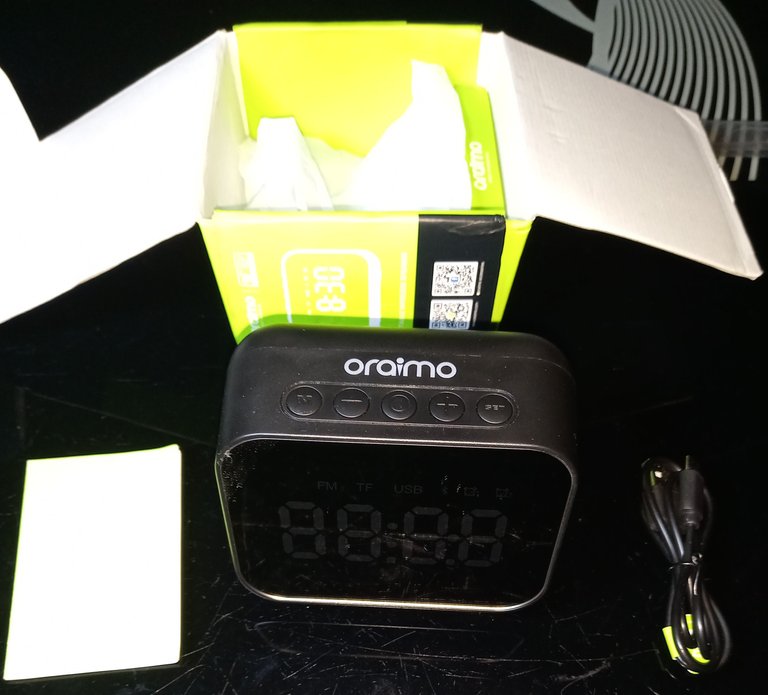 ---
In the box all you have is the oraimo soundview speaker, the very helpful user manual which is also the warranty certificate, and the type-c charging cable.

THE SPECS
According to the manual it has a 5 watts speaker output, a 150Hz-20kHz frequency response, a 1200mAh 3.7 volts battery, a DC 5.0 volts = 1 Amp charging input, and its Bluetooth version is 5.0.
It also says it's bluetooth music time is 2 hours which I know isn't true as I've listened to music for at least 7 hours (that's bringing it down) and it's displaying that the battery life is not even halfway yet. Considering It took about 2 hours to charge, 12 hrs playing time is not too much to ask.

FEATURES
---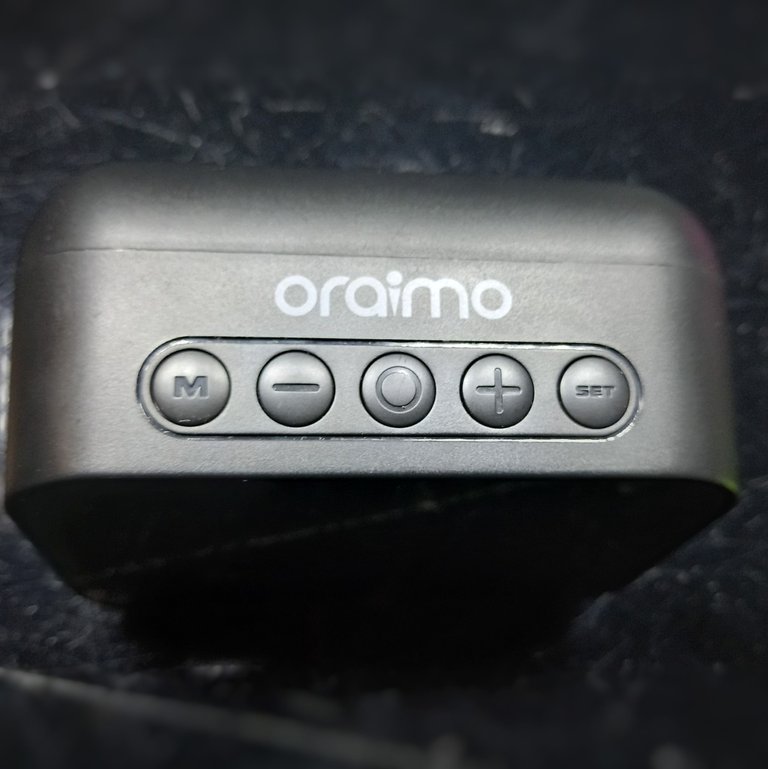 ---
On the top of the speaker are all the buttons. A normal speaker has the bluetooth mode and Fm mode while this one adds the clock mode. In clock mode you can set two alarms.
---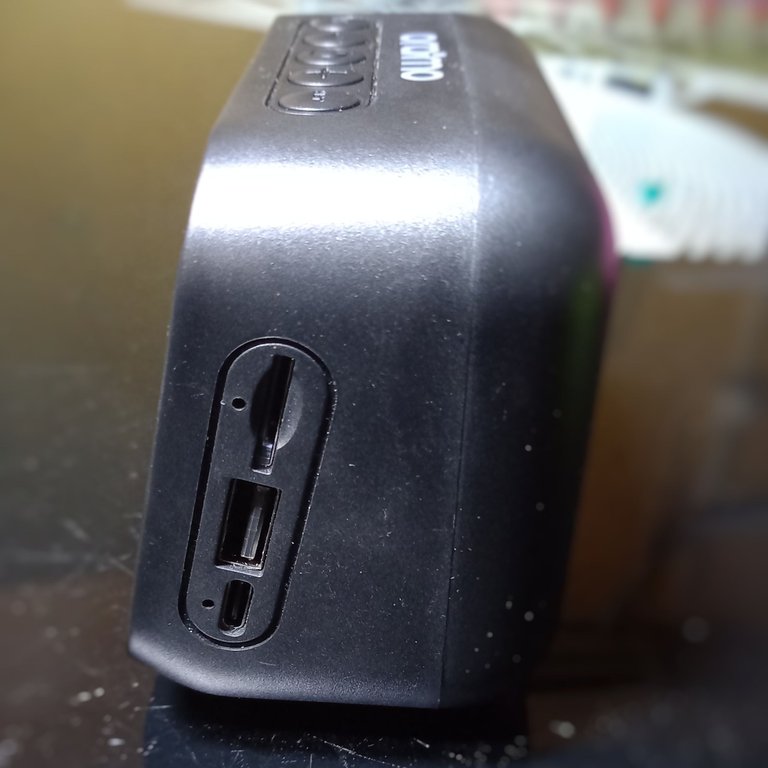 ---
At the side we also have the slot for a flash drive and an SD card on top of the charging port
---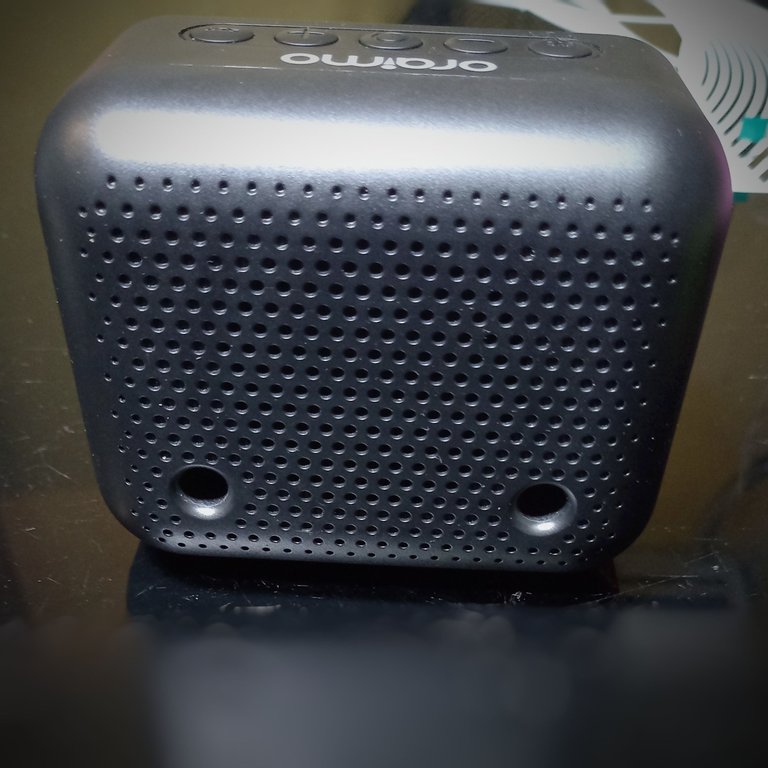 ---
The back is where the speaker is located.

PROS
The first thing I like about it is its dual functionality. Since I bought it, it's usually by my bedside as an alarm clock.
The sound quality is great, not outstanding, but not bad as well.
The range is also another good thing about it. I didn't know how far ten meters was till I was trying to see how far I could get before it disconnects. Let's just say if your phone was stolen from you when using the speaker the thief would have gotten far before your phone would disconnect (I'm not sure if that's a good thing anymore, XD).
I also like the led display. Not for any reason in particular, but just because it makes it look cool.

CONS
Now the first thing I don't like about it is that even though it has an led display which displays time, bluetooth, and alarms, it doesn't display the battery life. The only way to know the battery life is when you connect it to your phone. I see no reason for them not adding it.
Another con is that the steps for setting an alarm can be quite confusing. Even with the manual it took me some time before I was able to master it.

CONCLUSION
Other than those two cons, I think it's perfect. It has great battery life, great range, good sound quality, in-built clock and alarm, at such a cheap price it's definitely worth it.
With this my ear pods have gotten some rest, and I can finally listen to music without having to check once in a while whether someone is calling me.

Thank you for reading, have a wonderful day.
N/B:
All photos in this post were taken by me

SPANISH VERSION
Últimamente he notado que uso menos mis earpods porque cada vez que los uso, después de un tiempo se empieza a sentir como una carga para mi oído, o a veces alguien podría llamarme y no los escucharía. No me gusta usar solo una oreja de un pod de aire especialmente para escuchar música, son las dos orejas o nada, y escuchar música directamente desde mi teléfono nunca es lo mismo.

Por esta razón, decidí que era el momento de comprar un altavoz pequeño. Un altavoz pequeño resuelve todos mis problemas y sigo teniendo un sonido de calidad. Busqué en Internet opciones baratas. Como es habitual, mis datos se compartieron con las agencias de publicidad y lo siguiente que supe fue que empecé a ver altavoces en cualquier aplicación centralizada que utilizara. Esta vez los anuncios dirigidos fueron útiles, ya que encontré el altavoz inalámbrico portátil oraimo soundview.
---
---
Tengo un poco de inclinación por oraimo ya que los últimos productos que he comprado de ellos están funcionando y siguen siendo grandes, así que decidí darle un vistazo. Según el sitio oficial de oraimo, su precio original es de 11.900 nairas (unos 17 dólares), pero actualmente se vende con un descuento de 7.900 nairas (unos 11,5 dólares). Su precio barato me atrajo, pero lo que realmente me llamó la atención fue que también sirve de despertador junto a la cama. Ya tengo mi teléfono como alarma, pero esto es mejor.

Hice mi pedido y me llegó el martes (hace 4 días). Yo no estaba pero alguien lo recogió por mí. Al final me llegó esa tarde. Estaba demasiado emocionado y lo abrí inmediatamente, por lo que no puedo hacer un video de unboxing. Pero voy a compartir el contenido y mis pensamientos sobre el altavoz

EN EL CAJA
---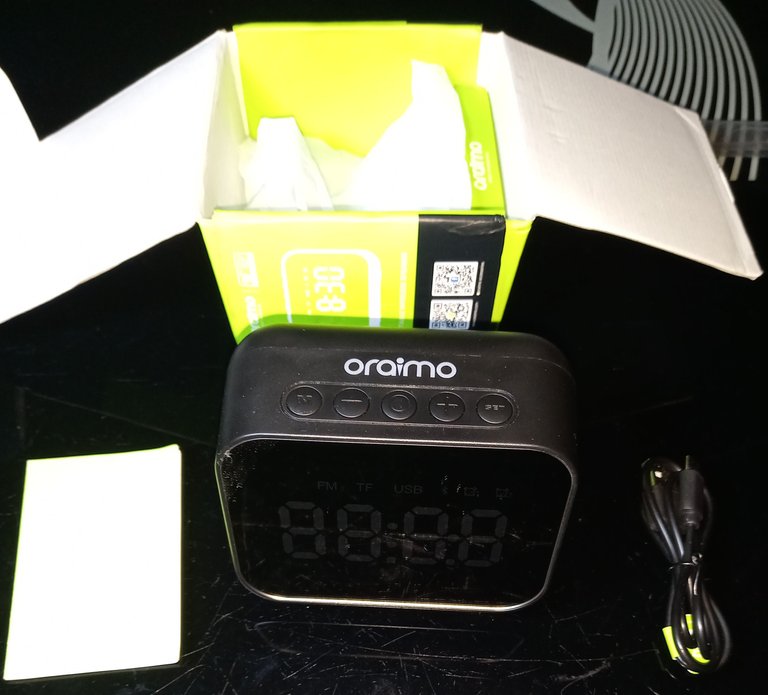 ---
En la caja todo lo que tienes es el altavoz oraimo soundview, el muy útil manual de usuario que es también el certificado de garantía, y el cable de carga tipo-c.

LAS ESPECIFICACIONES
Según el manual, tiene una salida de altavoz de 5 vatios, una respuesta de frecuencia de 150Hz-20kHz, una batería de 1200mAh de 3,7 voltios, una entrada de carga de DC de 5,0 voltios = 1 Amp, y su versión de Bluetooth es la 5.0.
También dice que su tiempo de música por bluetooth es de 2 horas, lo cual sé que no es cierto, ya que he escuchado música durante al menos 7 horas (eso es bajarlo) y muestra que la duración de la batería no es ni siquiera la mitad. Teniendo en cuenta que tardó unas 2 horas en cargarse, 12 horas de reproducción no es mucho pedir.

CARACTERÍSTICAS
---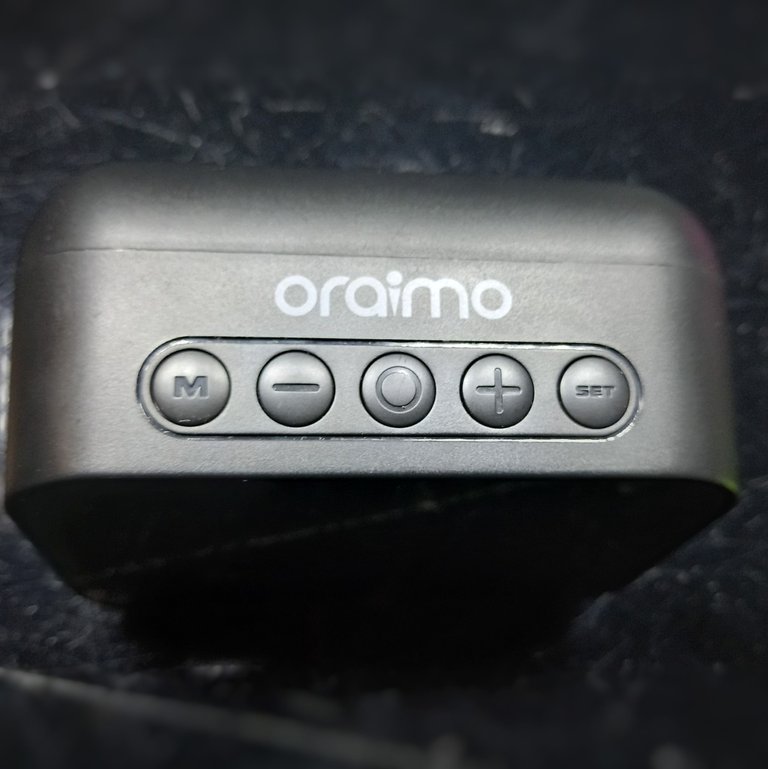 ---
En la parte superior del altavoz están todos los botones. Un altavoz normal tiene el modo bluetooth y el modo Fm mientras que este añade el modo reloj. En el modo reloj se pueden establecer dos alarmas.
---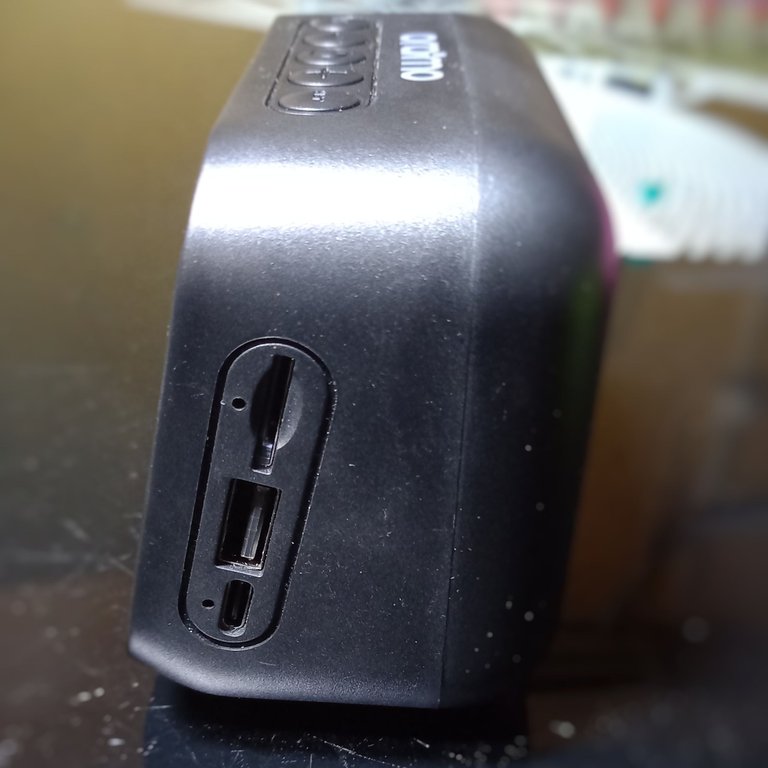 ---
En el lateral también tenemos la ranura para un pendrive y una tarjeta SD encima del puerto de carga
---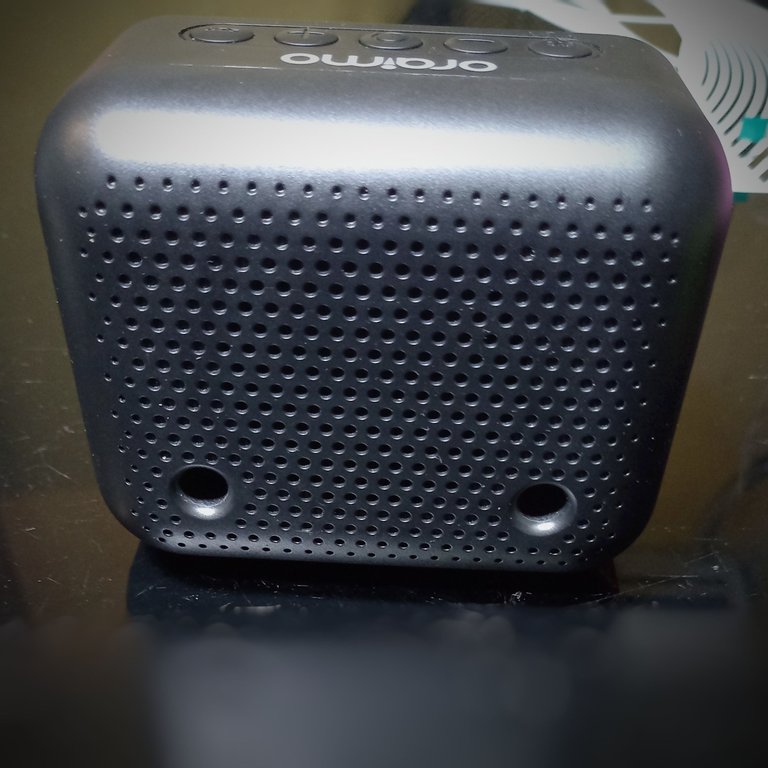 ---
La parte trasera es donde se encuentra el altavoz.

PROS
Lo primero que me gusta es su doble funcionalidad. Desde que lo compré, suele estar junto a mi cama como despertador.
La calidad del sonido es muy buena, no sobresaliente, pero tampoco mala.
El alcance también es otra cosa buena que tiene. No sabía lo que eran diez metros hasta que intenté ver hasta dónde podía llegar antes de que se desconectara. Digamos que si te robasen el teléfono cuando estás usando el altavoz, el ladrón habría llegado muy lejos antes de que el teléfono se desconectase (ya no estoy seguro de que eso sea algo bueno, XD).
También me gusta la pantalla led. No por ninguna razón en particular, sino simplemente porque le da un aspecto chulo.

CONS
Ahora bien, lo primero que no me gusta es que aunque tiene una pantalla led que muestra la hora, el bluetooth y las alarmas, no muestra la duración de la batería. La única forma de saber la duración de la batería es cuando lo conectas al teléfono. No veo ninguna razón para que no lo añadan.
Otro inconveniente es que los pasos para configurar una alarma pueden ser bastante confusos. Incluso con el manual me llevó algún tiempo antes de poder dominarlo.
Gracias por leer, que tengan un buen día.

N/B:
Todas las fotos de este post han sido tomadas por mí
Traducido por deepl
---
---