Using A fan is an option for those who are in a hot temperature place. This is an easy and affordable alternative when compared to having an Air conditioner (AC) that we know, it's quite expensive for some people.
Besides that, in terms of electricity consumption, using A fan is more efficient than AC, and also in terms of flexibility, the fan is the winner. we could see that there are many models of fans with various functions and sizes.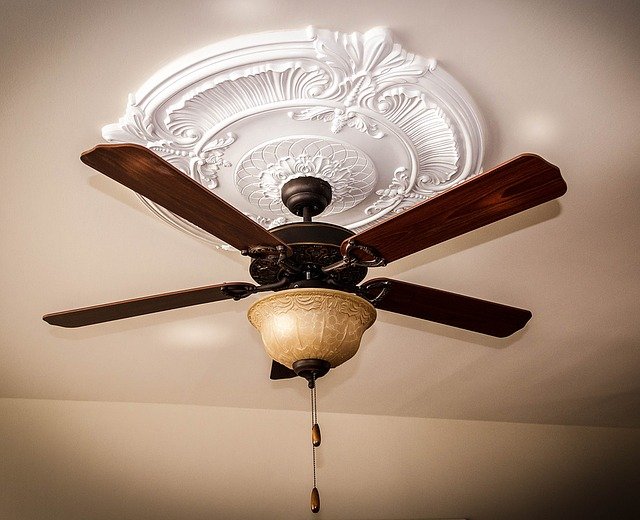 Image by JamesDeMers from Pixabay
With the various conveniences and benefits offered by Fans when compared to Air conditioners, it's no wonder that many people use them. in countries classified as tropical climates like mine, it's easy to find a fan. and I believe in other tropical countries is the same. (CMIIW)
Human activities that often use fans to cool the body are normal. however, there are activities where the use of A fan is not recommended. it's using A fan while sleeping. it's is a bad choice, as it can cause several negative impacts on our health.
---
Trigger Allergies
As we know that fans circulate dust in the air. and in the dust, it may contain major dust allergens such as dust mites and pollen, which are highly reactive to those who are allergic to dust.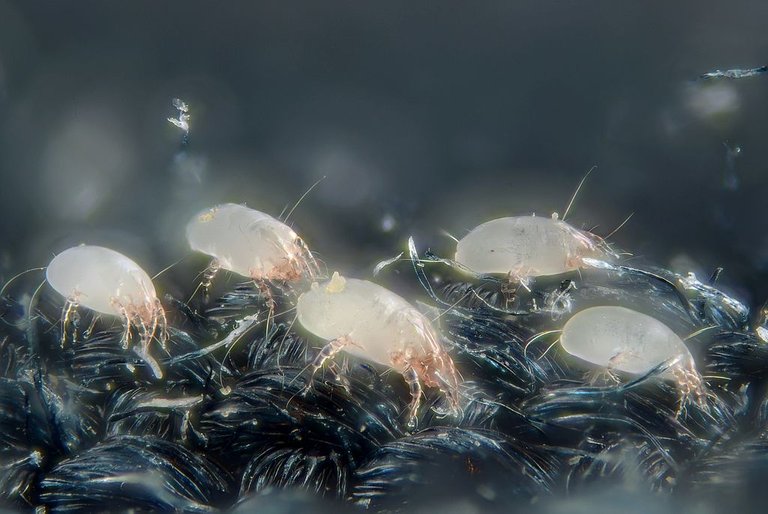 Image credit : Gilles San Martin, From Namur, Belgium . Used under CC 4.0 license.
Dust mites – sometimes called bed mites – are the most common cause of allergy from house dust. Dust mites live and multiply easily in warm, humid places. They prefer temperatures at or above 70 degrees Fahrenheit with humidity of 75 to 80 percent. They die when the humidity falls below 50 percent.
They are not usually found in dry climates.
Dust mites breed in dusty areas. Ceiling fans easily become dusty, and mites accumulate on the blades of the fan. When the fan is on, it blows dust and
mites all over a room.


Symptoms caused by an allergy to dust mites could be flu, cough, nasal congestion, and asthma. So if you are among those who are allergic to dust, then the use of fans is not recommended, especially if you use them while sleeping.
For people who aren't prone to dust allergies, one way to prevent this is to regularly clean the place where you are, especially in your room. and make sure that your fan is clean of dust, especially if the fan is a ceiling one. and don't forget to use a mask when doing it. But keep in mind that cleaning your room from dust doesn't mean we can use A fan when sleeping. trigger allergy is just one of the negative effects that can occur when using a fan while sleeping.
For those who are prone to dust, it doesn't mean you don't need to clean your place from dust. but it would be better if you asked someone else to do it.
---
Dehydration
Exposure to cold temperatures from the fan directly on our bodies can lead to dehydration of the skin. And it's even worse if you use the fan while you sleep because it would hit your skin overnight
According to SleepAdvisor.org, if you sleep with the fan at full speed at night, you put your skin at risk of dehydration.
Besides that, exposure to dry air throughout the night can also trigger the production of excess oil called "Sebum". It traps the dead skin cells in our pores, which usually peel off on the surface of our skin, causing acne to appear. and that's not good news, especially if you're a woman.
---
Dry eyes
If you experienced dry eyes then you need to check whether you use a fan during your sleep. If it was, then there is a possibility that it was caused by your fan.
Normally, the air from the fan that hits our eyes while sleeping, would not make our eyes dry. this is because our eyelids are enough to protect our eyes from exposure to the air of fans.
However, one thing that becomes a problem is if you are a sufferer of Nocturnal lagophthalmos. that is, people who sleep with their eyes open. so You can imagine the condition of your eyes if they are open and exposed to fan air all night.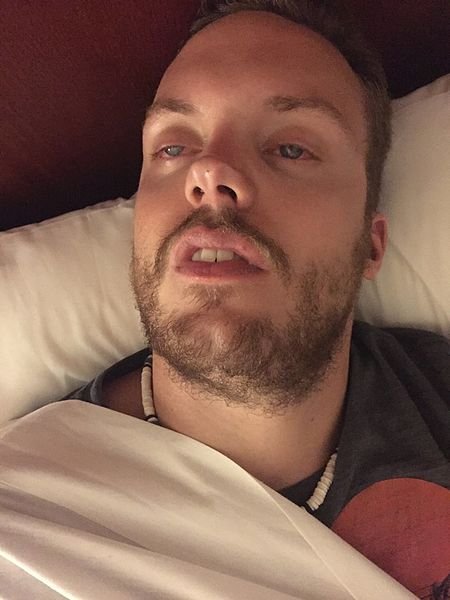 Image credit: Luke090. Used under CC 4.0 license
You might be surprised to hear that some people sleep with their eyes open. And it's more common than you'd expect. About 20% of people do it, including babies. Doctors call this condition "nocturnal lagophthalmos." If you have it, you can usually close your eyes most of the way when you sleep, but not completely


Sleeping with your eyes open is actually enough to have a negative effect on your eyes. like dry eyes and etc. and if someone suffers nocturnal lagophthalmos, then sleeps with a fan would increase the chances of that person's eyes experiencing irritation.
---
Conclusion
Using A fan to cool the body during hot weather is one good alternative and when compared to an Air conditioner, the fan is more practical and economical. however, the use of A fan while sleeping is not the right choice. especially if you have an allergy to dust, cause it makes allergens like Dust mites can make your allergies recur. besides that, the use of A fan while sleeping can make your skin hydrated and in certain conditions can cause irritation to your eyes.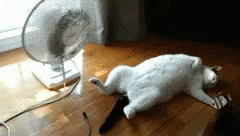 References