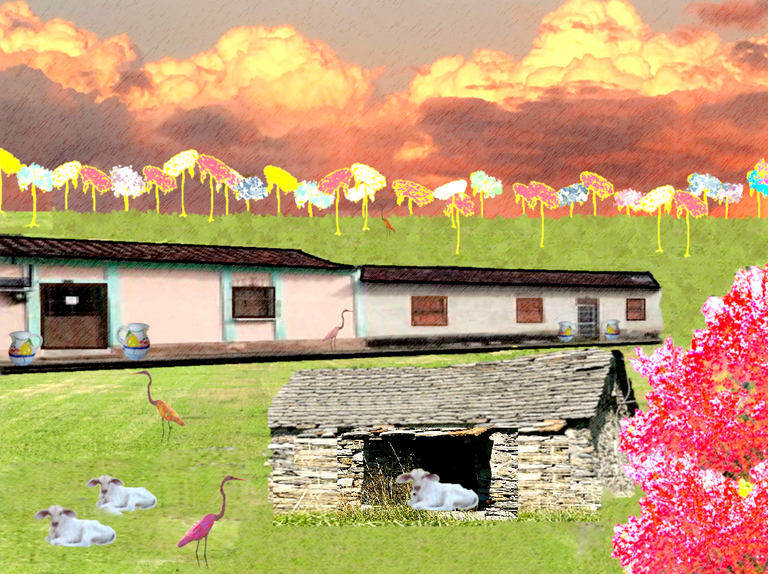 Today I offer my first collage created entirely from my own resources, @shaka's template photo, and images from the LIL Index. First, @shaka's beautiful picture. I kept the small structure in my design, because this hut is beautiful.
Template Photo, by @shaka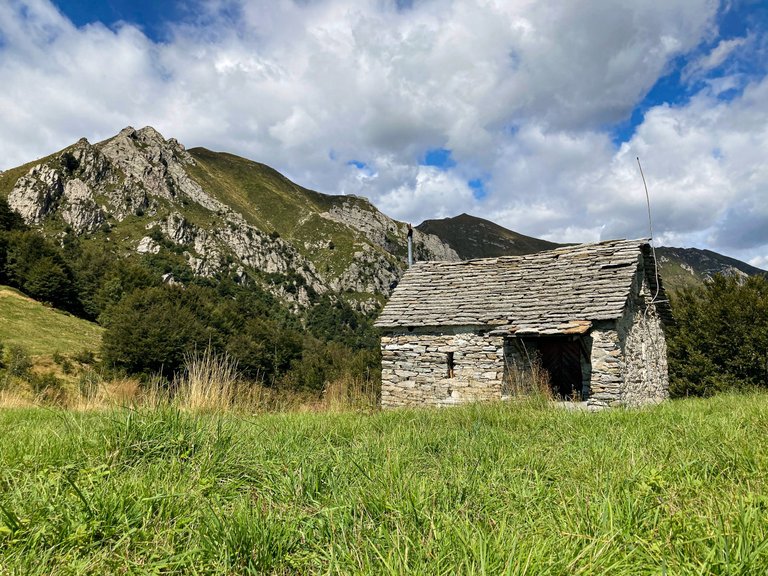 I should add that, although I create collages for LMAC, I do not compete in the contest.
As I scrolled through images in the LIL Index, my ideas for today's collage evolved. I used images from five authors (credited below, and each named as 2% beneficiary to the post). Finally, I ended up using two images that are my own: an egret, and two trees.
The egret was white originally, but I made it sparkly and multi-colored for this sugary collage: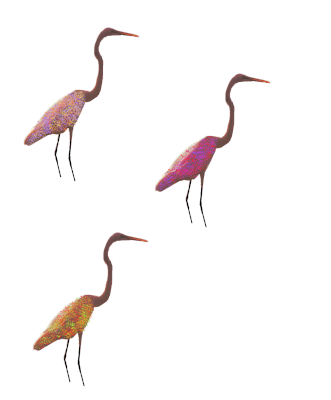 I separated the two trees in the photo below, and made one into a brilliant shrub, and the other into lollipop-top creations for the background of the collage.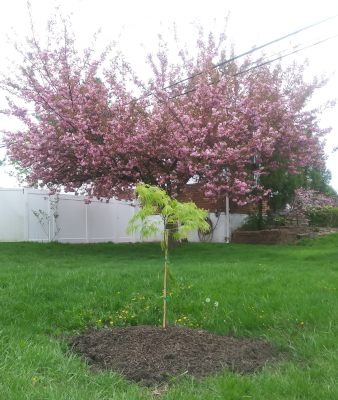 I always knew I would use @muelli's jugs, because I remembered them from his original post, and I always knew there would be animals around @shaka's wonderful wooden structure. The rest of the collage evolved from looking at images in the LIL Index.
@muelli's jug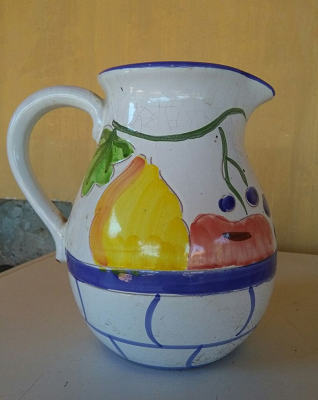 As this collage demonstrates, the older I get, the younger I grow. A child might have made this collage, so I guess that is the child in me.
I usually like to say something about science in my collage blogs, because I think science is integral to everything we do. Certainly art and science share the quality of inspiration. I'm thinking now of how my collage evolved and of a blog about lateral thinking that was written by @lupafilotaxia.
@eimy7's Lamb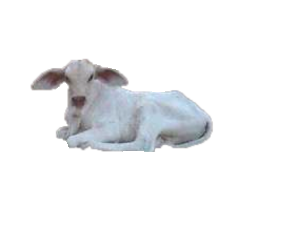 I think it would be safe to say I used lateral thinking in coming up with ideas for the collage and vertical thinking in solving problems associated with the mechanical construction of the collage.
Lateral thinking is a term developed by Edward de Bono. It involves opening yourself up to influences that are not necessarily directly related to the problem at hand. In a sense, you allow the environment to work on your thought/creative process without a perceived logical connection.
In vertical thinking, you begin at point A and deliberately follow the rational line of thinking to point B, point C, etc. It is believed that inspiration often enters the problem-solving process through a door opened by lateral thinking.
@angelis90's House


In the case of my collage, it was almost all lateral. I was willing to go where my imagination took me as I looked at the LIL index. Once I had the idea though, logical thinking kicked in. How do I make the trees smaller, and make them look like lollipops? How do I make the horizon less severe/sharp? What size should the lambs be?
It seems to me that lateral thinking is often an important part of anything I do, but most especially if I am attempting an art project. I think that's the best part of doing art: opening the mind and senses and giving way to whatever happens.
That's my bit about science in today's art blog :)
@evagavilan2's Sky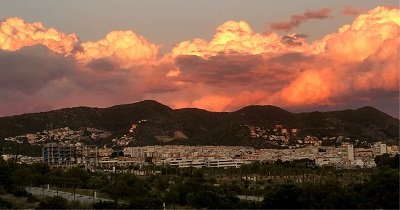 For readers who are not familiar with the LIL project, it is an amazing resource that will be integral to the LMAC community, and will also be a rich resource for all of Hive. Our very talented and generous @quantumg is developing an Index for all the images contributed by LMAC members, for use by LMAC members and all of Hive. These copyright free images will be a rich resource for artists and bloggers across the blockchain. Here's a blog by @shaka (LMAC founder and leader) that describes the project, and a link to the Index, which is under construction as I write this.
A hearty thank you to all the image contributors whose photos helped to fuel my imagination, and special thanks to the four contributors whose work I used physically in my collage.

For more information about LMAC, follow this link to @shaka's blog, which describes our LMAC collage contest. Everyone can see how much fun this is. Please, join our community and start creating. Thank you @shaka, and thank you to every community member, for affording me the opportunity for a rich, creative experience.
Thank you for reading my blog! Hive on!