---
Everywhere you look now, there's some SWEET lighting setups going on. With all the recent advancements in LED technology, they have become more luminous, smaller and more energy efficient. Best thing of all, if you ever wanted to create a red light district in the comfort of your own living room, then this post is for you!
---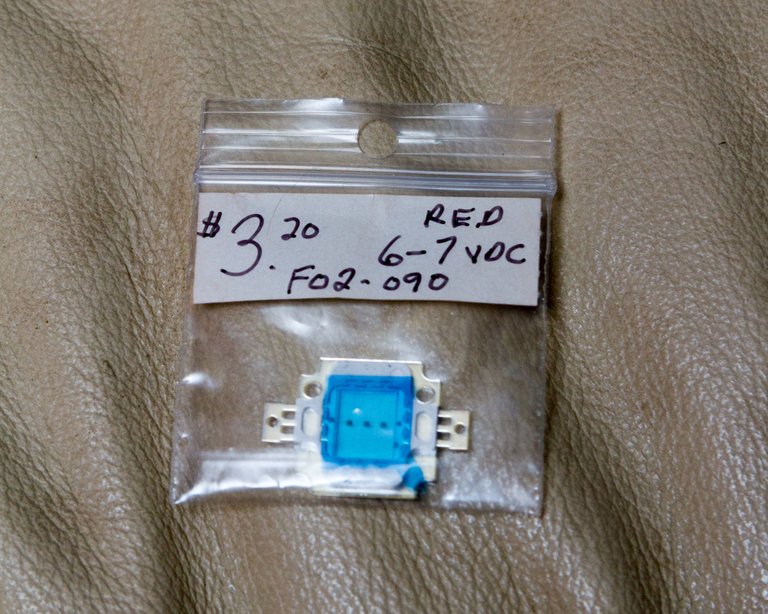 I found these COB LED chips at a local electronics parts store. Using part of an old Pentium 2 heatsink was the plan for heat-dissipation. I wasn't able to find any sort of spec-sheet on these COB LEDs so I wasn't sure of how much heat they would output, but I estimated that I could fit four chips onto this mass (it was moreso a mount, a cnc machined aluminum part that would serve as my heatsink) without overheating. I wasn't planning on running these LEDs at their maximum rated-voltage so I felt more confident I wouldn't cause any harm. Additionally, I would monitor the temperature extensively with an Infrared thermometer so I could gauge whether or not the cooling would be sufficient, at least for the first few hours to make sure I wasn't going to burn them out too quickly.
---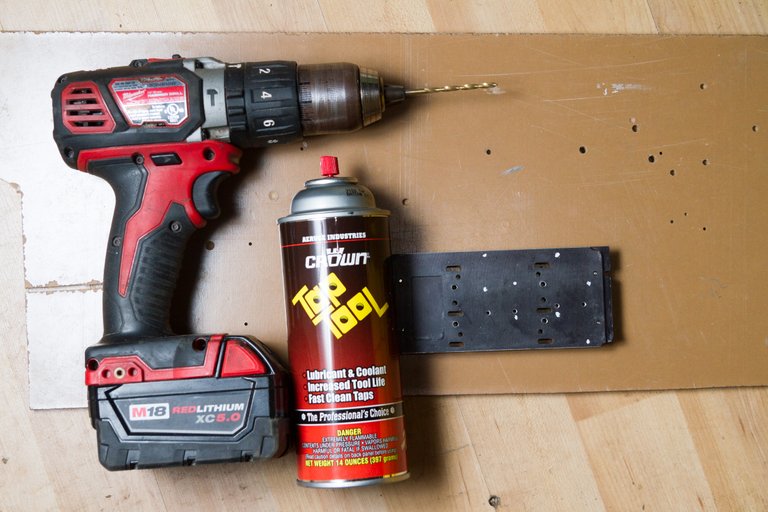 For me, not only would this be a project to get some snazzy cool mood lighting, it would be an exercise in light metalworking. I wanted to make some fine thread so I could practice that skill. One thing that I learned is that working with this tapping fluid is it's REALLY nasty stuff, best to use with gloves and in a well-ventilated area. Also, the thread that I was making was for an M2.5 screws, so quite small and delicate and much time and attention had to be taken to ensure that the threads came in the end. With care and diligence I was able to make some nice threads with a #43 drill bit and a 440 tapered tap.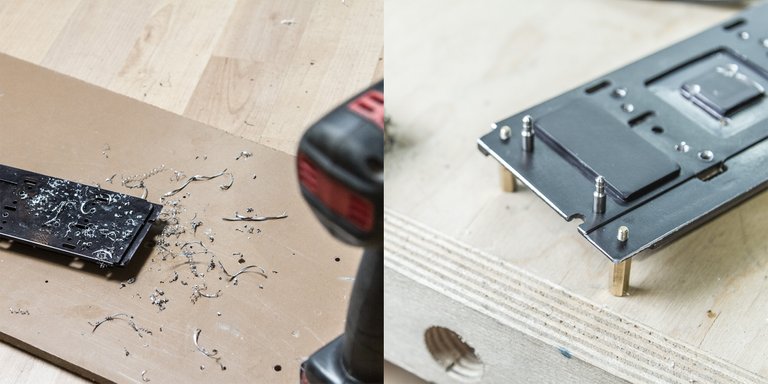 ---
APPLYING THERMAL INTERFACE COMPOUND - NOT SO "THICC" THO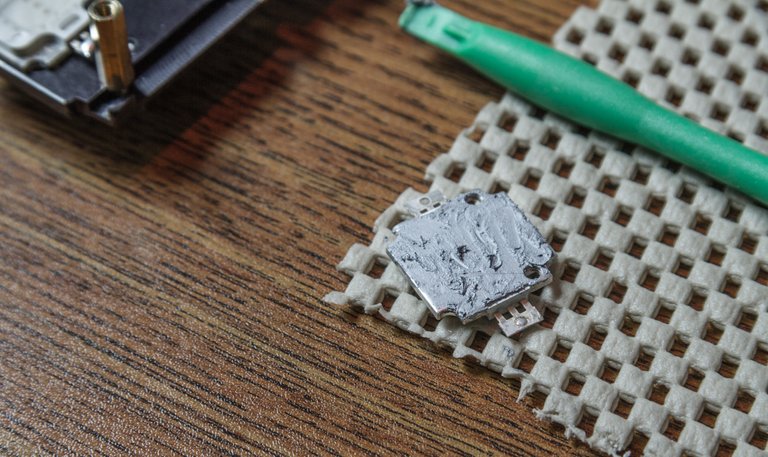 I used some old thermal-paste I had to create a heat-conductive mating between the two surfaces. Without this material very little heat would be transferred out of the LEDs leading to their overheating and likely early failure.
---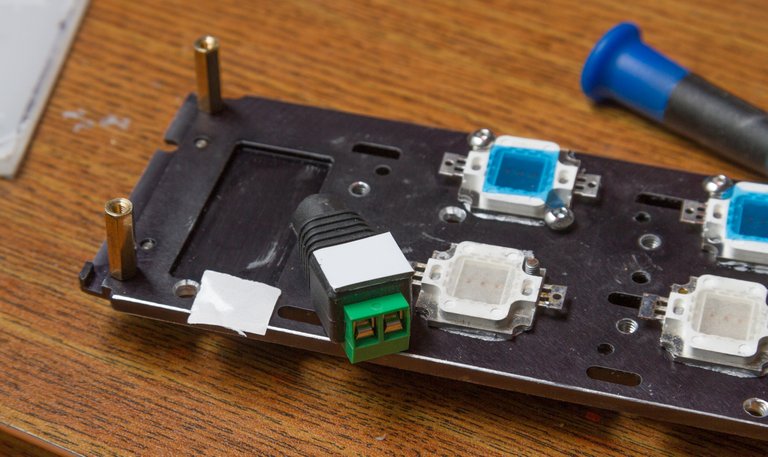 I was using this terminal-block style barrel jack as a connector for my 12v wall-wart. Using a small piece of 2sided sticky pad, I found a handy spot on the aluminum as well as a place to house the switch. The switch was a double-pole single-terminal type which I only used because had a lot of lying around and needed to get rid of them. Since having bought a grab-bag of switches from an online electronics supplier a few years ago, something that I likely won't do again they've been sitting. And sitting: Of course I was expecting a decent mish-mash of switches, but most of them were pretty specific and I feel like the vendor was just using the grab-bag as a way for them to pawn off their less-popular stock on the unsuspecting masses. And while of course, you get what you pay for, it was an okay deal, I found that most of the switches were too specific and niche to have any sort of use for me. Not to mention, the switches I did use mostly felt cheap and while did still have proper certifications, wouldn't be ones that I would want to buy again. The only purpose of the switch in this case was to shut off the second bank of LEDs if you just wanted half the brightness.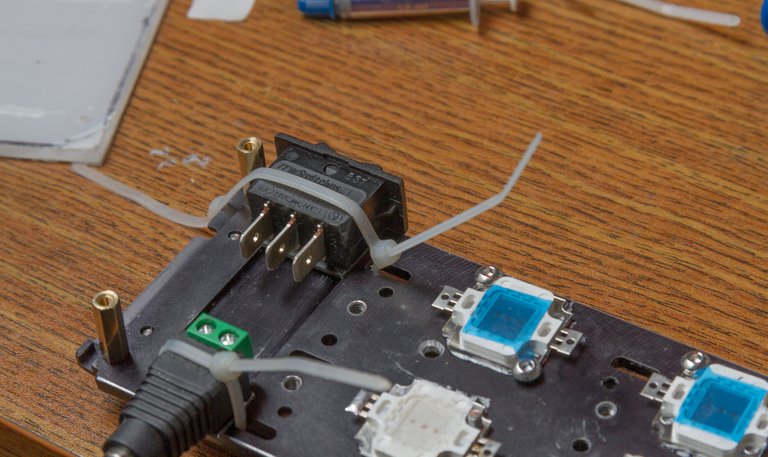 ---
soldertime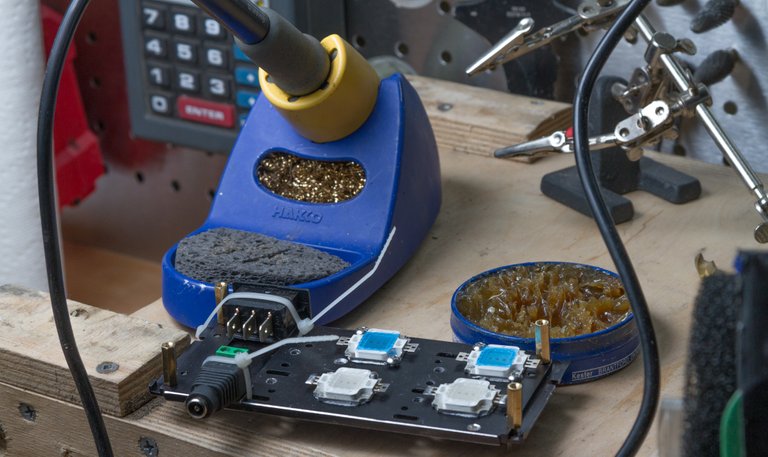 I ran two LEDs in serial, and two in Paralell with an option to switch on and off the second set. Also, as tempting as it may be, do not remove that plastic protective covering on the LEDs until you are done the project - no matter how tempting it may be. The material underneath is actually a kind of softy resin material that when touched becomes irreversibly marred. While it's still transparent, I'm sure affects some of the optic properties and possibly even affects the chip thermally in some way.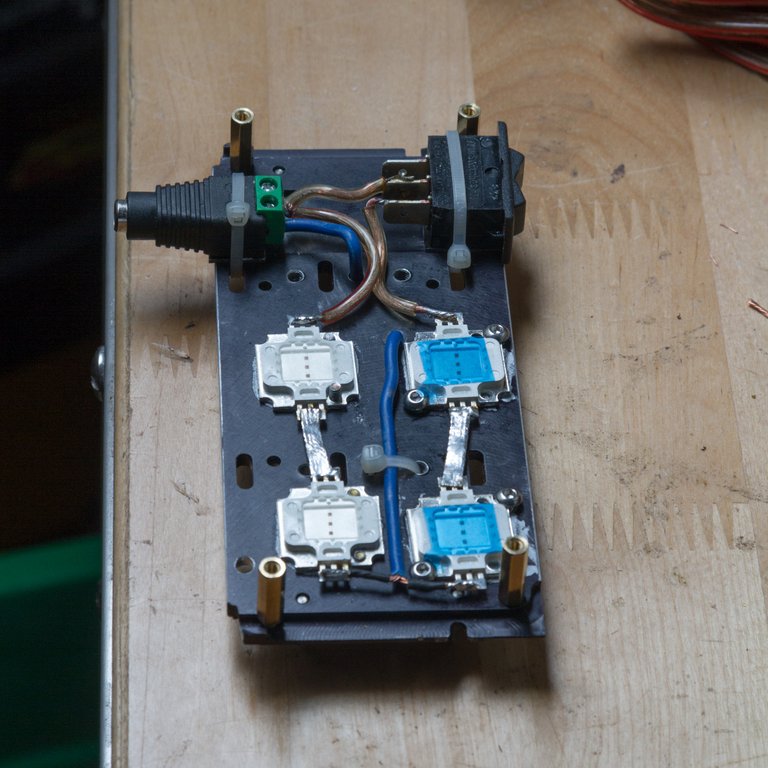 ---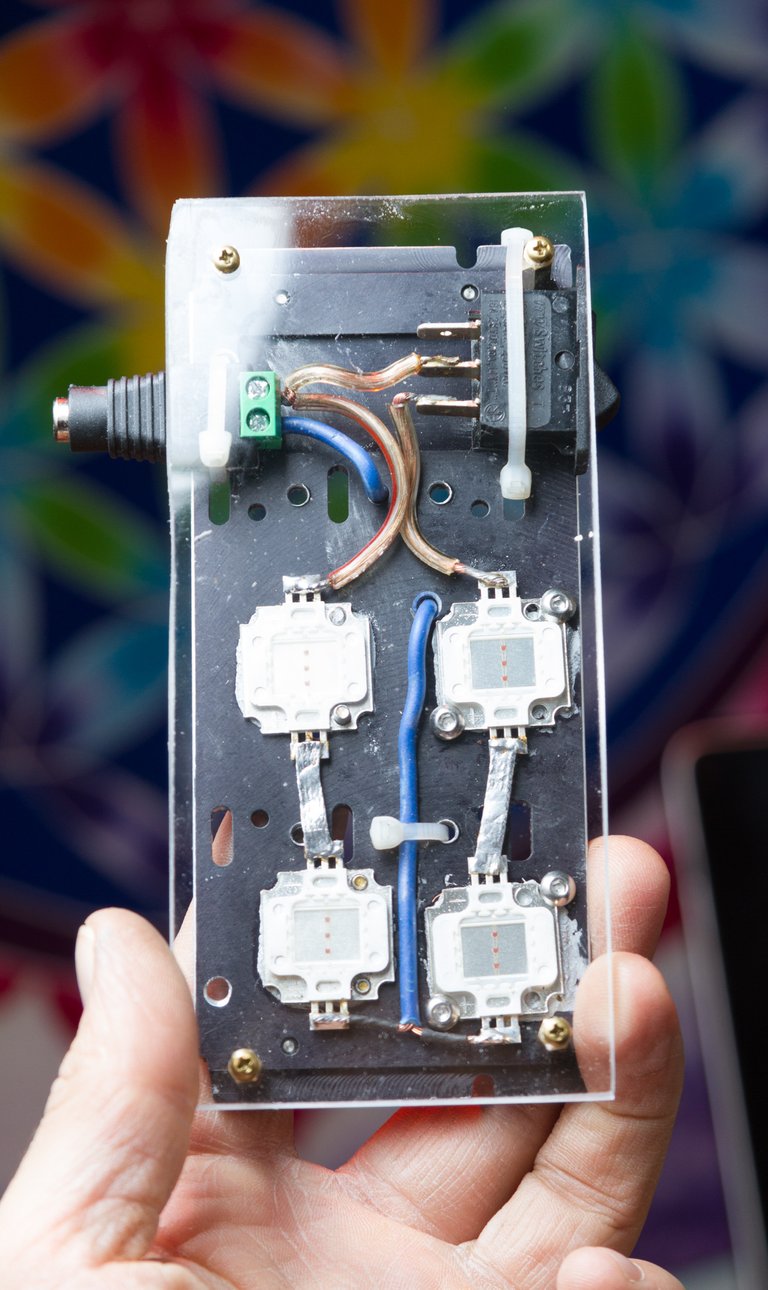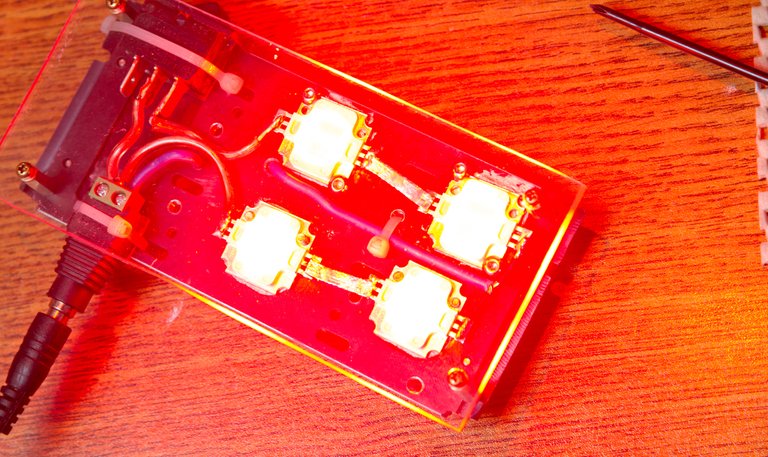 After using this light for a while, I kept an eye on the temperature and found the highest temperature to be at about 60ºC ... I think this should be well within the operating range of most semiconductor electronics and turned out to be a great heat sink for this particular application. I the end, it was a fun project and am interested in building further such creations if the time and need arises.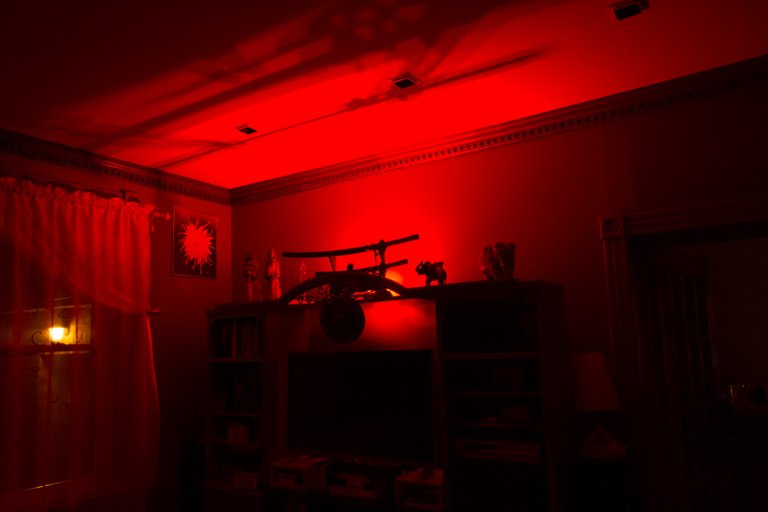 ---