Tron / Justin Sun buying Steemit was undoubtedly the hot topic in the last couple of days. The topic itself is discussed in depth elsewhere, so I won't go that way here. What's interesting, though, is to put the attention around Tron on Steem in numbers and figures.
Here's the number of #tron posts since the start of 2020: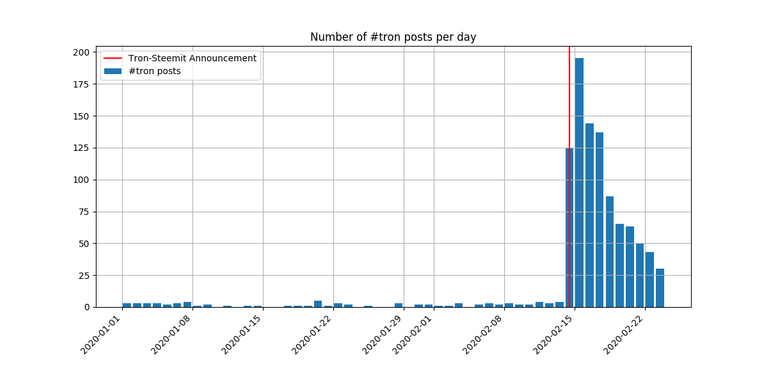 You can see that #tron wasn't too popular on Steem before Feb 14th, something like a handful of posts per day. This changed abruptly with the number of #tron posts exceeding 120 on Feb 14th and almost reaching 200 on Feb 15th. Since then, it decreased again.
To put this into perspective, here's a comparison with the number of #steemit posts per day: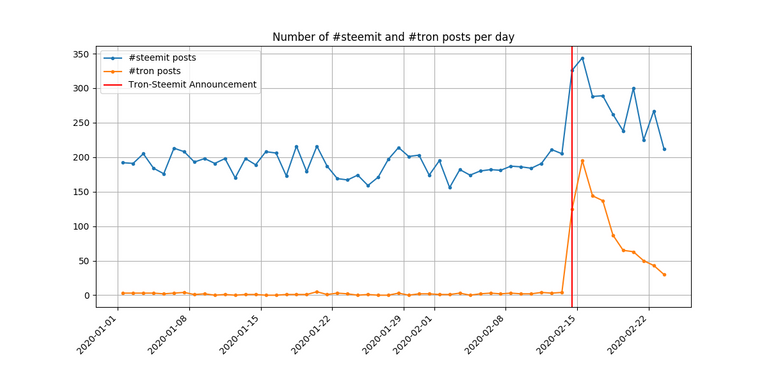 So the number of #tron posts reached the same level as the number of #steemit posts on a 'typical' day. With the announcement, the number of #steemit posts obviously increased as well.
More activity on the chain?
Looking into the number of replies the above #tron and #steemit posts received gives the following figure: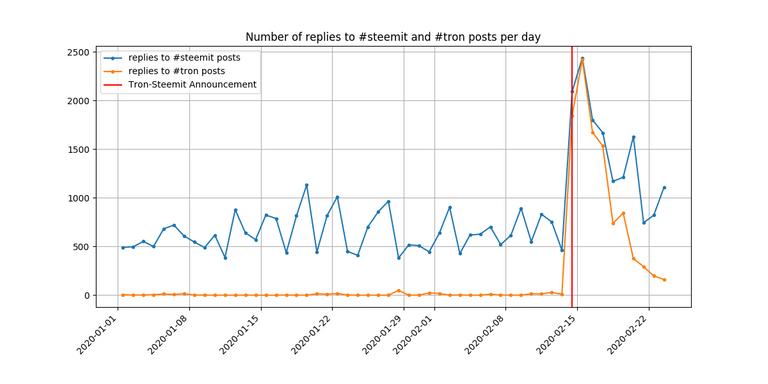 The numbers here are the accumulated number of direct replies to the #tron and #steemit posts per day. It is probably no surprise, that the number of replies exploded together with the overall increase in #tron posts. #tron and #steemit posts reach more or less the same level, which indicates that the hottest posts likely had both tags. But does this mean that more users/accounts are active on the chain since the announcement of the merger?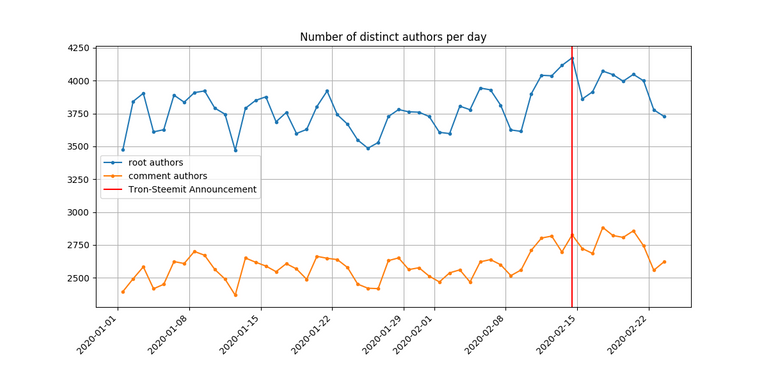 This figure shows the number of distinct authors for root-level posts and comments on Steem per day. One might guess that there is an overall increase in activity, but this seems to start already before the announcement and will need more data to be really confirmed. There is no clear effect of the announcement on the number of actively posting users per day.
Did it attract new users?
The following plot shows the number of new accounts per created per day: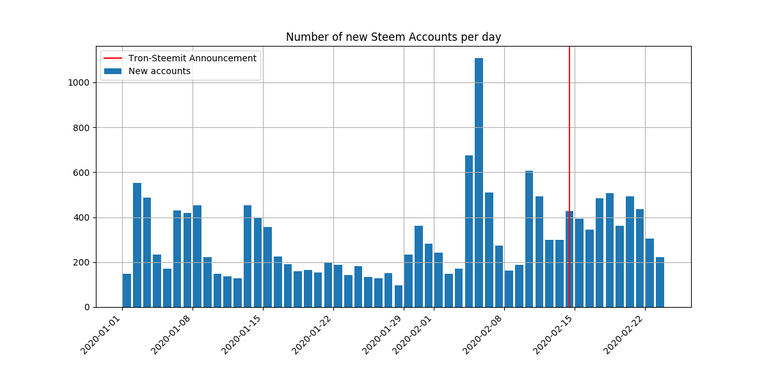 Also here, no clear impact on the number of registered accounts with the announcement. However, I have no information on the signup waittime for accounts created via @steem at the moment. Those who actually wanted to sign up after the announcement might still be in the queue :/ edit: as @pennsif pointed out below, the account creation time seems to be typically in the order of hours
so there is no 'creation lag' to be accounted for.
But: there's since long time again an increase on the number of new accounts created! The peak beginning of February stands out here and might need a more detailed look, but the overall trend looks positive!
Steem on!
---
This post was possible with direct PostgreSQL access to a hivemind instance provided by @emrebeyler - Thanks Emre!
Posted via Steemleo