My daughter and I were just outside playing in "Neighbour Park", which is the kids playground belonging to the apartment building next to us. There is also "Meow Meow Park" and "Big Park" and of course "Our Park", which is outside our own apartment. Parents tend to travel around the neighbourhood with their kids to add variety so their children don't get bored, even though some residents (generally the older ones) don't like "foreign" guests in their gardens.
I think children need to be bored.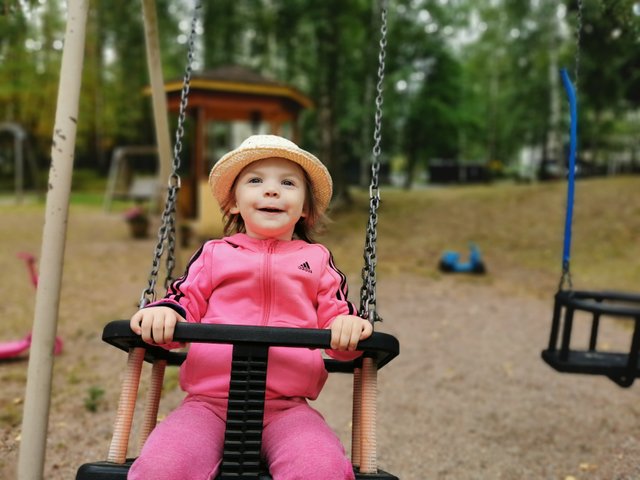 Boredom is a hugely beneficial state for creativity and innovation and rivals "necessity" as the mother of invention as it forces active pursuit of interest, rather than passive consumption of whatever is around. Being able to gap fill space with creative activities is a skill that can be developed.
These days I think that it is so easy to get on-demand service to fill "nothing space" that instead of developing creative skills, people are continuously avoiding the "work" of it by always being able to find something of interest, even though there may be little of utility or actual interest inherent in what they consume.
Sometimes I wonder how many audiophiles who spend their life consuming music would be more satisfied being able to actually play an instrument or, how many gamers would get more enjoyment out of being able to code a game. This is the difference between being a user and creator isn't it? A user consumes the creations of others, whereas a creator develops for consumption.
Of course, there is space for being both as one is unlikely able to create everything one needs to use, but I feel that the creative skills that have made us so successful as a species are slowly being "weeded out" and replaced by consumptive skills. These days, a "high-status" person in a community could be one who listens to the latest music, plays the latest games and knows about the latest shows, yet creates nothing.
While not an evolutionary biologist, I do think that the skills that have made us most successful as a species have been our ability to create well, not consume well. People think it is our ability to use tools that have helped us, but I think that is the wrong order of business and it is - our ability to create tools - that has been the largest driver of our species.
Of course, no individual has this ability to fill all needs in the current world - just like no one on earth has all the skills necessary to make a ballpoint pen from scratch - and therefore most will be users of some kind. This is where the "tool user" skill comes into it where we have the ability to learn how to use tools created by others, even though we weren't part of the creative process ourselves. I can write with a pen without having any understanding of the mining and metallurgy involved for the metal, the chemistry for the plastics or the skills of machining and casting for the manufacturing processes - I can't make a keyboard either.
But, where do these skills come from and how do they develop?
 
I believe that the creative skills are mental skills that need to be exercised in the same way that muscles do and therefore can be hampered by inactivity and disuse. These days, it is so common to use passive space fillers like tablets and phones, or toys that do nothing but feed stimuli to the senses that children no longer need to stretch and work the creative areas of the brain.
The brain has a structure that develops from soon after conception and is influenced by all environmental factors real and imaginary to change the way it operates. Imaginary environmental factors? Absolutely.
One example that I was reminded of recently was the idea of counterfactuals where one imagines what would have happened instead of what actually happened. You know, what would have happened if Hitler never existed or if Diego Maradona was penalized for a handball at the World Cup?
Thinking about these things is a creative force because the alternatives never happened and therefore we have to close gaps and use our imaginations to make considerations, not only that - we have to both include and ignore what actually happened in the aftermath of these events. An artist with a plan can do something similar to this as they imagine something and then gap close to actually create a representation of it in the real world, even though it may be an impossibility and "normal" circumstances.
What are normal circumstances though when we have the ability to create tools that can change the environment of normal? Again, this is the benefit of being human and also a drawback as we are incentived to create but, not always incentivized to create well enough that it is in our best interest.
An example might be air pollution from industry and vehicles. I do not think that anyone on earth had the end-goal of polluting the air with their creations, that just happened to be a negative by-product of what they were trying to do, which is eventually mostly the same, monetizing their creativity in some way. But, even these unintended byproducts of creativity can spurn counteracts of creative results where there are people who are working to create minimizing and reversing effects of the outcomes thus far.
Too little too late?
 
It doesn't matter in my opinion even if it is too late to save humanity from itself as the living action of creating to do so is what I would consider a life well spent. While on the other hand, a life of consumption is something that is completely foreign to our species when looking at what makes us uniquely human.
While some people might disagree with my opinion and say that it is our self-awareness of our place in the world that differentiates us from the animals, I think that this is again putting the order of business in the wrong position. I think it is our creativity and ability to use it to build tools that continually gives us insight into our position in the universe and the byproduct of our creative pursuit is self-awareness. Through the tools we create, we can see our own reflection.
This is also something that we can see through the content we create where our thoughts are directed from the past we have experienced and the knowledge we hold. We can see those who are creative forces as being able to develop an idea into a public representation of their mind, and those who are not rehashing the thoughts of others to fill space.
I find that too often in the society we have created the rehash is more rewarded than the creative force, even though it adds nothing to the pathway of discussion, conversation and negotiation of what we are and, what our place is in this universe - a uniquely human experience as far as we know.
Our natural instinct is intellectual stimulation to create sensory experience
 
And through our imagination, we are able to shape our own mental development. Ever thought about that? If you hear a a growling sound as you walk through a darkened forest, you will likely experience sensory alertness. However, if you imagine there being the sound instead, your body will become alert in much the same way. Our bodies do not seem to be able to always differentiate fact from fiction, which is also likely why so many people are "outraged" by senseless information on social media.
The way we think about the world changes the way we experience the world and what we focus on within our environment. When my daughter and I are playing in the neighbour's park and getting dirty looks from the residents, what are they actually imagining - Are they seeing a father with a sweet and conscientious daughter enjoying the day - or invaders looking to destroy their equipment?
The world they have created to experience and the factual world are different.
 
But, due to their imagination and therefore external focus, they are creating a world of monsters in their head and act accordingly to the feedback their intellect is giving them, not the reality.
Our own senses are directed by our thoughts and this has been shown in experiments like changing the name of a color makes people think the color changes. Our concepts affect our experience and because we feel the feedback we get from the world is accurate, seeing is believing, even though it is our thoughts about what we see that builds our understanding of it.
As said at the start, if necessity is the mother of invention, what happens when we give children full sensory experience without the need to imagine anything other? In my opinion, the brain won't need to exercise, it won't need to build the creative tools necessary to close the gaps and make sense of the world and therefore - it won't need to evolve its own structure.
Our imaginations build our brain structure because it creates experience that is outside of what it can get in the immediate environment. People imagines going to space before the moon landing, they predicted ways to fly before a plane, they imagined a character profile before Sonic the Hedgehog ever collected coins.
Some might ask what came first the chicken or the egg and believe that the answer is scientific but, that is not where science starts. Science starts in the ability to create the question itself and due to its "unreal" nature for it is an unknown at the point of asking, that makes science a creative pursuit. What happens to science when large swarths of the generations today have lost the creative ability to ask questions of depth other than what is the next tool they can buy to take away their fear of boredom?
The world we create is a direct result of our ability to not only create but continually ask questions and predict where things may lead and these are creative skills developed in the minds of babies and toddlers, not adults. The scientist nor the artist is born, they are created through the exploration of their own mind and the development of skills to take what they discover there, and make it some kind of reality.
Once the questions stop, so does humanities ability to evolve itself and then we are mere animals once again, and the stars are no more than lights in the sky.
But hey - I don't know how to science properly because observations and questions of the environment in which we operate have little value and consequence in what we create for the future.
Taraz
[ a Steem original ]