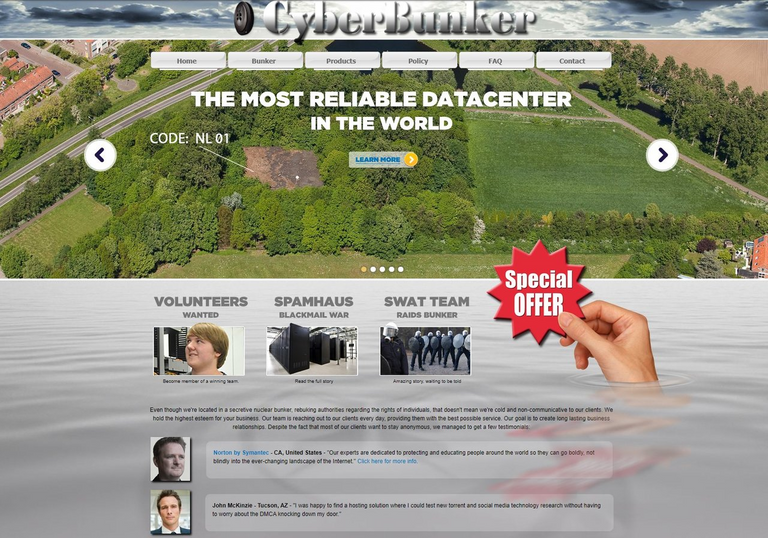 Dubbed The most reliable datacenter in the world, Cyberbunker is a very interesting story. Really interesting.
Cyberbunker is a data center housed in a cold war bunker from 1955. The bunker is in Southern Netherlands and was built to withstand a nuclear blast.
While Cyberbunker had a website that looked like someone made it for a High School project, it housed an impressive amount of technology and connectivity bandwidth. But that isn't what I really want to talk about.
If you look at the image above, you will see a link mentioning Swat Team, that's the first story I want to tell you about.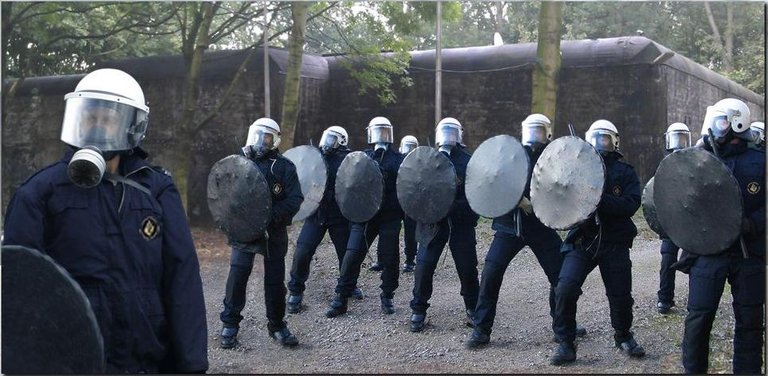 While the above image looks like a group of friends playing a strange form of paintball, it is an actual swat team that came to the bunker one morning with a search warrant.
The officers knocked on the front door but received no answer. It was later found out half the staff was asleep, and the other half was watching a movie, while they did have cameras an intrusion detection system, the intrusion detection system was left off from a recent test.
After receiving no answer, the officers used a battering ram to break down the doors. Little did they know this was built to withstand a nuclear missile strike. After a few flashbangs and some shouting, the swat team left.
The next day after the security footage was reviewed, the team called the police department to question what happened and was told no one went out to their facility. Cyberbunker lawyer threatened to release the footage to the public and shortly later the police offered to repair any damage to their fence and explained it was supposed to just be a routine check.
If you thought that was interesting, it doesn't stop there.
In 2002 during a fire it was discovered there was a Methyl​enedioxy​methamphetamine lab operating there was well. At some point the physical servers we relocated but this facility was still used as the point of contact. The facility was sold in 2010 and the owner of the facility came forward later in 2013 stating Cyberbunker have not been at the facility since the fire in 2002.
Later in 2009, they started to host ThePirateBay for a brief time before The Hamburg District Court ordered them to stop in 2010.
Not long after they were accused of providing spammers hosting and resources by Spamhaus. This was reported to the ISP providing resources to Cyberbunker. They responded by blocking a single IP, so Spamhaus blocked all of their ISP's addresses. At this point, they dropped Cyberbunker as a customer.
Spamhaus then added Cyberbunker to its blacklist in 2013. This resulted in the largest DDOS attack in history. An attack that exceeded the bandwidth of any previous attack by over 300%. This attack went on for over a week.
In 2019 the German police stormed a Germany based Cyberbunker facility referred to as CB3ROB. 13 people were arrested and over 200 servers confiscated.
Norton did a show in 2016 which has a few minutes with some footage of the original Cyberbunker.
While this may not even be everything, it's everything I was able to dig up on the data center. I remember looking into them quite a few years ago for a project that needed high security but I was scared off by their amateur looking website.
Images Source: Web Archive
---
Securely chat with me on Keybase