This is my submission for the @stemgeems #stemgeekscontest gadgets. I won one of these before, but there were not many entries. You cannot win it if you are not in it!
The smartwatch is a technology that has taken a long time to take off. You could trace it back to some of the early digital watches that could act as a sort of databank to store some phone numbers. Remember the calculator watches? This was in a time with no mobile phones. I have owned a couple of other smartwatches. The first was a Pebble. This was a neat design with long battery life that could sync to your phone to display alerts, but could also run all sorts of apps itself. It was limited, but worked well. The company was bought by Fitbit who discontinued the Pebble watches. Mine developed a fault anyway. I also had a Xioami Miband that could measure heart rate and steps as well as showing notifications. I found it limited, but it was cheap.
As I have been running a lot I asked for a running watch for my birthday. I read a lot of reviews and chose the Garmin Forerunner 235 for the combination of features at a reasonable price.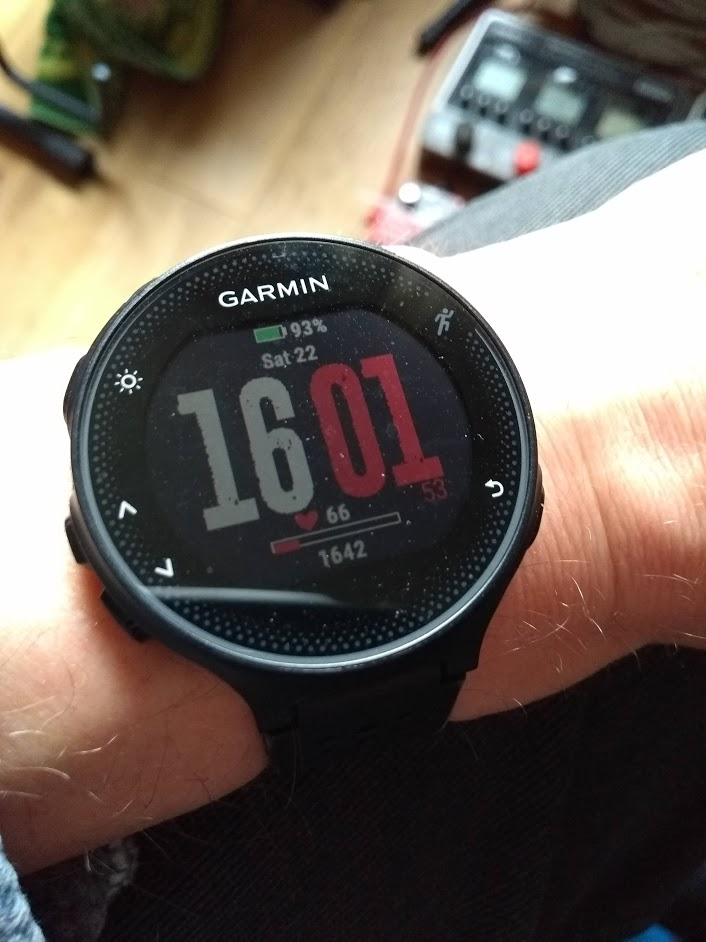 Taken from my previous review.
After six months I am still happy with my choice. There are much more expensive fitness watches around, but this suits my needs. It can log running and cycling workouts with the option of setting up your own programmes for things like intervals. It continually measures heart rate and steps. It is waterproof enough for general swimming.
It has a decent battery life of around a week that can include several workouts that use the GPS. I am able to run without taking my phone with me, as I did last night, and still get a log of my performance.
So far it has not shown signs of wear apart from some minor scuff marks. The strap is soft and comfortable. I think you can easily get replacements.
Operation is very simple with the five buttons that soon become intuitive. One press gets you a log of your heart rate.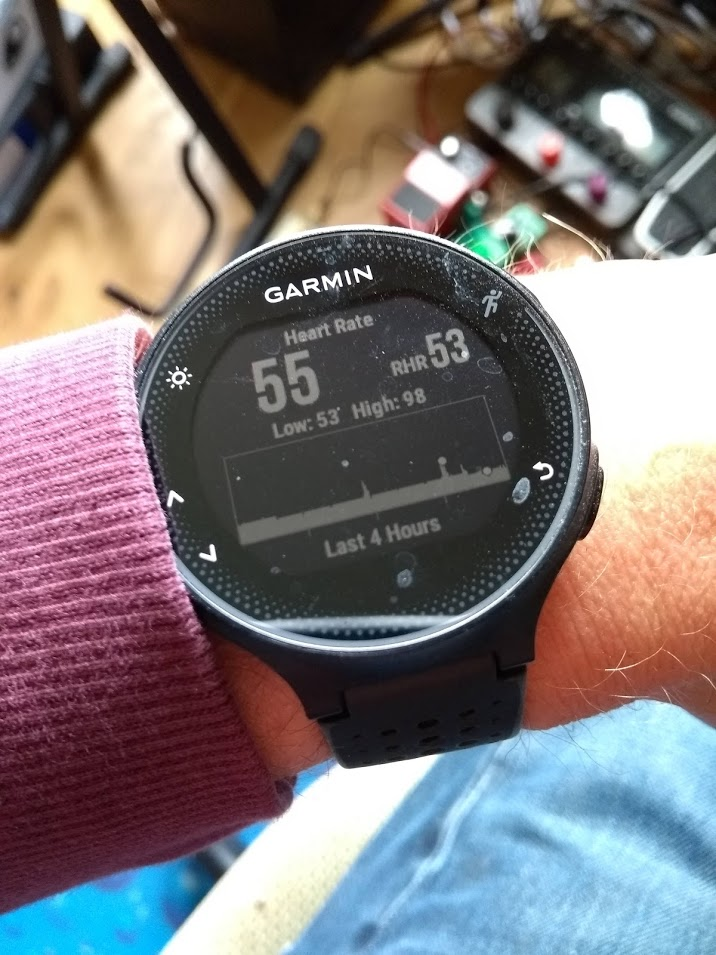 It is customisable with a selection of hundreds of watch faces. Am currently using one that emulates an old-style watch with hands, but includes extra details like steps, heart rate and battery status. I need something that is easy to read at a glance with my failing eyes.
The Garmin app on my phone can give me all sorts of statistics. I have it set to synchronise automatically to Strava as that is where I prefer to log my running. That can be picked up by the @exhaust dapp for me to post on Hive.
Logging a run is as simple as pressing the start button a couple of times so it picks up a GPS signal. Whilst running you can use several customisable screens to get data on pace, steps, distance, heart rate and other statistics. It will vibrate at set intervals to let you know it is showing your distance for the last kilometre or heart rate. If using the app you get spoken details. When using a training programme it tells you what you just did rather than what the next phase is, but then that is displayed on the screen. Maybe there is a setting to change this.
So overall I am very satisfied with this watch and wear it every day. It really is useful to see notifications on your wrist as your phone may be in your pocket or bag. It lacks some fancy features such as a touch screen, but I can live with that. I do not really need lots of apps as I will generally have my phone with me anyway.
What is your favourite gadget?