Commercially, uranium enrichment requires a light water reactor in which nuclear reactions take place. There are generally three methods used for uranium enrichment.

image source
When uranium is mined in its raw form, it contains 99.3% U-238, 0.7% U-235 and less than 0.1% U-234. These are different isotopes of uranium. This means that the number of protons in all of their atomic nuclei is 92, but the number of neutrons in the atom of U-238 is 146, 143 in U-235 and 142 in U-234. 238, 235 and 234 are, in fact, the total number of neutrons and protons that represent the mass or quantity of uranium in all three of these molecules.
A nuclear reactor is a suitable and useful source of uranium for fuel with a high proportion of uranium-equivalent U-235. Because out of the three isotopes only one isotope is indivisible or invincible. In other words, nuclear reactions are possible with it. There are around 500 nuclear reactors in the world, that require uranium 'enriched' in the U-235 isotope for their fuel. On a commercial scale, uranium enrichment contains about 5% U-235. There are three methods of uranium enrichment, which are mentioned below.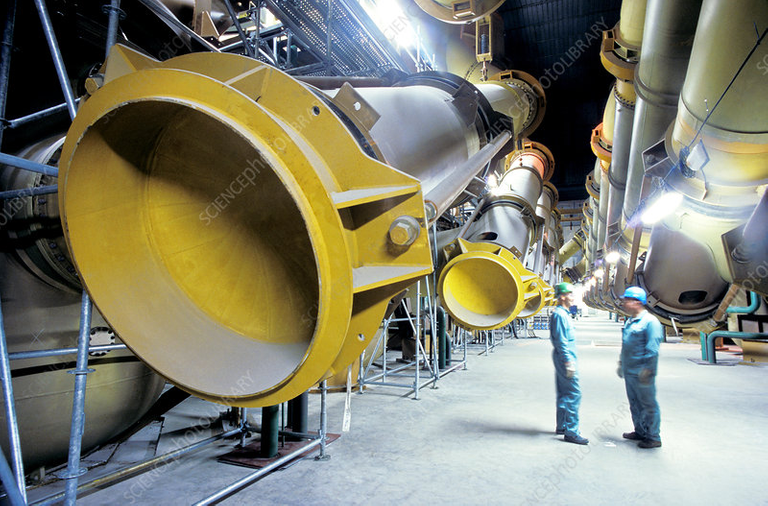 image source
In first method of gaseous diffusion, crude uranium is mixed with fluorine gas to form uranium hexafluoride (UF6). The gas is then passed through long pipes that have sieves. After filtration, these fine particles pass through the U-234 and U-235 molecules in UF6 gas, while the U-238 molecules cannot pass through these tiny pores because they are so large and heavy. This process is repeated over and over again to separate the U-235. Remember that this whole process takes place in space. This process is just like if we throw a light and heavy bullet into space at the same time, then the light bullet will go ahead and the heavy bullet will be left behind. Eventually the gas passing through the pores is cooled and collected in a liquid form and then converted into a solid to form a fissile substance in a nuclear furnace. The last of the enriched substances can pose a great danger with the slightest carelessness as the radioactive rays prove to be extremely deadly to human health.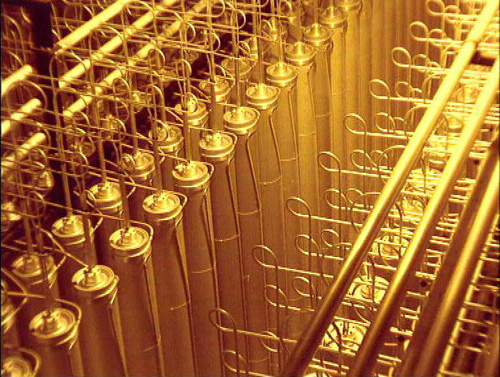 image source
In second method of centrifuge, many parallel and serially connected cylinders are used. Centrifuge machines are connected to each other like rail coaches. When these centrifugal machines are rotated rapidly, the heavy U-238 atoms in UF6 stick to the machine walls and the light U-235 molecules accumulate in the center of the machine. In a clothes drying machine, the water is heavier than the cloth, which comes out of the holes on the outside of the machine and dries the cloth. A centrifugal uranium enrichment machine works on the same principle. The substance that is separated from one machine then enters another machine. In the same way, these machines work like train boxes to separate light uranium ore from heavy ore.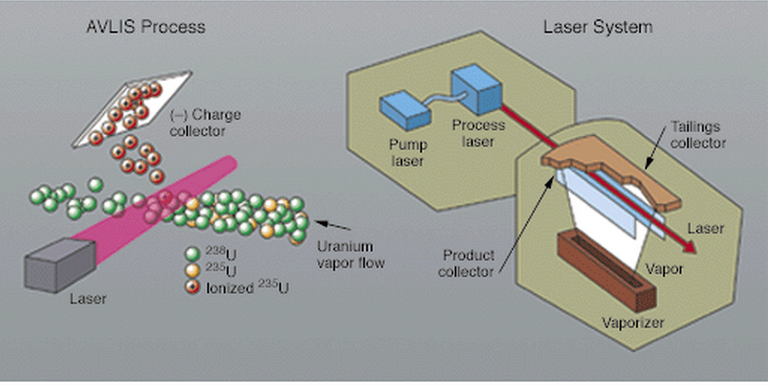 image source
Uranium isotopes can also be separated under the principle of photo excitation. That is, to irritate or provoke molecules using laser beams. This type of method is called atomic vapor laser separation. This system consists of three stages.1- Laser system 2. Optical system 3. Separation system. The first system produces a powerful one-color laser beam that forms ions in one type of isotope, while it is inactive on the other isotope. Physically and chemically changes occur in the affected isotopes, on the basis of which they are isolated.
There are around 13 countries which have capability of Uranium enrichment; but 90% of world enrichment capacity is in hands of five nuclear power countries. These countries provide toll enrichment services to the commercial market.
Thank you for reading! Stay Safe!👋😌