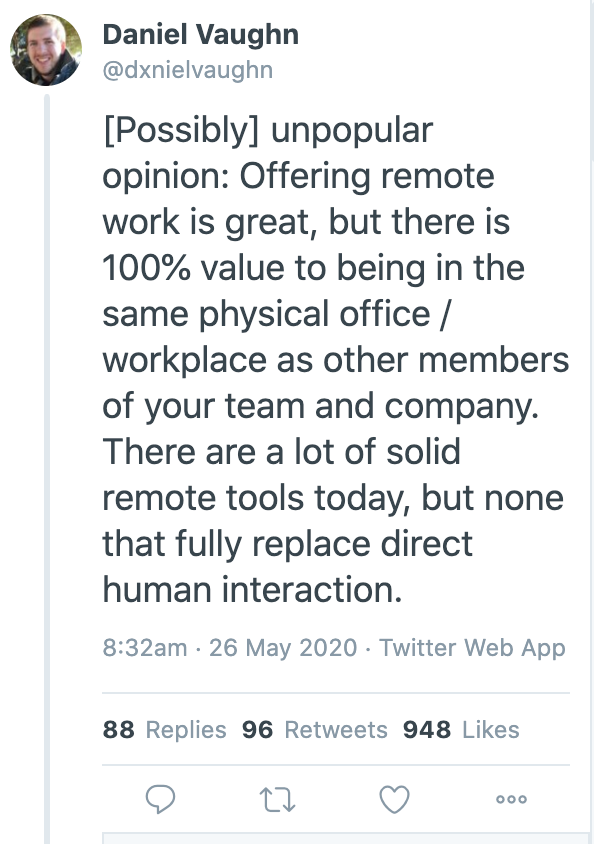 I am not singling out Daniel here for any particular reason. His is just one of many increasingly shrill voices trying to hold on to an old, and in my view archaic, form of corporate work.
There are two major reasons I believe many companies will ditch their downtown offices:
They are super expensive to rent and maintain.
It forces your company to recruit from a pool of people within commuting distance, and only those who don't have remote options. Meaning you can't hire the best.
The main reasons people still put forward for keeping employees stuck in open-plan offices seem to come down to "it's easier to interrupt each other when a random thought comes into my head" or "I am lonely".
Being miserable in an open plan office with 100 other sad people isn't better than remote work.
Commuting for four hours per day, to pay $25+ for a sketchy parking space then another $20 for lunch isn't better than remote working.
So what if face to face is sometimes a little more productive?
99% of the advantages of face to face working are on the work/company side, the gains of remote work are on the life balance side.
From where I am sitting (heh) ... it's no contest.