If you're the type of person who isn't exactly keen to dish out like $100 bucks to old Bill Gates of Microsoft fame to activate their latest abomination of an operating system known as Windows 10. To pull of this feat you'll need some basic computer knowledge such as typing and following basic instructions.
This method is tested and works great with most if not all versions of the Windows 10 operating system and will take roughly 2 minutes to complete. While commentary of the legality of this method would lean towards questionable, the chances of anything ever coming of activating your Win10 with this free method are slim and nil. This isn't pirating, nor is this stealing from Microsoft, it's simply utilization of functions built into the operating system as they were intended.. So really why ever waste money on Windows again?
Activation Requirements
A computer with Windows 10 (any denomination)
The ability to read and follow simple instructions
Fingers to copy and paste the commands shared below
First you're coing to want to click on your computers search function (1), then from there type in "cmd" (2) which will bring up the command prompt program, however you must right click the program and choose to run it as administrator (3) in order for this to work. Picture below to aide those following along: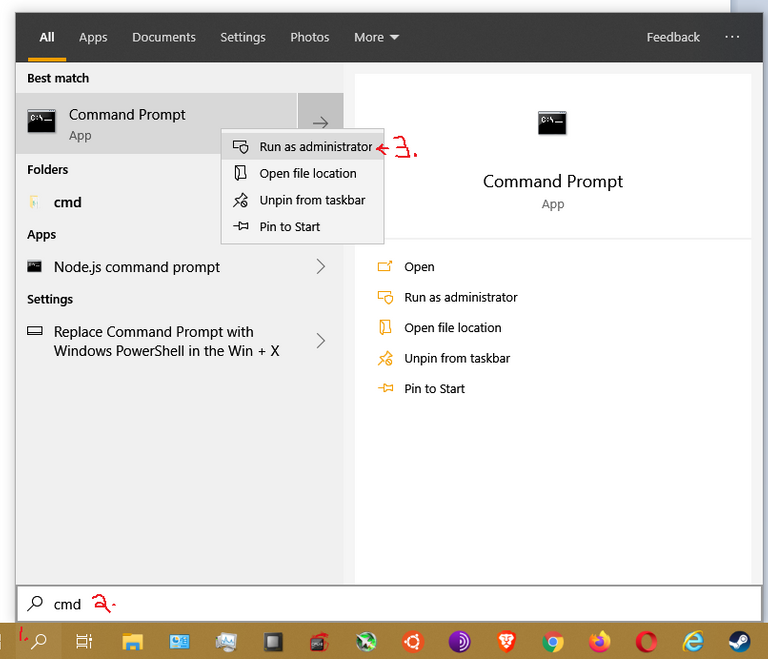 Once you've got CMD opened in administrator mode the next step is to install a KMS client key. In order to do this you first must determine which version of Windows 10 you're running else the key will not work properly. You can find what version of Windows 10 you have by going to "Control Panel > System and Security > System" which will bring up a window like the picture below. Where the version of Windows 10 you have is located is underlined in red in the picture below.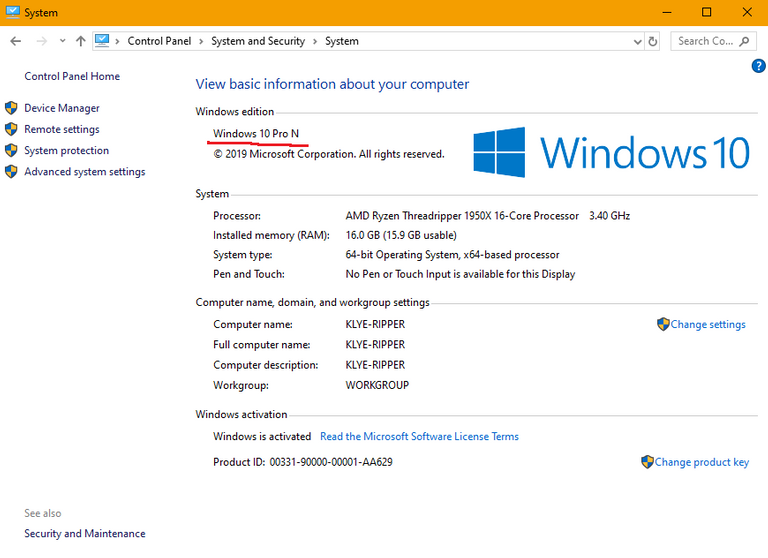 Once you've determined what version you're rocking find the corresponding key below then move onto the next step. As mentioned previously using the wrong key for your version of Windows will cause activation failure which completely destroys the meaning of this tutorial. Please find your versions key below:
Home: TX9XD-98N7V-6WMQ6-BX7FG-H8Q99
Home N: 3KHY7-WNT83-DGQKR-F7HPR-844BM
Home Single Language: 7HNRX-D7KGG-3K4RQ-4WPJ4-YTDFH
Home Country Specific: PVMJN-6DFY6-9CCP6-7BKTT-D3WVR
Professional: W269N-WFGWX-YVC9B-4J6C9-T83GX
Professional N: MH37W-N47XK-V7XM9-C7227-GCQG9
Education: NW6C2-QMPVW-D7KKK-3GKT6-VCFB2
Education N: 2WH4N-8QGBV-H22JP-CT43Q-MDWWJ
Enterprise: NPPR9-FWDCX-D2C8J-H872K-2YT43
Enterprise N: DPH2V-TTNVB-4X9Q3-TJR4H-KHJW4
Now with the administrator CMD program open type slmgr /ipk YOUR-WIN10-VERSION-KEY-ABOVE in the terminal and press enter. If all goes well you'll see a small window pop up stating it was successful:

After this, while still using the same administrator CMD window you're going to want to set a KMS machine address. The command to input to do this is slmgr /skms kms8.msguides.com and after entering that press enter. If done correctly a small window will pop up saying it was successful:

The final step is to activate your copy of Windows 10 by typing this command in the same administrator CMD console as the previous steps. The command is slmgr /ato and then hit enter. You should get a succesful activation window pop up similar to the one below: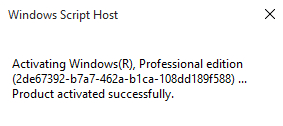 That's it! Enjoy your freely activated version of Windows 10!
---



Looking for an Affordable, Secure & Reliable Server Host for Your Witness Server or Other Web Related Projects? Check out Privex.io!