This is the second publication in this series that I have wanted to make in relation to the exciting world of virtual reality and its use in different areas. The first publication deals with the application of this technology in the health area, in this second post I want to highlight its usefulness in the field of military training and aeronautics, areas in which there have been large investments in recent years, continue reading and find out about the news.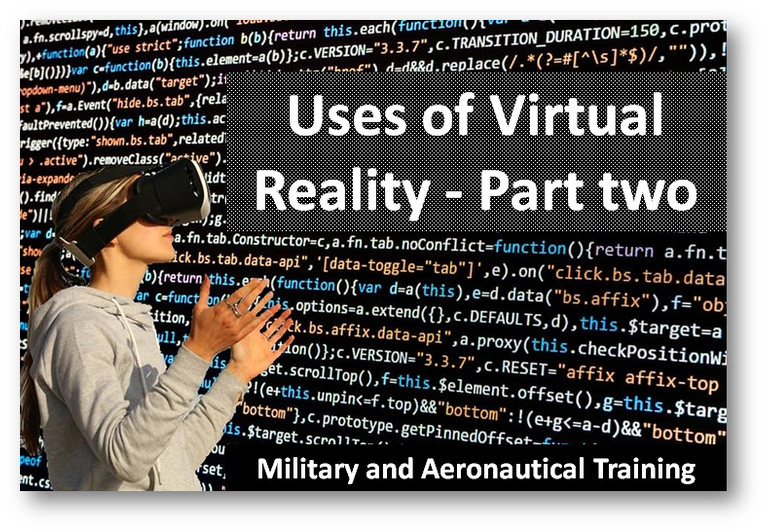 Source
If there is something that is very true, it is that the use of screens and lenses for all types of training has been happening for decades, in recent years as a result of all the scientific progress that has been made and the many wars that have been generated( Iraq, Syria, Afghanistan, to name a few), their use has deepened and exposed.
First with the intention of preparing soldiers on a battlefield (simulated) that is not known and also for the purpose of training combat and commercial flight pilots.
Of the uses in this area I can name the following:
Training:
Of course, I must emphasize that physical conditioning always remains in real fields, with hours of practice that allow you to develop physical endurance, but all this is linked to virtual reality which is where you put into practice what has to do with strategies, reactions in the field (virtually created), group reactions, etc.
An infinite number of types of situations can be simulated in any type of terrain and scenario, this allows them to be faced as many times as necessary and the cost is not so high (compared to a move to another site).
Virtual reality training is intended so that novices can first test themselves in virtually complicated scenarios before facing reality on the battlefield. The intention is that they will master skills that will allow them to survive in those hostile environments.
Often environments are created that are impossible to realize in the real world, and the purpose is for them to develop the ability to react to very high pressure environments.
Here I leave a video in which you can see training based on Virtual Reality:
Virtual Military Training

I close this publication presenting virtual reality information not only for warlike conflicts, because mankind does not only move around wars, although no doubt that throughout history there have always been great advances in many areas of human knowledge, but, I want to talk a little bit about the use of VR in the training of commercial airplane pilots.
Considering that the world is kept interconnected not only through networks or the internet, but with international, transcontinental flights, etc... it is important that these pilots can develop the best of their skills in this area, so that flying by air remains the safest way to travel.
Of course, I know, most probably a video of this training is not as full of adrenaline as the previous one, in which it is exposed (virtually) life, but how nice that they can do it through these tools before moving to reality. However, imagine that you are facing a big storm and the plane you are flying wobbles, you have hundreds of lives under your responsibility, I think that imagining that all takes on another dimension.
I leave you a video of some of the training of these pilots using Virtual Reality:
Boeing 737 REAL Flight Simulator Experience - Singapore
One of the great advantages of using a flight simulator in this specific area is that pollution is practically zero, considering the issue of climate change as a current priority. In addition, it should be noted that the time between the transfer between virtual reality and real flight has been reduced, it is much safer and cheaper. Not only in this transport is virtual reality used, but also for tanks, trucks, in practically all types of vehicles.
For now I say goodbye, that this publication is already quite long.
Thank you for your reading.
Good start to the week.

Note: Emojis used are from the Bitmoji application.
I invite you to visit Project.hope and learn about the benefits of this project for all those interested in growing while helping others to grow.