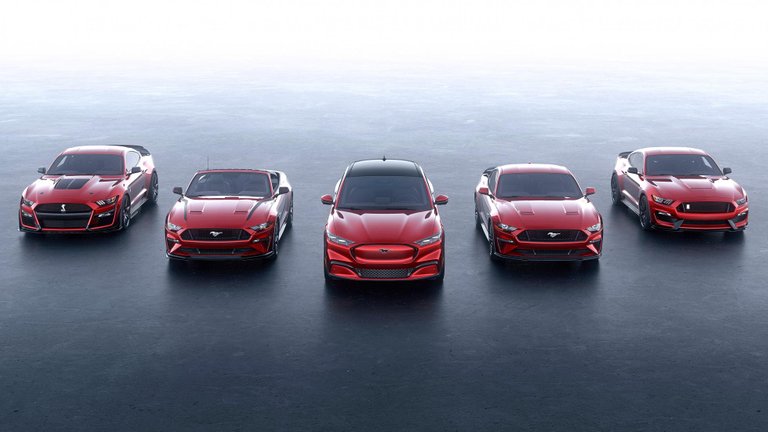 Source: TopGear
Greetings friends, today I bring you something that we will say so I like it but not turn. And the reason why this is this new model of Mustang that I introduce Ford recently.
As you surely know, the Mustang since its inception was intended as a sports model something accessible to the automotive market. And is that since its origins in 1964, was conceived as a two-door front engine and rear-wheel drive, this formula continues, but of course the advances are not less, so we can find different versions, ranging from changes in the engines, through powerful V8 and V6, to 6-cylinder engines and 4-cylinder in line.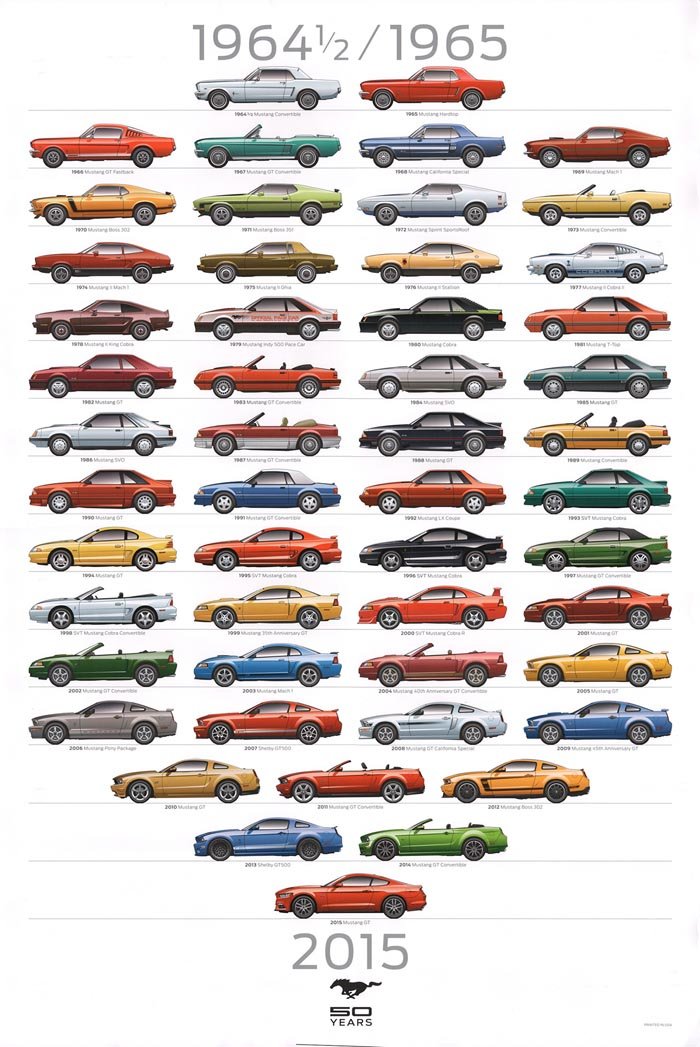 Source: Autoblog.com.ar
Even beyond the engines, the bodies also had changes, as the Mustang has in its history various types of bodies, such as fastaback, coupe (in multiple configurations), convertible, hatchback, convertible.
But the last presented breaks all the schemes of what we know as a Mustang, since this is not more (in this specific model) a two doors in any of the already mentioned versions, because it has evolved to be an SUV.
And is that if, the Mustang Mach-E Ford has obtained a renewed aspect that seeks to incursionar his legacy in the world of SUVs, another detail to emphasize is that like the change of the bodywork, the engine is not something we were used to either, as Ford for this model opted for an electric variant, thus raising its bet for a new concept of the aforementioned pony car.
Let's go a little deeper into the Mach-E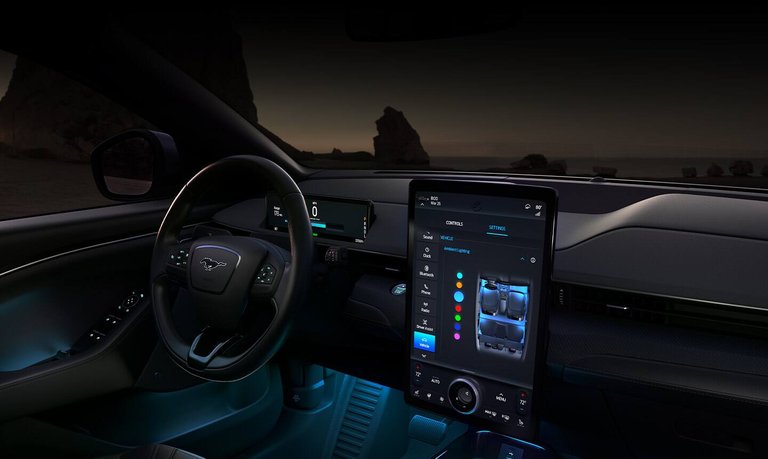 Source: Ford
First of all, we will have to wait until 2021 to see if all the ranges that are going to provide us, and for the first units only at the end of 2020. By the information that circulates we can notice that there will be five versions to commercialize, varying of economic versions or base, some more premium and why not some with something more of performance.
Something that will surely characterize this version are all the technological advances and particularities that Ford provided, and is that beyond the electric motorization, has a system of Tesla handles (handles that come out of the body), something that gives it a futuristic touch and a great exterior finish. A semi-autonomous piloting system, called Ford Copilot360.
A new infotainment system, which is accompanied by somewhat large screens that enhances the futuristic look that was mentioned before. As particularities we have that this model has like many electric, a large trunk, and is that you can have the option of using both the front compartment (where you would usually find the engine) and the rear to place what you want, leaving in if a total capacity of 1520 liters, being of these 100 the front and 420 liters of the rear, it should be noted that the 1000 missing come from the possibility of folding the seats.
Something curious about this model is that despite being Ford, there is no logo of the brand on the outside, something that we will discuss later why.
Let's talk a little facts and figures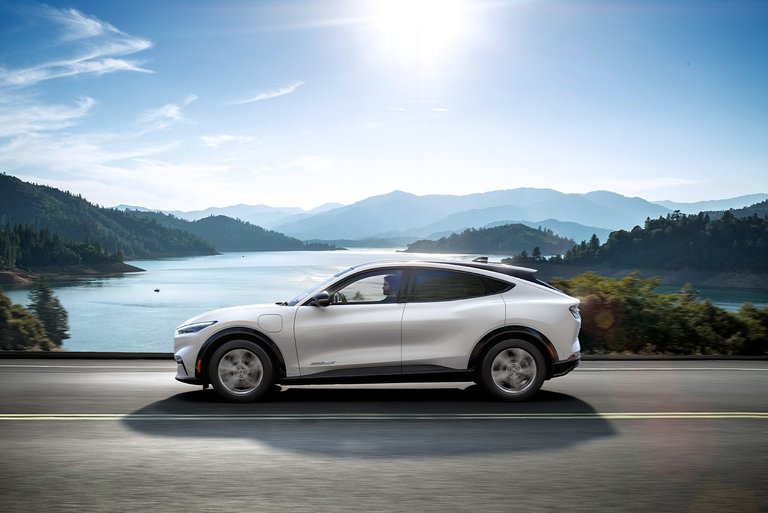 Source: Ford
We already know that there are five options available, but it is time to give a little more specific data.
The First Edition which is limited in production, is AWD, with a capacity of 270 miles (435Km) and a 0-60 in 5sec. Its cost is $59,900.
The Select, can be AWD or RWD, with a capacity of about 230 miles (370Km) and a 0-60 in 5sec. Its cost is $43,895.
The Premium version, like the previous one, can be AWD or RWD and makes at the same time the 0-60. That yes it possesses a greater autonomy of about 300 miles (483Km). Its cost is 50.600$.
A special version called "California RT. 1", with an RWD system, 300 miles (483Km) of autonomy and a 0-60 of 6sec. Its cost is 52.400$.
And last but not least the sports version called GT, which achieves the 0-60 in 3sec, has an AWD system and about 235 miles (379Km) of autonomy. Its cost is 60.500$.
Ford's bid to make Mustang a brand
With the advent of the Mach-E, suspicions have been raised about what lacks Ford logos on this model that Ford may make Mustang, would no longer be a specific model but a range of products or submarine.
In autocar.co.uk, we can find an article in which Murat Gueler (head of the design division in Europe) relates that there have been conversations in which it is expected that Mustang is a range of cars, but do not need if they will be more SUV, some specific model, what if the Mach-E is a pilot proof of it.
The idea doesn't sound outlandish at all, since we remember the case of Cupra and Seat, when they started to produce Seat versions in Cupra, which ended up being a submarine, which focuses on performance.
Now to close a little of my personal opinion, I know that perhaps do not agree many with me but I see this as an exploitation of the Mustang name by Ford, which could be counterproductive to the future for the brand, because it must be borne in mind that not everything was pink for the American brand, as there were in the history of the Mustang pair of models that did not measure and one that was even catalogued as one of the worst cars in history for different reasons (the Mustang II to be specific).
As far as the change of bodywork is made me more market strategy than anything, since at present much of the market is dominated or wrapped in SUV models, and they did not want to be left behind, although Ford already has SUV models in its line, this tries to attract even more sales, for everything it represents.
The change of motorization, I do not see it badly, since it is to hope that in a future all or in its great majority, the brands that decide to continue in the market will have to pass to the electrical ones, and the longer they take, more capacity of development they lose, and besides you are gaining reputation and market, which is not very big that is said at the present time.
Without further ado, thank you for reading, I do not say goodbye without wishing you a happy day, evening or night.
PS: I apologize for the delay in publication, I'm a little short of time, but soon in December will be something different.
Source: My Giphy gallery