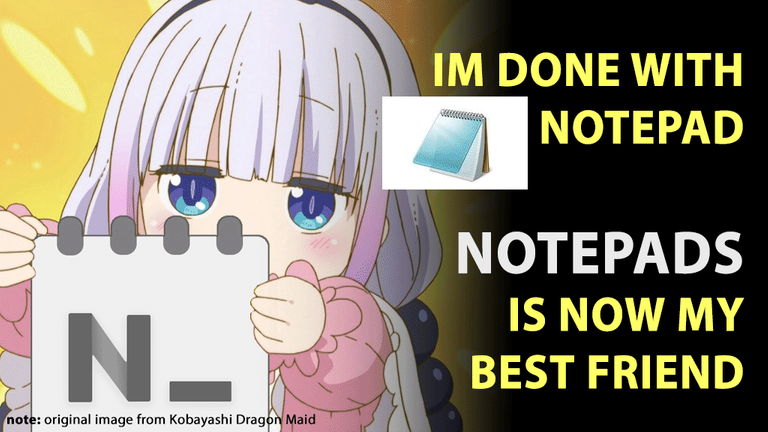 Today I tested many of note applications, for Windows. Some of them are lacking of features, some of them are placing ads, and some of them are horribly unstable (but still, they released it smfh) 😔
I like notepad, because it's simple and lightweight. Undeniable my favorite for writing lengthy note on txt. The only downside is, it doesn't support more than 1 undo and no dark mode.
Until I found this gem...
Notepads
pads. yes. 😤👌
Can't disagree more that you need "s" for the pad, because nobody only wear 1 pad right? 🤣 oh, or you didn't even use pads at all?!?!!1!1! 👀🔥🔥🔥
Anyway... 😅
Notepads is the one I looking for. It's almost as same as Visual Studio Code, but simple and lightweight, yet share the same feel of Notepad. And guess what, it support dark mode and more than 1 undo!! ❤💕💖👏👏
For a quick overview, here some haikus that I stole from https://medium.com/@kayuzee/a-collection-of-crypto-haikus-c23daf98dd22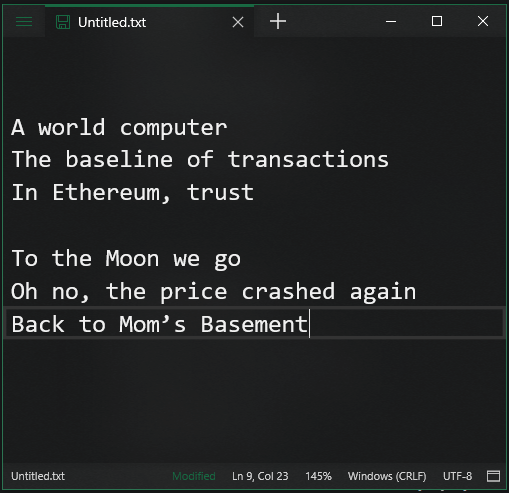 I like those haikus.
Anyway, do you see what i see? 👀
The feel of Notepad. 😩👌🔥 Reinvested.
No ads, no learning curve, nothing stressful while using the app... and most importantly, it's FREE 😍😆😆
Do you like to learn more about the features? Check its repo: https://github.com/JasonStein/Notepads
Offline Installation
If you use Windows, download here: https://github.com/JasonStein/Notepads/releases - Supports X64, X86, and ARM architecture.

Extract ZIP file and open its Installation Guide.pdf for further instructions.
Online Installation
Search Notepads on Windows Store, or get thru https://www.microsoft.com/en-us/p/notepads-app/9nhl4nsc67wm

Then, Install.
Afterwords
To its creator and developers, thank you for creating such a worthy app to have and making it open and free! 🙌👍
I'm here to write and share every worthful stuffs that I've tested myself, this app met my criteria and I truly appreciate it.
Even if it's not really well-known yet, it's too hard to not recommend this app for your everyday use on Windows, especially if you need a more reliable app to simply edit your text-based files.
That's all, what a great find. 👏👏👏
Have a good day and see you on my next post 👋