Hello dear readers!
The world of technology and the advances of science seem unstoppable, every time we find something new that surprises us, when we think we have heard and seen everything, a new discovery, a new invention, new applications etc.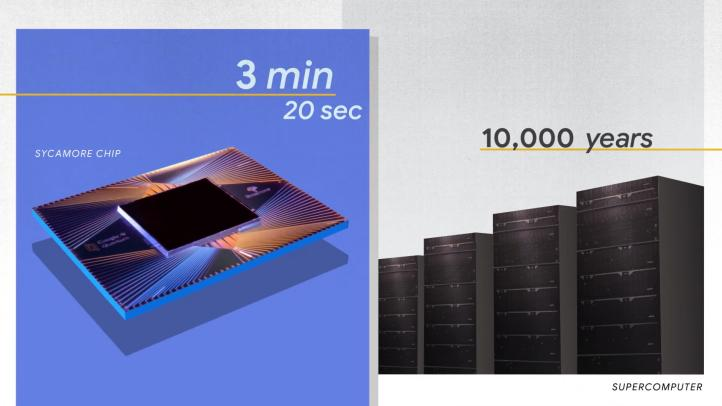 Source
Last month Google published an article in the journal Nature, where they claim to have achieved quantum supremacy, this fact caused a stir in the entire world scientific community, for having reached such an important milestone and difficult to achieve, it is something truly extraordinary .
What is quantum supremacy
Quantum supremacy is the potential capacity of quantum computing devices to solve problems that classical computers can hardly solve. The quantum advantage is the potential to solve problems more quickly.
How they achieved quantum supremacy
Google claimed to have achieved quantum supremacy, when its Sycamor processor was able to solve a problem in 200 seconds, a task that would take the best super computer known so far 10,000 years, as they said through this publication.
"Under these conditions, Google physicists manufactured a processor consisting of 54 cubits. As one did not work properly, the device stayed at 53. To test the system, they designed a random number sampling task. The calculation has no practical use. The intention was to show that Sycamore could work wonders. And, apparently, he did them. "
Source
---
Reactions.
By the time Google decided to make its official announcement, the article was filtered on the NASA website and the different reactions and opinions regarding these statements were not long in coming.
Google's quantum computer had apparently achieved the milestone of quantum supremacy, although others openly disagree with the fact.
IBM strong competitor of Google in the race for quantum supremacy, I question the statements of the technological giant's statement.
"We argue that an ideal simulation of the same task can be performed in a classic system in 2.5 days and with much greater fidelity," said the
According to Edwin Pednault, John Gunnels and Jay Gambetta IBM researchers .
"This is, in fact, a conservative estimate for the worst case scenario, and we hope that with additional improvements the classic cost of simulation can be further reduced."
---
My point.
To be honest, before knowing this news I had no idea what this meant, it is because of the stir that caused the news that I am interested in knowing what it is.
My main point in this whole issue is, if Google's statement is true, How does quantum supremacy benefit us? What can you do for us in our day to day? Would common citizens have access to this technology?...
The truth is that quantum computing or quantum supremacy is something new for me, I confess ignorant of all these technological advances, not knowing what they will do for us in the future, so I would like to know the opinion of experts on this topic, to clear Some of my doubts, if you are not an expert I would also like to know what you think about this.
---
PROJECT #HOPE An Initiative to give hope!
@crypto.piotr, @project.hope, @cyberspacegod, @achim03, @lanzjoseg, @fucho80, @neavvy, @juanmolina, @jadams2k18, @machnbirdsparo, @honarparvar, @guruvaj, @alokkumar121, @edgarare1, @flash07, @djennyfloro, @gandhibaba, @reverseacid, @yonnathang, @mariusfebruary.
---
Partners supporting my work:
---
Visit our website

---