---
"Design is not just what it looks like and feels like. Design is how it works."
- Steve Jobs
---
I strongly believe in credit where credit is due, but this product pleased me incredibly well. This is the very first time I've ever published a product review as a blog post!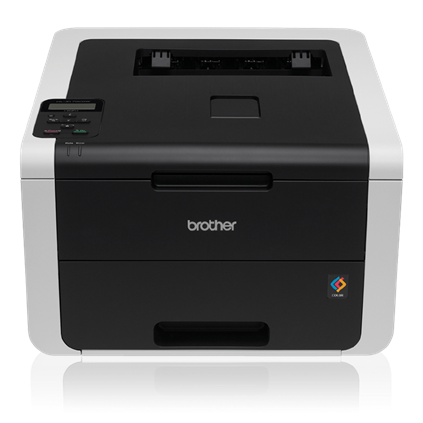 The Brother HL-3170CDW Laser Printer.   ~   Image courtesy of Brother USA
---
What follows is my heartfelt review of a surprisingly affordable, excellent product that saved me a lot of money.
---
Slick, Easy Replacement, Perfect Fit, Great Print Quality, Excellent Value - OUTSTANDING!
---
I bought my Brother HL-3170CDW printer almost four years ago for less than $200. Apart from one very minor complaint, I have been very happy with it. However, because of the very high price of Brother OEM replacement toner cartridges for the printer, (to buy all five would cost me more than the original price of the printer! - ) I've put off replacement for as long as possible. I've removed the cartridges and shaken them left and right to redistribute the toner, I've followed internet instructions to reset the print count, and all the "usual" tricks.
I was seriously considering a "Toner Refill Kit" but that would have cost about $60, been messy, and the instructions for melting a hole in the cartridge in order to refill it sounded pretty iffy.
When my printouts became so faint that I finally couldn't put this off a minute longer, I was delighted to discover this set of RETCH toner replacement cartridges. I ordered them based on the excellent price (less than $35 for the complete set) and almost universal five-star customer reviews. They arrived today.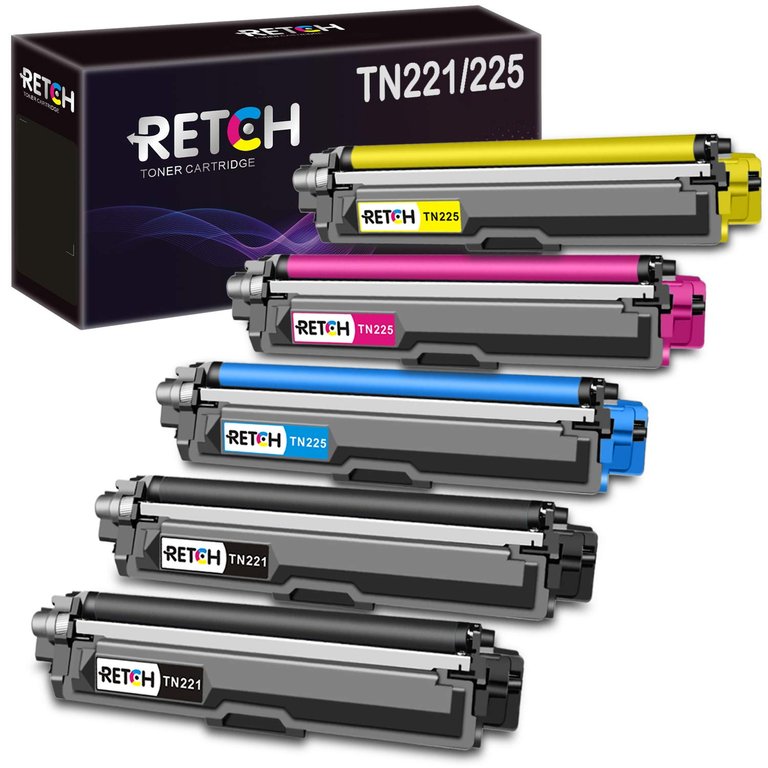 RETCH Laser Printer Toner Cartridges.   ~   Image courtesy of RETCH/Amazon
One remark from others that had made me slightly nervous was that these are toner cartridges, and not the complete drum assembly. I was a little concerned about how hard it might be to swap them out. I've had the five original drums in and out of the printer any number of times. You just lift the printer lid and the drums lift right out.
Changing out the toner cartridge in an individual drum turns out to be trivially simple; on the left end of the assembly, there is a very obvious green lever. Just press the lever down, and the old toner cartridge can be easily separated from the drum assembly. The new RETCH replacement cartridge slips right in perfectly.
Thus far, I have only replaced the black toner. By the way, the kit comes with TWO black cartridges! These people obviously know that in most cases BLACK is used far more than the CYAN, YELLOW, and MAGENTA cartridges. However, I now have all colors on hand AND another BLACK cartridge, and I am getting beautiful prints.
Can you tell that I'm pleased? Color me ONE HAPPY CUSTOMER. :D
I couldn't wait to write this review, because I know how heavily I rely on "word of mouth" from other real-life users when it comes to making a purchase decision. This RETCH product is a real winner!
---
~FIN~
---
Note: If you're reading this after the payout window has closed,
you can still reward it: CLICK HERE.
---

P.S. If you have an "in" with anybody at Steemit, Inc. - Would you please ask them to get rid of these damn, extremely annoying "off-website" arrow/boxes? The have, overnight, made Steemit ugly. There are much better solutions.
---
For more technology articles,
please check out our Library Technology Shelf - CLICK below:

---

---
LOOK! Check out our amazing product:


Introducing: The SILVERengines proton - Image by @creatr
CONTACT US - Will Exchange for Steem
---
Thanks for your time and attention.
You
are why I'm here on Steemit!
I have very eclectic interests and hope, over time, to write about them all.
---
⬇️To Check Out @creatr's World⬇️CLICK Each Image Below⬇️