---
"It's kinda like being on a roller coaster. If you don't get on the ride, you won't experience the adventure."
- Mariah Carey
---
Over on Whaleshares,
I run a "Maker-Themed" blog... (https://whaleshares.io/@creatr)
I absolutely couldn't NOT put a "homemade rollercoaster" video I found today there, and I couldn't resist copying it here for your amazed enjoyment.
(See what I did there? Just like a rollercoaster's ups and downs, I gave you a DOUBLE NEGATIVE to bend your mind around...).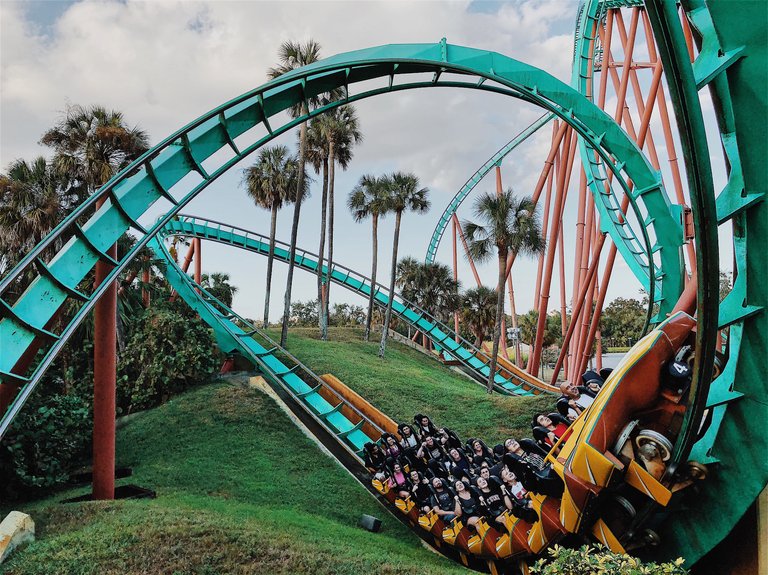 Even Makers Have Ups and Downs...   ~   Image courtesy of Matt Bowden
---
You know how the internet is, right? You're cruising along, trying to get some work done, when BLAM! Out jumps something uber-cool and just grabs your attention.
A delightful video about a gentleman in the great northwest who designs and engineers some incredible backyard roller coasters is the thing that grabbed me today. That gentleman is named Paul Gregg, and you can find his YouTube channel here.
This video is a perfect fit for makers. If you have an ounce of "making" in your soul, and if you are the adventurous sort who loves the ups and downs of rollercoaster rides, watch out! You'll be dreaming all day about building one of these bad boys...
---
---
NOTE: FYI, much of this video is captured with a fisheye lens, which significantly distorts your impression of what certain objects look like. Not a big deal, but just so you don't get the wrong idea.
Yes, I am definitely smitten by this. I find it totally, utterly awesome. Yes, I most assuredly want to build one of these... or two... or three...:stuck_out_tongue_winking_eye: :+1:
Don't miss Paul's website or his books...
Hmmmm... What do I want for Christmas? How about a book or two?
I am going to have a desperately hard time getting back to work now...:open_mouth:
---
~FIN~
---
Note: If you're reading this after the payout window has closed,
you can still reward it: CLICK HERE.
---

P.S. If you have an "in" with anybody at Steemit, Inc. - Would you please ask them to get rid of these damn, extremely annoying "off-website" arrow/boxes? The have, overnight, made Steemit ugly. There are much better solutions.
---
For more technology articles,
please check out our Library Technology Shelf - CLICK below:

---

---
LOOK! Check out our amazing product:


Introducing: The SILVERengines proton - Image by @creatr
CONTACT US - Will Exchange for Steem
---
Thanks for your time and attention.
You
are why I'm here on Steemit!
I have very eclectic interests and hope, over time, to write about them all.
---
⬇️To Check Out @creatr's World⬇️CLICK Each Image Below⬇️