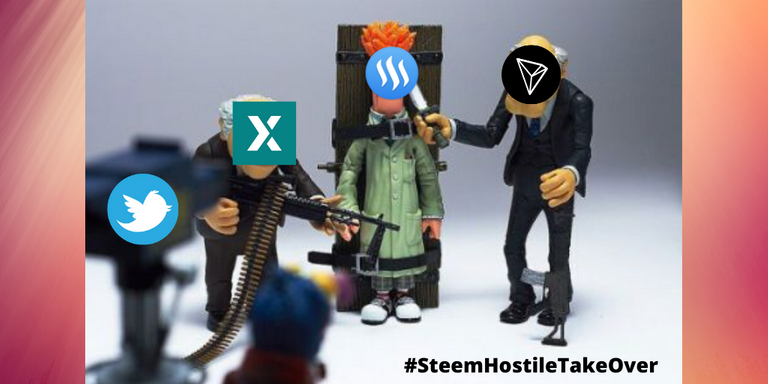 The #STEEM is STILL held hostage under #TRON occupation, and if that is not enough Justin Sun is STILL powering up in order to take down our consensus witnesses.
With all that we saw, I doubt Justin Sun gives a rat ass about any of us besides milking #STEEM and earning cash by abusing a platform.
He just wants to milk us all with his investment, which is by the way a development fund reserved for #STEEM blockchain during the last 4 years.
Nice "development", have no word to describe it.
The newest thing is that CEO of #tron shitcoin blocked #STEEM Twitter accounts and now getting all the fake propaganda posted on his statuses from freshly created fake accounts.
The funniest thing is that most of the replies are written in Korean and Chinese, and if you didn't know just Google it, these countries have a ban on Twitter.
So who's commenting? VPN bot army?
On the other hand, he is not running anything to benefit community, but he is destroying it on purpose. Price feed, apps, most of the stuff doesn't actually work anymore because of his childish abuse.
He bought a stolen stake from a thief, and now somehow all of us are there to blame.
This has been an out open conflict from the start and it was so obvious, that is why community came together to defend #STEEM blockchain.
I just don't understand how proxy.token thinks he and his trashcan wagon will roll after this.
Who would believe a traitor after this stalemate situation? You actually think even Justin Sun will do anything for them after he uses them? I don't think so.
Just to make it dead obvious what we are talking about here - exchanges are not on his side.
Binance Apologizes for Its Role in Justin Sun's Steem Takeover
Huobi, Binance throw Justin Sun under the bus
Those people want out BAD!
Don't believe Justin Sun, #TRON is centralized copypasta gamble chip withoutany future, it bubbled up because of the hype and has no true value.
The only promise made by Justin Sun is assimilation and destruction of #STEEM blockchain.
---
---
What more can you get from me?
The internet is such a great way to connect, and all that you use on it exists in the paid alternative. So, swap your old free apps and webs for the ones that will value your content and pay your time.