My beloved country Malaysia now is currently undergoing Recovery Movement Restriction Order (not sure if I got the name right). Basically, this plan is hopefully going to be the final movement which will last until August. Most industries are now operating as usual with strict SOP to follow.
Schools was announced to be opened in July starting of with classes that has high school examination (which includes SPM and STPM). Higher education institutions will only be allowed to conduct online learning.
Today, I started practicing a new norm when meeting with students. I started using online briefing to conduct briefing. Apparently, I used Google Meet to conduct the briefing.
The experience?
I am not a fan of online conducts such as meeting or even interviews. To me, doing meeting and interviews online lacks personal eye to eye contact and personal communication. As if during the briefing, I was more talking to myself rather than engaging with my audience.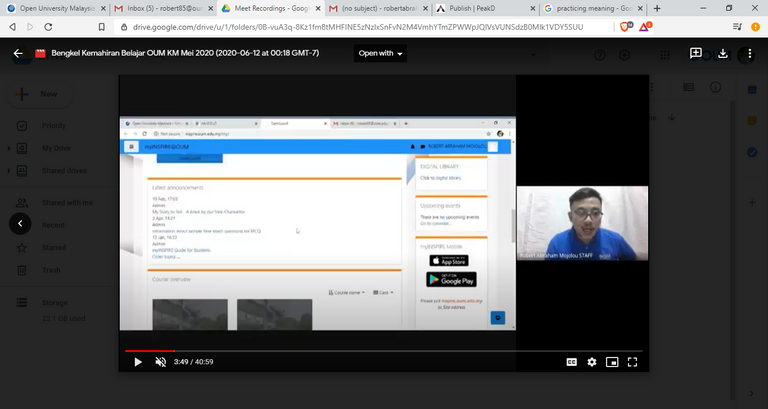 Therefore, this will be not only a new norm but also a new experience for me to discover and grow. There are many areas I need to learn in terms of digital communication. I used Google Meet because first it was required by my IT dept. Hence, this is the overall pro and con using this software apparently because it was a packaged G-Suite subscribed by my company.
Pro:
G-Suite Enterprise package supports up to 2500 participants
Simple and Clean UI
Integrates with Google Calendar
Multiple screen support
Auto-save to Google Drive
Con:
Don't support AR
Don't support multiple screen operation
Don't support dual camera operation
I recorded the briefing more than 2 hours. I figured it was no need to share to dtube since I used my national language (Malaysian language) conducting the briefing.
But overall, using Google Meet does meet the satisfactory level conducting meeting or interviews.