Greetings Steemians and Stemgeeks!
Welcome to my #stemsunday edition here on the blockchain.
Quick Announcement
For those of you unfamiliar with my academic background, I studied conservation biology and that is primarily where my passions are concentrated. A requirement of my studies was to prepare a bachelors thesis on an approved topic, and submit it to the chair of the department to be approved in order to receive my degree once my studies had been completed.
My thesis was on the topic above and was very well received at the university so for the next few #stemsunday posts I would like to share my research with you. I spent countless hours researching empirical articles, gathering information, analyzing case studies, and interpreting statistical analysis from scientists and engineers.
Many of the graphics you will see were created by me any additional graphics used to enhance the paper will be sourced. All of my writing will be sourced at the end of each post as well.
I offer this thesis to the community to share knowledge, engage with you, and ultimately ensure that my work will be preserved here on the blockchain.
Each post will be modified from the original version to better suit stemgeeks readers and provide a more enjoyable experience instead of just copy and pasting my thesis. That would just be boring!
I hope you enjoy this project of mine and I look forward to any comments you would like to offer!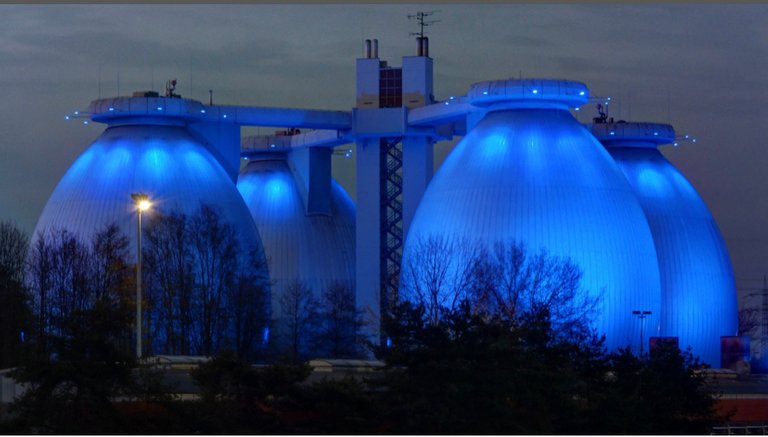 photo source
Abstract
The use of anaerobic digesters reduces carbon dioxide emissions directly and indirectly by acting as an alternative energy source and by using the digested slurry as an alternative fertilizer, respectively.
The use of anaerobic digesters reduces the amount of solid waste that is put into landfills and also reduces the amount of waste that is incinerated. After a short period of time the benefits of using anaerobic digesters will be realized.
It will take 2.77 years of operation of a household sized digester to negate the total amount of carbon dioxide emissions created form its operation completely. It is estimated that after 20 years of using an anaerobic digester, the amount of carbon dioxide emissions reduced could be as large as 15198.90kg.
Net emissions over a 20 year cycle of using biogas versus conventional heating will result in a decrease of 25.06 tons of carbon dioxide emissions, the total emissions from the biogas production processes over 20 years is equivalent to that of 11.37% of what is emitted by coal burning plants over the same period of time.
photo source
Introduction
As previously stated, this stemgeeks series will share my thesis with the community and show the effectiveness of small-scale biogas generators in their ability to reduce carbon dioxide (CO2) emissions.
There are many major environmental factors that play a role in the development of mankind in the near future. The availability of fossil fuels and natural resources, along with their consumption are decreasing which contributed to climate change.
Being equipped with the means and ability to do so, many more developed countries (MDCs) have begun efforts to look towards new, clean, and sustainable energy sources.
Implementation of biogas systems may not come so easily for developing countries that are just beginning to utilize fossil fuel combustion for energy and development. Less developed countries (LDCs) are faced with the challenge of improving energy efficiency, while at the same time advancing infrastructure and sustaining their surrounding environment to protect resources.
A few countries have already begun to implement biogas programs that have shown varied results of success.
Sources of Entire Thesis
Abu-Dahrieha J., A. Orozcob, E. Groomb, and D. Rooneya, 2011. Batch and continuous biogas production from grass silage liquor. Bioresource Technology, 102(23):10922-10928.

Arthur R., M. F. Baidooa, and E. Antwib, 2011. Biogas as a potential renewable energy source: A Ghanaian case study. Renewable Energy, 36(5):1510-1516.

Berglund M. and P. Borjesson, 2005. Assessment of energy performance in the life-cycle of biogas production. Biomass and Bioenergy, 30:254-266.

Energy Information Administration (EIA), 2009.
Emissions of greenhouse gases in the United States. Hazardous Waste Consultant, 29(5):1.5-1.20.

Gosens, J., Y. Lu, G. He, B. Bluemling, and T.A. Beckers, 2013. Sustainability effects of household-scale biogas in rural China. Decades of Diesel, 54:273–287.

Govasmark E., J. Stäb, B. Holen, D. Hoornstra, T. Nesbakk, and M. Salkinoja-Salonend, 2011. Chemical and microbiological hazards associated with recycling of anaerobic digested residue intended for agricultural use. Waste Management, 31(12):2577-2583.

Lansing S., R.B. Botero, J.F. Martina, 2007. Waste treatment and biogas quality in small-scale agricultural digesters. Bioresource Technology, 99(13):5881-5890.

Naja G.M., R. Alary, P. Bajeat, G. Bellenfant, J.J. Godon, J.P. Jaeg, G. Keck, A. Lattes, C. Leroux,
H. Modeloni, M. Moletta-Denatj, O. Ramalhoj, C. Roussellei, S. Wenischc, and I. Zdanevitchk, 2011. Assessment of biogas potential hazards. Renewable Energy, 36(12):3445-3451.

Odlare M., V. Arthurson, M. Pell, K. Svensson, E. Nehrenheim, and J. Abubaker, 2011. Land application of organic waste – Effects on the soil ecosystem. Applied Energy, 88(6):2210-2218.

Peura P. and T. Hyttinen, 2011. The potential and economics of bioenergy in Finland. Journal of Cleaner Production, 19:927-945.

Rennuit, C. and S.G. Sommer, 2013. Decision support for the construction of farm-scale biogas digesters in developing countries with cold seasons. Energies, 6(10):5314-5322.

Till J., A. Königb, and L. Eltropa, 2014. Bioenergy villages in Germany: Bringing a low carbon energy supply for rural areas into practice. Renewable Energy, 61:74-80.

Wang C.B. and L.X. Zhang, 2012. Life cycle assessment of carbon emission from a household biogas digester: Implications for policy. Procedia Environmental Sciences, 13:778 – 789.

Weichgrebe D., I. Urban, and K. Friedrich, 2008. Energy- and CO2-reduction potentials by anaerobic treatment of wastewater and organic kitchen wastes in consideration of different climatic conditions. Water and Science Technology, 58(2):379-384.

Zhang L.X., C.B. Wang, and B. Song, 2013. Carbon emission reduction potential of a typical household biogas system in rural China. Journal of Cleaner Production, 47:415-421.
Stem Sunday
Please check out the #stemsunday initiative by @stem.curate here.
Proud @stem.curate curator.

Join Here!