Next Adventures in Biomedical Research
I moved to Grottoes, VA in the fall of 2000 to live with my cousin in hopes of working at Merck Pharmaceuticals. My cousin's husband was a Lead Chemist at Merck and wanted to help me get my foot in the door. Unfortunately, the company went into a hiring freeze after I moved.
Living on their farm in the Shenandoah Valley of Virginia at the foothills of the Blue Ridge Mountains was an amazing experience. However, I quickly moved on to Charlottesville to work at the University of Virginia School of Medicine in the Department of Neurosurgery.
The University of Virginia at Charlottesville
UVa School of Medicine - Department of Neurological Surgery
I started working with animals for the first time at UVa. When it comes to the brain, Sprague-Dawley rats are the primary research model. These albino rats were first established in 1925 by Robert Dawley at Sprague-Dawley farms in Madison, Wisconsin.
Outbred Sprague Dawley rats are among the most commonly used rats for neuroscience, physiology and pharmacological research; in the year 2020, 4,188 publications contained the keyword "Sprague Dawley" - Genetic characterization of outbred Sprague Dawley rats and utility for genome-wide association studies
I love rats! They have personality and each one is unique. I learned all about animal husbandry there. It was my first experience in a vivarium. Every day, I went down to the vivarium to gently handle and interact with these albino rats. I would even talk very softly to them so they were used to my voice. They needed to be comfortable with me holding them for when it came time to do surgery.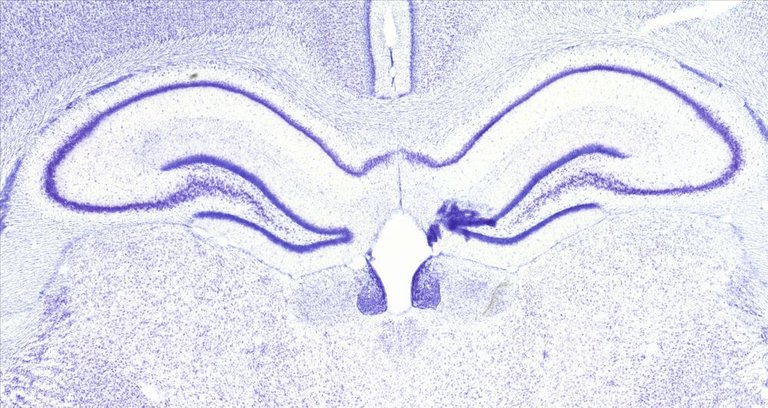 Histology staining of coronal section of rat brain, hippocampus area (source)
The grant that I was hired to work on was to investigate the Effects of Estrogens on the Plasticity of the Hippocampus. The hippocampus is the region of the brain responsible for learning and memory. I had to learn how to dissect the hippocampus of the rat brain. I had to perform this task in less than 7 minutes. My best time was 6.38 minutes from lowering the guillotine to snap freezing the hippocampus.
I also learned histology and tissue sectioning. I had to perform vaginal swabs on these precious rats as well. This was to determine where the female rats were in their estrous cycles. I needed to know which stage they were at in order to dertermine the effects of cyclic variation in secretion of ovarian hormones on the hippocampus.
The estrous cycle refers to the reproductive cycle in rodents. It is similar to the human reproductive cycle, commonly called the menstrual cycle (ovarian and uterine cycles). The estrous cycle has four phases, namely proestrus, estrus, metestrus and diestrus and lasts for 4 to 5 days. - Staging of the estrous cycle and induction of estrus in experimental rodents: an update
Once the hippocampus is dissected, it is snap frozen in a microcentrifuge tube in liquid nitrogen (LN2) and stored at -80°C until protein analysis is performed. I perfected the technique of Western blot analysis. My boss required every sample to be run in quadruplicate. I would homogenize the hippocampus and purify the proteins before running them on a polyacrylamide-SDS gel. We were looking for increases in certain proteins that are vital for hippocampal plasticity.
Western Blot Analysis
I worked at UVa until the summer of 2003. My boss decided to close the lab and move to Washington, DC to work for the NIH. She never published any of our data. I was pregnant with my second child the last nine months I was there. The lab was shut down as soon as I went on maternity leave.
My next adventure took me to Stony Brook, NY where I worked for a company that made knockout mice. Until next time friends! Have a great weekend!
Sources: