People value their eyesight and fear blindness, in many cases more than they fear other forms of disability. It is this importance most of us place on eyesight that prompted me to write this blog about hydroxychloroquine and its association with vision loss.
One of the first instructions a physician will give a patient at the beginning of hydroxychloroquine therapy is, get your eyes checked. From the earliest days of this drug's use (for lupus, and other conditions) a recognized side effect has been irreversible and even progressive damage to the retina. This insult to the eyes is referred to as hydroxychloroquine toxicity. What I'll try to share with readers in this blog is the current thinking about potential damage to the eye from hydroxychloroqine, and the most recent safety guidelines for use of this essential drug (according to WHO's 2019 Model List of Essential Medicines).


Hydroxychloroquine and Eye Damage


Photos, credit: NIH, public domain
The photo on the left shows a typical 'bull's eye' retinopathy (disease of the retina), as it affects the field of vision. While the image on the left represents the clinical presentation of a patient with macular degeneration, this pattern is similar to vision loss experienced by people with hydroxychloroquine retinopathy, according to an article in the British Journal of Ophthamology. Quoting from the article: "In addition to HCQ toxicity, the differential diagnoses for bull's eye retinopathy include (s) macular degeneration."

Most people have become aware of hydroxychloroquine because of its possible therapeutic value in treating COVID-19. However, anyone with lupus is probably familiar with this drug, although it may be dispensed under another name. Two major brand names are Plaquenil and Quinoric.


To tell the story of hydroxychloroquine we have to go all the way back to pre-Columbian Peru. This is where the bark of the Cinchona tree was used to treat people who suffered from chills and fever. The bark was exported to Europe, where by 1820, quinine was isolated and used as an anti-malarial.
The Cinchona Plant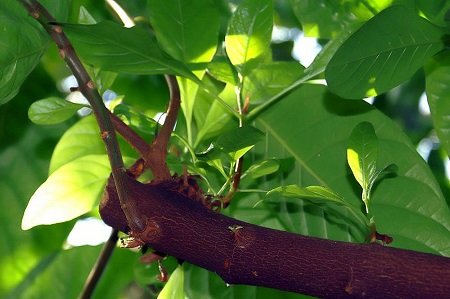 Photo by David J. Stang CC 4.0 license*



In 1934 chloroquine was synthesized, and in 1950, hydrochloroquine was synthesized. In each case, formulation of the drug evolved to eliminate some of the serious side effects.


Formulas for Hydroxychloroquine, Chloroquine and Quinine

Public domain images:(they are simple structural formulas, ineligible for copyright and consist entirely of information that is common property and contain no original authorship.) Hydroxychloroquine formula: Fvasconcellos, Quinine formula: Vaccinationist, Chloroquine formula: Fvasconcellos

Hydroxychloroquine for Lupus
The U. S. Food and Drug Administration first approved hydroxychloroquine for treatment of lupus in 1956. However, anti-malarials (quninine and quinine-like drugs) had been used as far back as 1894 to treat different forms of lupus.
Looking back at articles published in 1999, in the Journal of Rheumatology concern is expressed about damage to the retina from long-term hydroxychloroquine use--that is, a period as long as six years. Most patients who are prescribed this drug traditionally have been advised to get an eye screening before beginning therapy. They've been told they should get another screening after six months, or at least at the end of one year. It is then recommended that they follow up with regular eye exams.
A 2006 study, Early Paracentral Visual Field Loss in Patients Taking Hydroxychloroquine, published in JAMA Opthamology, confirms the concern for retinal damage, damage that is often undetected until harm has been done. The JAMA article concludes: "visual field testing shows that visual field defects appeared before any corresponding changes in any other tested clinical parameters".


A Retinal Camera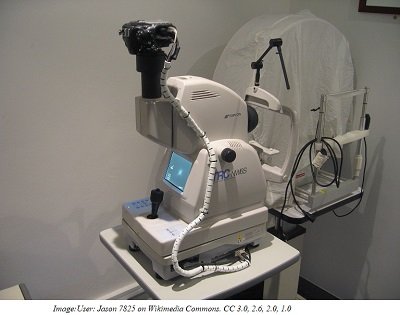 User: Jason 7825, CC 3.0,2.5,2.0,1.0
A retinal camera is used to detect changes in the retina.


Another article, published in 2016, Retinal Toxicity in Patients Treated With Hydroxychloroquine: A Cross-Sectional Study, in Medical Hypothesis, Discovery & Innovation Ophthalmology, describes the eye damage detected in patients taking hydroxychloroquine. This article points out that there are certain risk factors which increase the likelihood a patient will experience hydroxychloroquine toxicity: "advanced age, use of a higher cumulative HCQ dose, and a longer duration of treatment".


Amsler Grid for Earlier Detection of Hydroxychloroquine Toxicity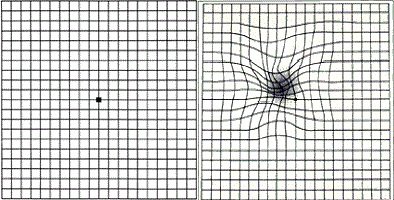 Image Credit: U.S. gov't public domain
According to the British Journal of Ophthalmology (2005), the Amsler Grid is one of the tools ophthalmologists use to screen for early (asymptomatic) damage to the retina. This is a grid that patients may use at home as a rough indication of whether or not they are suffering some loss in the visual field. The grid on the left reflects a normal field of vision. The grid on the right shows how the grid might appear to someone suffering macular damage. A patient would be instructed to visit the ophthalmologist as soon as the lines on the Amsler Grid appear curved. A cautionary note about the reliability of the test, especially in patients with long-standing vision loss: patients may automatically 'fill in' (think that they see) spaces and therefore give an inaccurate reading.
One of the early changes detected by ophthalmologists in screening for hydroxychloroquine toxicity is a change in color perception. This abnormality may be detectable even before other damage is evident. The authors of an article, *Detecting Chloroquine Retinopathy: Electro-oculogram Versus Colour Vision, in the British Journal of Ophthamology, (2003) state: "...screening for chloroquine retinopathy can be improved by using a sensitive colour test. Disturbance of the tritan axis appears to occur first. A normal test result on computerised colour testing virtually excludes any retinopathy by antimalarials."

The Most Recent Thinking on Hydroxychloroquine and Eye Care
An article (March, 2020) published in Covalent Careers, a journal for eye care professionals, outlines the current standard of care recommended by the American Academy of Ophthalmology. The AAO suggests that before the drug regimen begins, the patient should undergo an eye screening to determine if there is pre-existing maculopathy (disease of the macula). This article suggests that a patient wait a year for a recheck. I have read that a recheck should occur sooner than that. Although the risk of damage in the first year is slight (about 1% by some estimates), it does exist. However, I have read sources that place the risk higher than 1%.



Ishihara Plate, Used to Detect Color Blindness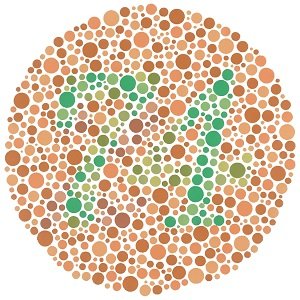 Image Credit:Unknown source. Public domain "because it consists entirely of information that is common property and contains no original authorship."


Risk Factors
Eye damage may more likely occur in people with the following risk factors: The factors cited by the AAO are presence of other therapeutic drugs (tamoxifen was mentioned specifically), kidney disease, liver disease, age and certain genetic factors. To minimize risk of toxicity the AAO suggests keeping the daily dose below 5.0 mg per kilogram of body weight. Keep in mind that once the damage has occurred, it cannot be reversed. For this reason, hydroxychloroquine must be discontinued at the earliest sign of toxicity.
Eye Damage in a Patient After Short-term Use
Although the guidelines for monitoring damage typically describe a one-year time frame, it should be noted that exceptions to this exist. An article in Ochsner (2017), Highly Accelerated Onset of Hydroxychloroquine Macular Retinopathy, describes the case of a 61-year old woman who was prescribed the drug for rheumatoid arthritis. After two months she suffered vision loss and was found to have a classic, hydroxychloroquine-associated bull's eye retinopathy. This represents central vision loss. The 61-year old patient had undergone retinal screening before beginning hydroxychloroquine therapy and at that time was found to have no retinal disease.


Damage May Occur Even When Hydroxychloroquine Is Discontinued
It is important to note that even when the drug is discontinued because of retinopathy, damage to the retina is not only irreversible, but it may continue. In the case cited above, the disease did not progress, although the damage was irreversible. However, a 2011 article published in an American Academy of Ophthalmology journal reports the existence of, "persistent toxicity after discontinuation of the medication." It is believed this may occur because the drug accumulates in tissue and remains in tissue after discontinuation of therapy.
A Right and Left Eye, with the Macula at the Center: No Macular Pathology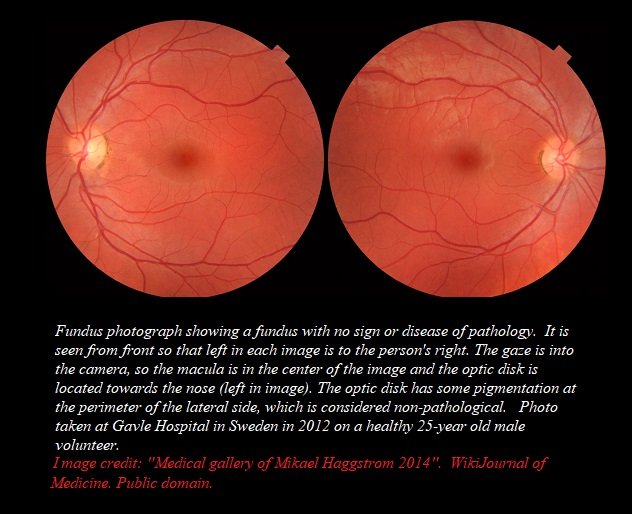 Asian and Caucasian Patients Show Different Manifestations of Hydroxychloroquine Toxicity
An interesting point of information in the AAO guidelines is that the pattern of ocular damage may vary in different populations. In Asians damage may occur outside of the macula, as well as inside the macula. An article published by StatsPearl in 2020 explained that 50% of Asian patients who suffered retinal damage showed a "pericentral maculopathy without the classic parafoveal (Bull's eye) retinopathy". Only 2% of Caucasian patients showed this pattern. It is suggested that the visual field test for Asian patients be adapted to accommodate this variation.


Conclusion
I know this blog has a lot of technical terms, but I think it's important that people have tools to make informed decisions about prescribed medications. Hydroxychloroquine is a wonderful drug. Studies show that lupus patients who take the drug for many years, and even for a lifetime, live longer, on the average, than lupus patients who don't take it. Hydroxychloroquine helps to limit damage to the kidneys and the nervous system. However, if I were to take this drug I would become very familiar with my ophthalmologist and I would make sure the most sensitive, early detection screening tools were used to detect pathology.
Also, eye damage is not the the only side effect a patient may experience with hydroxychloroquine. A list of other side effects may be found here.
Thank you for reading my blog. I wish everyone good health. Hive on!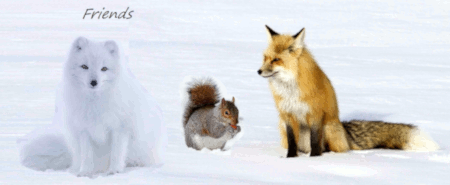 Some Sources Used in Writing This Blog