The max supply of STEM Miners was set to 2M initially as I was not sure what the final distribution would be. This number is obviously ridiculous and to show they will never be used or sold I am burning 1,900,000 STEM Miners.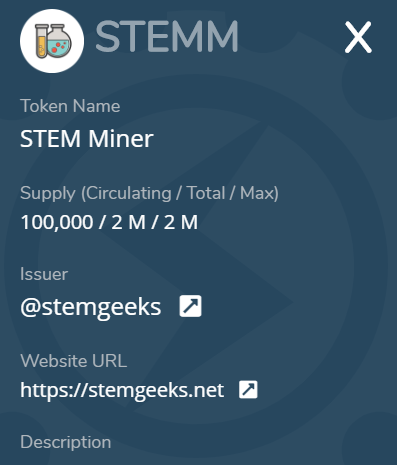 While 100,000 is still too high unless the price moons, it is a much more reasonable supply that is now locked by contract.
The STEMGeeks team only has 1 Miner Staked which is the lowest of all tribes I have seen.
Many tribes the tribe owners are in the staked miner rich list. While I could buy miners which I could get at no real cost to me and stake them, I choose not to and only have the one initial miner used to jump-start the mining pool. STEM also has one of the lowest staked miners and prints 1/3rd to 1/2 the tokens of most tribes.
I have no plans on "purchasing" and staking any additional miners.
When planning the STEM token, I wanted a token that didn't have a high inflation rate and was not printing millions. Only around 840,000 STEM tokens are produced in a year. Over 4,000,000,000 of the 5B max supply have already been burned. I wanted something sustainable, not inflatable.
Stem has an 80% proof of brain pool and 20% mining pool.
This offers a larger mining pool than most tribes without drastically reducing the author reward pool.
Good authors on STEMGeeks are getting more tokens than most tribes even with far fewer tokens created.