DISCLAIMER:   @sgt-dan is in no way affiliated with or repreresents STEM Sports® nor are any links provided affiliate links. This is an informational post.
Nerds and Jocks
Growing up has always been a difficult road to travel. A child looks to fit in when they begin their first day of school. It has been traditional, at least in my perception, to stereotypically place children into one of two groups:   the nerds and the jocks.
I am sure some reading this post are familiar with the Revenge Of The Nerds movies? What if there was a way to get athletic minded kids interested in the sciences and the more studious youngsters interested in sports? Well, it is happening all across the United States thanks to ground breaking curriculum provided by STEM Sports®!


STEM Sports® describes themselves in the following way.
STEM Sports® creates and provides turnkey K-8 educational curriculum, rooted in Next Generation Science Standards (NGSS) and Common Core State Standards, that combines STEM disciplines with a variety of sports.


Now that sounds pretty interesting to me. Learning the science behind sports! So what type of sports are we talking about here?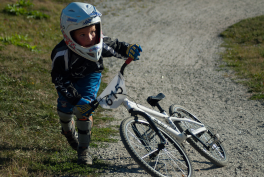 SOURCE: BMX kisat 5.8.2013 by LoomisFin
STEM Sports® Program of Studies
Their are a number of study programs that are offered concentrating on a variety of athletics: STEM BMX, STEM Volleyball, STEM Basketball, STEM Soccer, STEM Football, and STEM Multi-Sport. A little something for everyone!


I, for one, wish that there was a program like this when I was in school. I was the kid that the nerds beat up!

LEARN MORE
STEM Sports® is located in Arizona and is partnered with a number of groups.
Arizona Tecnology Council Foundation
National Afterschool Association
Sport and Stem Alliance
USA BMX The American Bicycle Association
Skyhawks
USA Volleyball
They have also partnered with many educators from coast to coast across the United States. If you are an educator and you have a further interest in the resources and support that STEM Sports® provides, you may visit their website by clicking the link below.
WWW.STEMSPORTS.COM
So now here is a very beautiful song about children as sung by the late Whitney Houston. My dad once told me,
Knowledge is power son.
So let us be sure to enpower the coming generation by instilling them with the importance of education in every aspect of their lives.