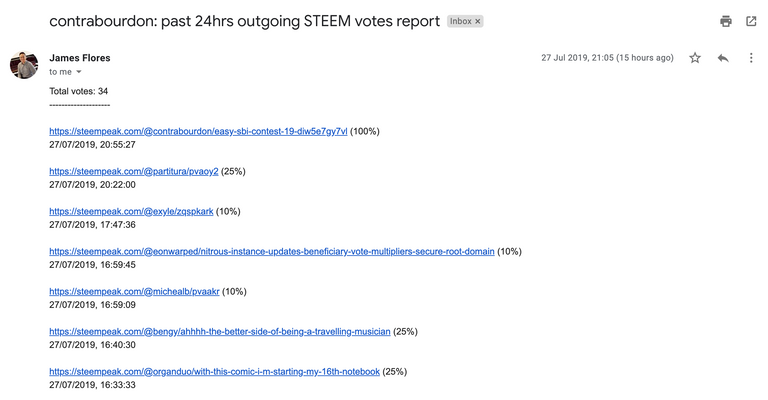 I've been really impressed with the Steem tools that @justyy has written at Steemyy. (By the way, you should consider using one of your witness votes on him). He's just about thought of every possible API use case! Of course one could use Steemworld for a lot of this data but I wanted to, in particular, receive a daily report of my outgoing votes in my email inbox.
I set some of my favourite authors and accounts (like @qurator and @steembasicincome) to autovote as I don't want to miss out on supporting them when I'm asleep or not available. It's beneficial for me to see how the autovoter did in the past 24 hours. I'm using @justyy's /outgoing-votes/ endpoint to achieve this, which is in his Advanced Steem APIs section. Running public API servers can cost a lot of money to run—especially when they are in high demand. Unfortunately, most of the API endpoints have been turned off for this reason. However, @justyy was kind enough to supply me with credentials for my own personal usage. Again, using one of your witness votes on him can help keep his services active.
Basically, when I call /outgoing-votes/?voter=contrabourdon I am given JSON data. I filter the data on the date and make sure that it was voted on in the last day. I also take a count of how many votes I cast and make sure the date is formatted in Australian date format (dd/mm/yyyy). The data is then emailed to me :)
I know it's pretty simple, but it's concise and does the job I need it to do.
What interesting data do you look at about your account on a daily basis?
I'm curious to know.
---
You can support me using Steem Basic Income