Hi fellow Steemians and crypto enthusiasts,
I recently learned of something new in the crypto world, which isn't that surprising, I'm constantly learning things about this energetic environment. It's called "Keyword Staking" and I think this will be a huge marketing opportunity and direction in the future of the tokenized economy and internet.
I want to start out by saying that I have no conflicts of interest with the company other than being a user of Presearch, so posting about this (shilling? I don't consider it to be!) for them doesn't get me anything additional that I don't already make on my own daily.
What is Presearch?

I was recently looking for something to write about for the crypto-focused community and I decided to take a look back at one of the first things I started to do (outside of Steem itself of course) after learning about it from a fellow Steem user, the Presearch website. I unfortunately don't remember who it was that got me into the service and I wish I had the time to look back through my comments to find out who it was and thank them. I will at some point try to uncover who did it and see if they are still active and give them some love if they are!
I know many of my followers/people who read my posts and people who I interact with often will have read my posts and included in my signature for the posts is the brief little blurb (that is probably skipped over, most people don't read them but I include it anyways lol) about the awesome service of Presearch. This is one of the coolest things I've gotten into since it's so easy and you can do it from any computer or phone that can access the internet. This ends up including some risks (phishing, password loss) of course since it's a password instead of a key like we use on Steem, so you certainly have to be careful with anything you do on the web.
Presearch, or paid research is represented by the PRE token and can be found on the major crypto sites like Coin Market Cap and my personal favorite Coin Gecko (coin gecko happens to be a witness here on Steem, so that's why I support them, support those who are part of the community!). This service is, like my signature says, a way to get paid to do what we already do anyways, search the internet! If you're like me and most people, there's things you don't know and have to search for. The awesome thing about Presearch is you can do that and take a bit of the money that the search giants like Google make off it. When you just use their site, you don't get paid squat! They actually make a whole lot of money off you, why do you think they are a multi-billion dollar company? If you adopt the new way of searching and use a service like Presearch you can cut right into those profits. Who doesn't like to make some extra money for making minor adjustments in their habits?
One of the new habits I've gotten into that helps both me as well as Presearch is to just search for things I already use so that way I get paid and they get paid. For example, in the process of writing this article I am doing it via the Steempeak front end of the Steem blockchain (the best front-end on the blockchain by the way! [again no conflicts here]). I searched for Steempeak in the Presearch homepage and it re-directed me to the DSearch search engine, which is awesome by the way because they pay you 2x the normal benefit for using their service, and we all get paid for what I just did. It's a great modification to daily habits in my opinion. I do the same thing when I play my morning rounds of Steem Monsters, I close the website from the previous day and search it out so that I start my day with making some Pre tokens.
The other cool thing about it is that you can still use the big search sites if you really want: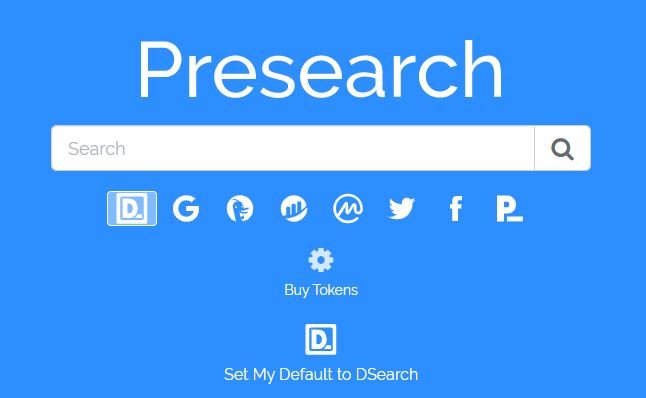 As you can see from the above image, you start with Presearch and then you can choose your search engine of choice. This is especially helpful for people like @chekohler who work for Google so they need to make sure they can access their searches through Google. Sorry to tag you bro, but you should get on the bandwagon for this my man! You can still be the #1 SEO in South Africa according to Google while searching the query through Presearch and getting redirected to Google to complete it ;).
There's quite a few cool features I highly recommend going and checking the service out, it's free to sign up of course. I could go into them but to keep the post concise, onto the aspect I wanted to talk about.
Keyword Staking, what is it?
Now for the subject of the post: Keyword Staking. What is this, you ask? I was intrigued by even the sound of it, since, being on the Steem platform, staking is something most of us here do. We stake in a couple ways here Steem via Steem Power and stake tokens on Steem Engine for curation purposes. Similar principles apply in the manner of Keyword Staking (KS). KS is going to be, in my opinion, a revolution in the way we use the internet; some good and some bad. The good way it revolutionizes the internet and searches is that it allows people to stake a claim on a search word or phrase using cryptocurrency, the PRE tokens. It sounded pretty cool on paper and I wanted to learn more so I followed their post about it on Medium. The bad way is that it can be abused like anything on the internet, with brief elaboration of these risks and benefits as I see them below.
To summarize their post, KS is a manner to advertise directly to people who use the Presearch platform. When I use the Presearch website and if I type in "bitcoin" for example, someone has the ability to "stake" that word with an advertisement. This means that if you did an awesome post here on Steem about Bitcoin and you've got a lot of PRE tokens, you could stake a claim on that search term and direct folks to the post to check it out in an advertisement any time they search just the word bitcoin.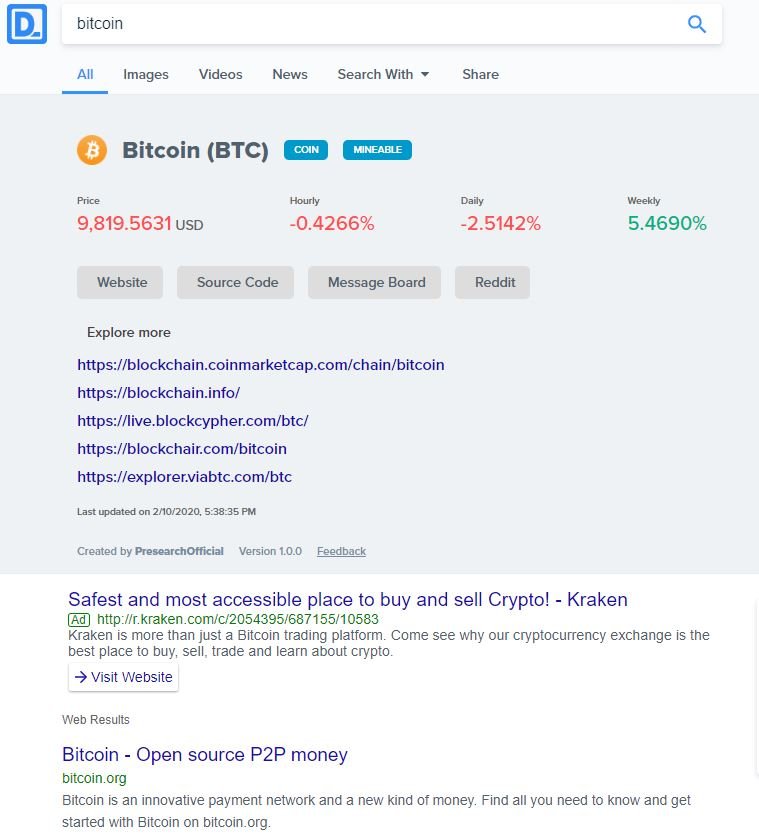 In the above example, I searched Bitcoin and there is already keyword staking of course. I chose a popular term of course to convey the cool way that it works. As you can see, thankfully it clearly shows you that the very first result is an advertisement. I use the Brave browser so it additionally limits the advertisements that show up for me. The Kraken website has the prominent ad for bitcoin that I saw. One of the other cool things about this is that you can find out what has been staked and how much stake is there for that term: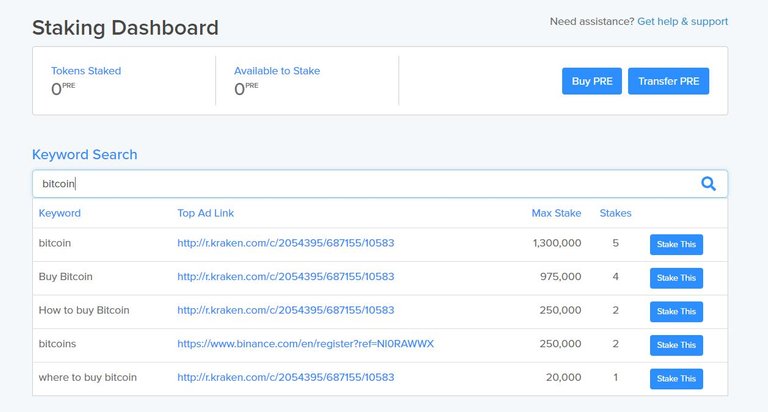 Click on the "Staking Dashboard" and enter a keyword search to see who has a particular term staked. It can be as specific as you want or as generic as you want. As you can see, the Kraken folks have quite a stake of PRE on their hands and have used that for the bitcoin searches. The top 4 of the 5 stakes (ads) are purchased by them. This covers many of the common searches that users would perform.
How do you stake?
Okay so now you've got the basics of what staking is, now how do we stake?
When you are on the Presearch site you can click on the KS part of their page, at the top right of the screen there's a few options. One of them being Keyword Staking. If you click on that, it brings you to the screen that is (2) images above then see the "Staking Dashboard." Once you are there, you will get your balances. Tokens already staked or tokens that are available. I didn't have any available so you go to "Transfer PRE" on the right and it asks you where you want to take the tokens from: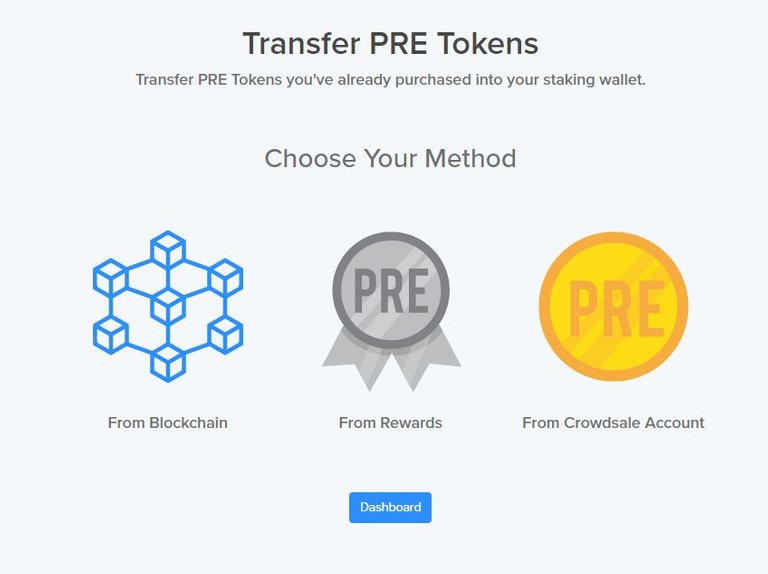 Now for me, I've only got rewards to stake so I would choose that: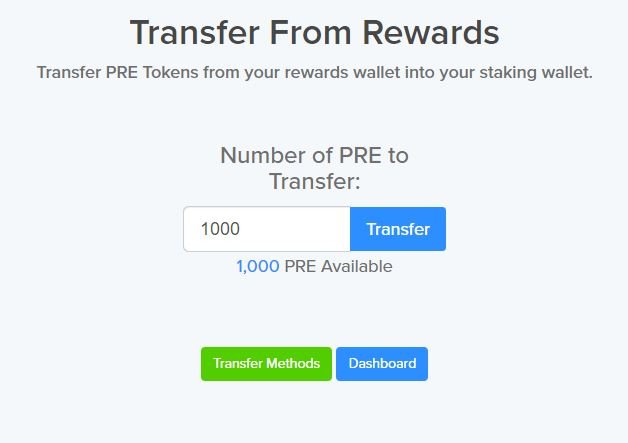 The minimum required PRE to stake a keyword is 1,000. Lucky me, I just recently hit 1k PRE tokens so I could start staking now. I could have abused their system and did spam searches but I'm not in it to game the system and ruin it for others so I haven't done that.
Future of searches?
The great part about this is that you can drive traffic to your website or platform for users who actively use the Presearch platform. There are approximately 300k monthly active users of Presearch with over 1.3 million accounts created with the service. That's a pretty good amount of people considering the crypto world! source With ads, of course, there is never a guarantee that users will click on them but there are some people who would. Given the technologically advanced nature of blockchain and the space, the ads could be a pretty substantial way to drive traffic and revenue for platforms and users looking for more exposure.
The bad part about this is that those with lots of money would be able to control it. If there are people with lots of stake they can add it to a term they would like and specify their website for users to go to. If I happened to have 1,300,001 PRE tokens, I could out-bid the Kraken folks and I would then control the advertisement that shows up when users type in a bitcoin search in the Presearch site. There can obviously be issues with that bidding war but that's what happens in a free market situation. I can outbid someone but they can turn around and outbid me back. It depends on how much you want to risk in order to get visibility for what you want.

As you can see, the Steem platform isn't well represented with the Presearch crowd yet. I've been working on it though with repetitive searches for steem, steempeak and others related to the space. It doesn't make much of a dent but I think it's improved it at least a little bit, I've been getting more results over the past few months that the algorithm thinks is related which is cool. I technically have just enough stake in order to stake one of them, so I may end up staking the term Steem just for fun to point people to my little blog!
What do you think? Useful or another feature to be lost in the fog?
Let me know what you think of this concept. It's actually very new, I'm surprised I found out about it as quickly as I did. I normally am late to the party when learning about things like this but they started talking about this and rolled it out in January, so a couple weeks in is a record for me!
One of the other things that I really like about Presearch and after reading it, it makes sense, is that it's so far predominantly used by those in Central and Latin America given their difficult financial situations, people are turning to the stability and improvement of cryptocurrency for support in such difficult financial times. That makes me want to use the service even more, to help them expand and give much better opportunities to our friends in those regions! source
I routinely update my signature with each post to reflect how much money my small Presearch holdings have been, as reflected in Coin Gecko. I will say that during the past few months, my holdings have been mere pennies when the prices were so low. The PRE value was an all-time low at .0005 in July 2019, I was still an active user, and is currently sitting at .039 per PRE. Over time, my account was worth a few pennies to a dollar or two but now that things seem to be improving and especially with this new advertising method they've got, I really think that the PRE token will be an important and valuable token to have in the coming future. My account is now worth 39$, the most it's ever been! All of that was gained from just searching the internet through their website, I didn't invest anything except my own time.
If you do sign up, please use my referral link if you wouldn't mind:
https://www.presearch.org/signup?rid=513043
It benefits me of course, but it will also benefit you, you will start out with 25 PRE tokens as a promotional offer for signing up instead of starting out with 0 since you clicked on my referral. If you create an account by going to just their website, you start out with 0 tokens. Referrals and word of mouth between people are how this awesome service has spread so much in the relative short amount of time since they started.
One of my friends signed up the other day and got the 25 promo PRE, so it works! As you can see though, no one that used my link has been active lol oh well.
As with anything crypto, none of what I am saying is financial guidance/advice, just what my ideas and thoughts are and you don't have to follow anything I say.
To visit their website you can go to either:
www.presearch.org where you can use the service itself
or
www.presearch.io to find out about them, read their Whitepaper among other things
Connect with me!
Did you enjoy this post or my other posts? Please consider following me for more! @cmplxty or https://steempeak.com/@cmplxty
Do you want to get paid, in crypto, for searching the internet? Try using and signing up for Presearch to earn some great crypto! I've currently got 1005 PRE tokens, with a market value of $39.39. It doesn't sound like a lot but when you search using sites like Google you get paid $0! Join Presearch to break Google's stranglehold on the internet searches. If you'd like to sign up, use my referral link below and spread the word!
https://www.presearch.org/signup?rid=513043
Still using Steemit.com? Upgrade! Steempeak is a much better user-interface, gives loads more information at your fingertips and has some great developers behind it. Give it a try, go to www.steampeak.com and see how much easier it is. You just need to use Steem Connect, one of the most secure ways to log into other Steem frontends.