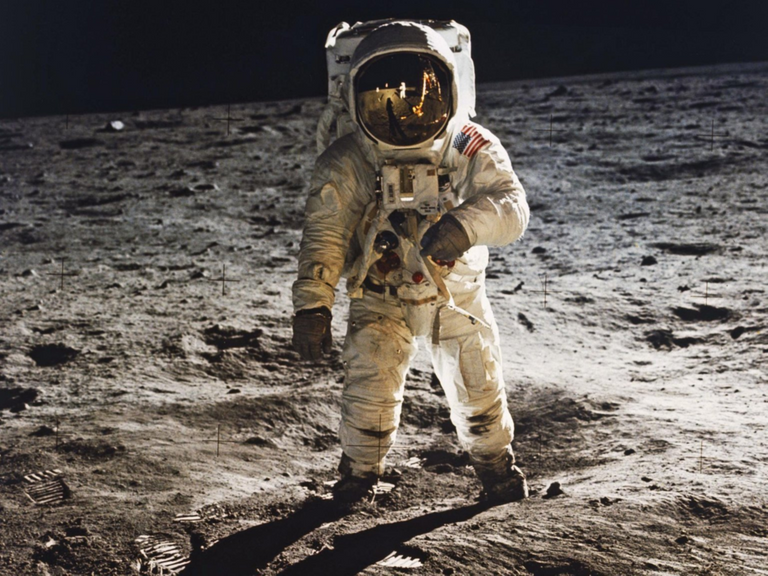 ---
Hello,
50 years ago this famous photo has been shot. It is not Neil Armstrong like many think he is, but Buzz Aldrin as Neil was doing the photo and can be seen in the helmet.
The space race was harsh, with a lot of loses on the two competing sides, the USA and the USSR. Some say it is all a faux, but think about it, this two powers could not make such an agreement, the tensions have been to high between them and they needed this trophy of the moon landing. Unmanned have been the Soviets first, manned the US with the Apollo 11 crew.
There is a joke about this race and the proof about it:
The Soviets landed first on the moon and they wanted to mark it, so they painted the moon red. The US would not accept it so they wrote Coca-Cola on the red background.
---
The flat-earthers and moon landing deniers argue we did not fly after for 50 years or so. The reason is easy, it is very expensive and the space race was over with the Apollo program, where Apollo 11, 12, 14, 15, 16 and 17 managed to land and Apollo 13 had it's technical issues but managed to be the deepest human flight into space.
At that time the maximum was achieved with those technical possibilities. Imagine that the whole project had less computing power than your smartphone..
---
We see now a new interest on flying to the moon. It is merely economically driven. Yes I did say before it was expensive and states did not want to spend money on it, but now in the search of rare metals for those smartphones we need new material sources and the nearest object in space is the moon. It might not have any of the materials we search, but it is a good practice to exercise landing on foreign objects.
---
I'm happy that the new space race has started as like this humanity has a chance in the future. As you know, there is the Fermi Paradox that will eventually hit us. Not today, but in the future, so we need to prepare for it.
---
The Apollo 11 and 17 missions brought some rocks from the moon, which have been donated to the 135 countries and 50 USA states existing at the moment.
Due to the human nature some of the rocks have been stolen or sold by corrupt politicians. The countries that have lost their rocks are: Afghanistan, Cyprus, Honduras, Ireland, Libya, Malta, Nicaragua, Romania and Spain. This as a fun fact. Also there is a detective who is searching for the this rocks.
---
Why I write about it? Because I think it was one of the most important steps for humanity. We need to focus on science as only by this our life can improve and by science I don't mean smartphones.
Happy birthday Moon Landing!!!