However, I did not know that Graphene blockchains use a Pos/PBFT hybrid. Are you sure about that? Do they gather two quorums? Is there a view change algorithm?
right, no not POS/PBFT thats the point! The POS in dPOS is not the same as POS in Proof-of-Stake or Proof-of-Work (which is POS), which both are no consensus algorithms but ways to ship around the FLP-Impossibility theorem.
Besides the function of leader election oracle and Sybil-resistance mechanism and incentive-estimator both are clocks in the first place. Instead of time Nakamoto-Consensus uses entropy of the memory-less Hashfunktion. This is why we have synchronicity assumption in an open hence asynchronous network. One does not simply assume synchronicity. Same goes for POS
the POS in dPOS is just Sybil-resistance mechanism. Not more not less. Not related to "real" POS. The hybridization I refer to is that Steem can additionaly incorporate a Proof-of-Work sheme (which it had until 2017).
Additionally, there are already protocols that scale traditional consensus linearly (HotStuff, Byzcoin, etc) that could scale easily too much bigger numbers of witnesses.
yeah or like Tendermint BFT but they are asynchronous? As far as I have understood the point with "Larimer-Consensus" is that it sacrifices open consesus setup for the property of "pending"-state in the case that the correctness of the algorithm gets violated.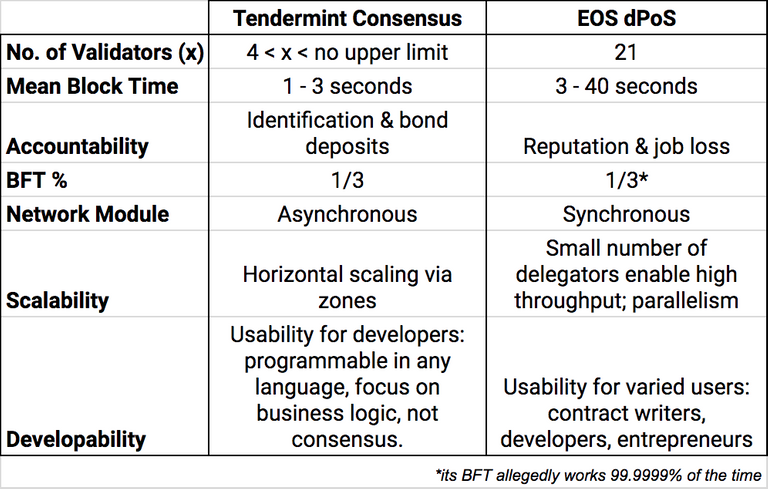 and that it has no 100% finality but an probabilistic escape hedge like the lasvegas algorithms.