The harmattan season comes with its advantages and disadvantages but in this post, I would like to talk about one effect of harmattan that discomforts many a whole lot. The Harmattan season takes its turn between the late November and mid March period. More so, this season comes with dry and dusty wind blowing from the Sahara desertRef.. It is in this season that common cold and catarrh is usually rampant.
---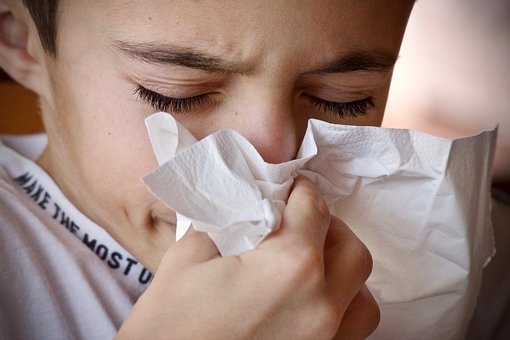 Pixabay
This dry and dusty wind when inhaled results in various health issues such as sneezing and catarrh. Catarrh is simply the accumulation of mucus in the nose which could result in breathing difficulties, headaches, drowsiness, coughs etc (taking my experience as a case study). Technically, catarrh could be said to be the inflammation or build-up of the mucous membranes in one's body's airway or cavityref.. Whatever the case, this condition is always undesirable as it usually results in running nose, facial pain, blocked throat, reduced sense of taste and smell.
However, catarrh occurs as a result of a reaction between the immune system of a person with an irritation or infection. Also, catarrh is caused by the inhalation of dusty air and hence, one should always try to prevent himself from taking it in. Although catarrh can be treated, it is usually a great nuisance. Below are certain tips on how to combat catarrh:
Drink Warm Water: Catarrh can be worsened when one's body system lacks water or is dehydrated. So, warm water comes to be very handy in getting rid of the catarrh sickness. Not just water but warm water as it has the capacity to break the cohesive forces in the mucus thereby loosening the mucus.

Avoiding Smoky Places: The moment you have been tackled with this irritating condition, do well to avoid smoky places as those smokes can only trigger the catarrh the more.

Employ the use of saline water rinse.

Another useful way is the inhalation of steam. Put hot water in a container, cover your head with a towel then place your face on the container and begin inhaling the heat. This will help a great deal in loosening the mucus.

Visit a doctor if the condition persists.
---
Real-life Case
For the past days, I have been battling with this disease called catarrh. I believe I became a victim of it when I exposed myself to this dusty and dry wind. From the excretion of mucus, I began to have headaches and coughs as well. Also, I lacked the ability to feel the taste of whatever entered my mouth. I can attest to the fact that catarrh is quite irritating and everyone should try to avoid it.
The above measures proved to be useful to me together with other curative studies. I believe if one faced with this sickness employs the above listed measures, it will give a good result. But in cases where it persists, one should always visit a doctor for help.
---
References