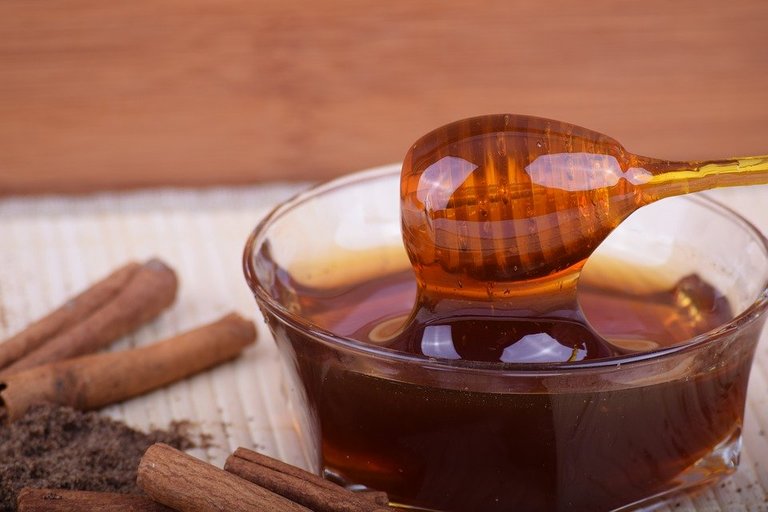 By ExplorerBob on pixabay.com
---
Maybe you read the title and immediately knew what this post will be about. Most likely, you do not.
After my last post about Apis mellifera, @gandalf sent me a picture of the bee he had been feeding - with some honey. The image alarmed me, but he reassured me that the beekeeper he got it from was trustworthy and the bee wasn't in any danger.
What's the problem with feeding bees honey, you ask?
Foulbrood.

Foulbrood is a disease that causes beehives to collapse. In the picture above, you can see the typical pattern of an infected hive, with dark, infected larvae next to the white, healthy ones, and sunken in caps.
Actually, it's two diseases, European and American foulbrood, but the effect is roughly the same. The bees die as larvae, inside the hive, and turn into smelly goo.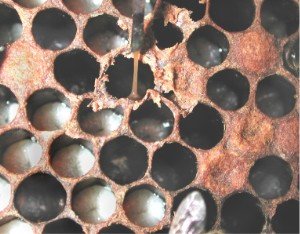 wikipedia.org: Cuadro con Loque americana by user "Pollinator"
Let's have a closer look at those two very similar diseases, shall we?

European Foulbrood1

European foulbrood is caused by the bacterium Melissococcus plutonius and affects very young larvae, usually 4-5 days old. That means an infected adult bee does not actually die, it only carries the bacterium into the hive and transmits it to the offspring.
There doesn't have to be a lot of bacteria to kill the larva, which makes it so dangerous. The infection starts in the gut, where the bacteria multiply. Finally, the larvae die, turn from white to yellow to brown and then start decomposing.
If the process happens before the cell in which the larva develops is sealed (they stay open for a few days and are then closed with wax), the dead larva is removed by the bees. If not, the cap starts sinking in after the larva died.

American Foulbrood2

European foulbrood is already pretty bad, but American foulbrood is even worse. Why?
The bacteria causing this version of foulbrood are called Paenibacillus larvae and it can do something that's very bad for the bees (and the beekeepers trying to get rid of it): It can form spores.
Bacteria that form spores can basically go into a sort of "hibernation", during which it is very difficult to kill them. And these spores? They can survive for decades and are highly infectious.
Again, the infection is only dangerous to larvae, not to adult bees, and it's most dangerous during the early stages, about 12-36 hours after egg hatching.
So, how many spores does a larva need to ingest to be fatally infected? 100? 1000? No. It can be 10 spores or even fewer.
How fast the infection kills depends on the genotype of the bacterium, as there are four genetically slightly different versions: ERIC I, II, II, and IV.
II-IV kill fast, usually within 7 days. ERIC I takes around 12 days.
At first, you might think that "slow killing" makes ERIC I less dangerous, but it's the opposite! When the larvae die so slowly, worker bees close the cells without noticing something is wrong, allowing the disease to potentially spread. If the larvae die faster, the worker bees can clean up the mess and potentially prevent a further spread.@suesa

How to treat it 3,4

Burn. That. Shit.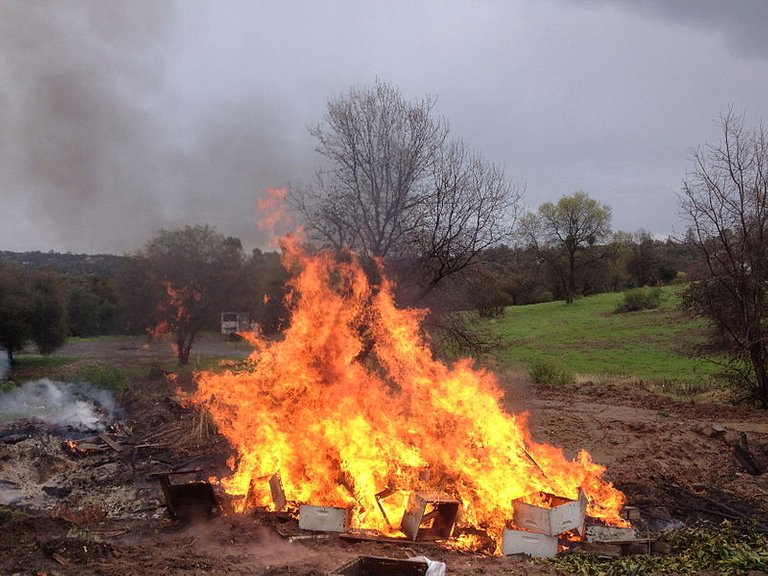 Wikipedia.org: Foul Brood Beehives by user Jrmgkia
Okay, it doesn't necessarily have to be that drastic.
If the infection with European foulbrood is not that extreme, the hive can either be treated with antibiotics are the "Shook Swarm Procedure" can be used. This procedure basically means that you first get everything clean (don't touch clean hives with infected gloves), set up a new hive (clean equipment!) and literally shake the bees off into the new hive.
The old frames are then destroyed (preferably burnt) and the hive treated with antibiotics. It's a bit stressfull but effective.
If 50% or more of the hive are visibly infected, everything has to be destroyed.
American foulbrood can also be dealt with by using the "Shook Swarm Procedure", but it's even more important to ensure everything is clean. Remember, those spores can last decades!
There are countries that require you to just burn the whole hive, because the danger of transmission is too big.

But what's with the honey?

Spores. They're in the honey.5
Of course, not all honey you buy has American foulbrood spores. And even if, they're not dangerous to you. There are potentially Clostridium botulinum in it that are dangerous for very small children, but in general, honey is relatively safe for human consumption.
The problem is, you do not know where that honey is from. You do not know how careful the beekeeper was. You do not know if there are spores in there, that could wreack havoc on a whole hive.
You just don't know.
So if you encounter a tired bee that you really want to help, get out some sugar water.
Don't feed it honey, if you don't know 100% that it's safe and you won't eradicate someone's colony.
---
Sources:
1European foulbrood in honey bees
2American Foulbrood in honeybees and its causative agent, Paenibacillus larvae
3The Control of European Foulbrood
4Diagnosing and Treating American Foulbrood in Honey Bee Colonies
5American Foulbrood
---
---
---
Signature by @atopy