---
Improving STEM communication, one blog post at a time
---
Often, those with the greatest knowledge lack incentive to communicate their work to mainstream audiences by themselves. This puts the world's truths in the hands of mainstream journalists hungry to get attention through sensationalism and misleading clickbait, ultimately forcing us all to accept the status quo (the era of 'fake news').
Journalism worldwide, however, suffers from a significant lack of trust (see here). At the same time, 'over half (57%) of the world's population don't think they know much – if anything – about science (see here).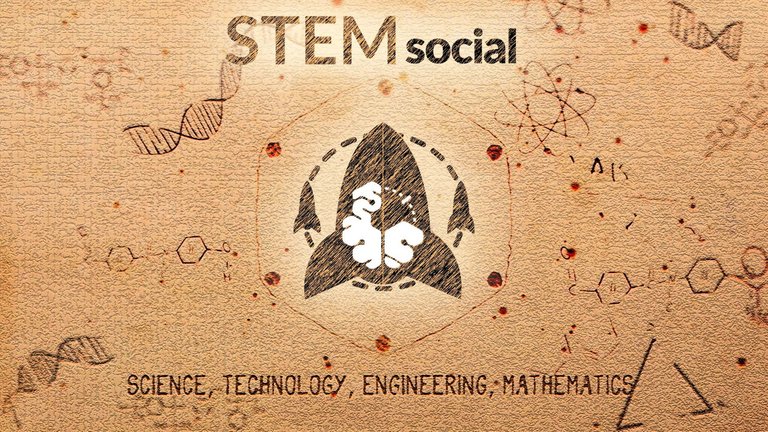 [image credits: @glass.wolf]
STEMsocial aims to help remedy this by removing the need to trust third-parties who may suffer from bias and the need to fill a quota. We provide a new space where experts and passionate STEM hobbyists can freely express their knowledge in a social media environment actively promoting honest, reliable and high-quality content - where it can be freely accessed, discussed and critiqued..
In other words, STEMsocial aims at the development of a science communication platform on Hive for both experts and passionate STEM hobbyists. They will be supported based on fact-checking and reliable sourcing, ensuring any publications are not misleading or dishonest. And the best part? The Hive community get the final say.
Our vision includes a direct approach to those with the greatest knowledge of STEM topics in order to bring them to Hive to create content about their work, discuss the work of others or provide high-quality material that cannot be found anywhere else online. With that in mind, we have been working on bringing those at the source of the best scientific content of the planet to Hive.
This requires, as one of the first steps on this path, the development of an application allowing us to filter the blockchain content to facilitate the discovery of the articles of the largest calibre.
---
About the proposal
---
This proposal is related to open-source software. STEMsocial currently develops its own app, that is suitable for its goals (see below). The app is available from Github.
The proposal is moreover connect to Hive advocacy and marketing: STEMsocial aims at on-boarding those with the greatest STEM knowledge worldwide (i.e. researchers actively involved in groundbreaking science) to use Hive for communicating about their work. This will bring content of such a calibre that anyone may search for it on the web, and that could even bring more users by their impressive nature.
Principals: STEMsocial is managed by @lemouth and @mobbs for almost 4 years. @lemouth is professor at Sorbonne Université (Paris) and is a researcher in theoretical particle and astroparticle physics (CERN, dark matter, etc.). @mobbs is writer, composer and educator by trade, as well as a science autodidact with focus on biology and phylogenetics.
---
Funding details
---
The larger chunk of the costs is expected to be the development of the STEMsocial app in which many functionalities are still missing. To name a few (see below for a more detailed list), we can mention a better post editor, the rewriting of the routing (cf. SEO), efficiency, a better user profile page, etc, as well as a merchandise shop and other means to make the project self-sustainable.
The costs include not only some compensation for the technical work (@lemouth) and related discussions (@mobbs), i.e. not a salary as this would be much higher, as well as a designer fee (@glass.wolf).
Whilst the app gets completed, we will in parallel get prepared to contact press offices of top-notch STEM places worldwide through the production of advertisement material for Hive and STEMsocial. Spreading the material through our targeted audience will happen online and offline (direct contact), although trips worldwide are not on the list anymore due to the unknowns related to the current COVID-19 situation.
In the future, with the project scaling up, we may need to rely on our own servers. This is not included in the proposal as too premature. We may also be self-sustainable by then.
---
Costs by milestone
---
Three years ago, we hired some developers to design this app. The lack of funding however forced us to continue this app-development journey by ourselves since late 2018. Our code is now maintained during our free time, as fast as we can (which means sometimes quite slowly, unfortunately).
With the help of the DHF, we apply for support so that we could dedicate more time to the development of the STEMsocial app and potentially hire some external help. We ask for 120 HBD/day until the end of the next academic year.
Except for the work already done, we effectively plan to compensate the work done through a flat rate of $20/hour. This is by far not a salary, but a compensation (we do not aim to "hire" people). The funds will be managed from a dedicated account, @stemsocial-dev, on a weekly basis, and will allow us to work during a year on our app at a better pace, implementing new features, improving the existing ones and fixing issues.
The planned work can be broken down as:
October 2018 - May 2020

Compensation for all developments and work done so far, relevant for the current version of the app. [$5k]
Designer fee for our graphical designer. [$2k]

June 2020

Finalisation of the planned developments for the 2020-Q2 period: creation of a homemade post editor (including some management for the post drafts), Steem(STEM) cleaning, integration of other tags/communities, maintenance and bug fixing.
Design discussions.
Preparation of monthly STEMsocial live events (online seminar for the general audience)

July - December 2020

Improvement the SEO (possibly migrating from Blaze to Vue), routing, profile pages (replies, comments, posts, notifications, etc, user admin panel), a better wallet and curator tools. In other words, getting an MVP version of the app.
We aim at making the app mobile friendly, with an improved style.
Adding important Hive functionalities (witnesses, proposals, etc.).
Integrating hivemind where useful; improve the app efficiency.
Creation of STEMsocial (and therefore Hive) promotion material.
Getting a list with targeted audience and charities; design of potential business avenues.
Starting our monthly live events series, and advertising it to the greater web.

January 2021 - July 2021

Finalisation of the STEMsocial app v1.0, focusing in particular on the development of revenue-generating features.
Marketing targeting big institutes, known STEM bloggers.
Continuation of the seminar programme.
The currently requested amount is probably larger than needed. This will allow us for some flexibility, extend the proposal time frame if needed and eventually return the unused funds to the DHF if relevant. We will refine the calendar with the time passing.
---
Updates
---
---
The future
---
Do you think we can bring value to Hive? If yes, supporting this proposal is a way to support our vision and help us to speed up the current tasks. If you want to have a word about it with us, do not hesitate to reach us out on Discord or the Hive Chat.
You can vote for this proposal:
PS: This article has been formatted for the stem.openhive.network front-end. Please see here for a better reading.