Little more than one year ago I bought 3kW solar panels from Steem earnings, one year and three months exactly ago solar panels powered by steem. On grid solar system means that you don't have batteries to store the extra energy produced from solar panels, instead the energy goes directly into electrical grid with end result of reducing your electrical bill.
In first three months I had a faulty model that was replaced believe it or not 4 times before the company that installed them realized they were selling top garbage, if you come upon Aunisol solar inverter models just run. Those three months were painful to experience, I almost regretted why I bought the whole system, but luckily it got better.
Next inverter model SolarMax 3000S which they installed soon after now works without faults for more than one year. In that time solar panels produced 4700 kWh of electricity, reducing my overall electricity bill by around 80%. During peak sunny days panels can produce 20 kWh per day while my household spends around 10-15 kWh, of course when winter months come you can only produce around 4 kWh per day give or take.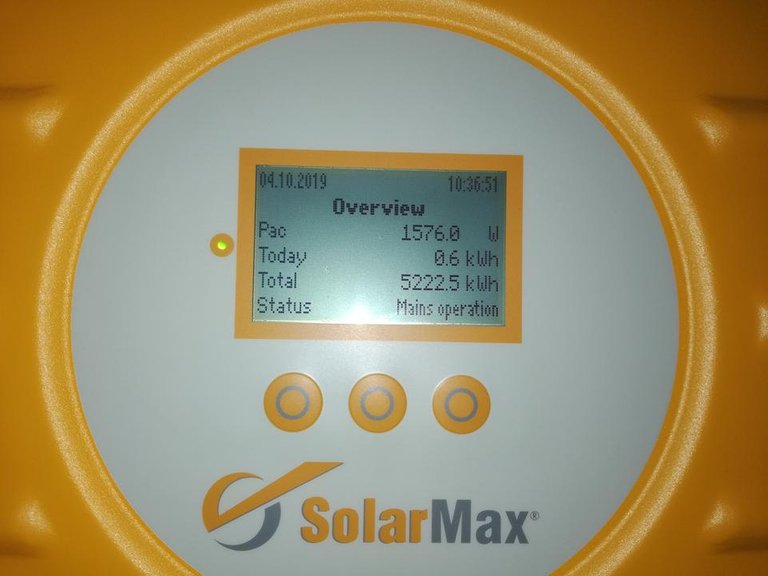 When I calculate my whole year of electricity spent, with 3kW solar panels I spend a little more than panels can produce. That is why on grid system is a good solution if you want to go solar, off grid systems can hardly work on big houses with a lot of machinery and people around. Off grid systems are good if you have a small house and low power usage tech, air conditioner for example and even hair dryer can cripple your batteries, you would constantly need to care how much you spend.
Here on Adriatic coast where I live we have a lot of sunny days, so it is not a bad idea if you live here to buy some solar panels if you have extra cash for it. If you have a big house go with on grid system, it will cost you less than off grid and you won't need to worry if your batteries are low. On grid solar system has some issues as well, of course when electricity goes off, if grid goes down due to some bad weather or maintenance you can't produce anything, inverter just shuts down. Inverter can also get noisy because it has fans to cool it down during hot hours.
My end goal is to have an electric car which I can charge from my home, I used to have a dream to buy Tesla Model 3, but with European prices of that car it will be hard to reach that goal. It's actually 15k $ more expensive than in US. Would be doable if I sold my Steem when it was above 5$ :) Well, that ship has sailed now. At least I made one good choice one year ago by buying solar panels.