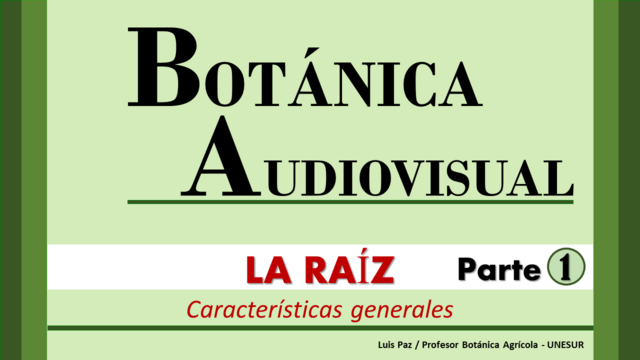 ---
¡Saludos estimados amigos, seguidores e integrantes! de la plataforma Steem.
Sirva la entrega, para retomar los aportes sobre BOTÁNICA AUDIOVISUAL,en esta oportunidad daremos inicio al Volumen 2, segmento dónde se describirá en detalle la morfología de la raíz, en el caso de este primer número, desarrollaremos lo relacionado a las características generales de la raíz como órgano vegetal. En el video, además de las características que exhibe la raíz, también se detalla cada una de las partes que la constituyen desde el punto de vista morfológico, entre estas; cofia o caliptra, zona de crecimiento, zona pilífera, zona de ramificación, y cuello.
---
REFERENCIAS BIBLIOGRÁFICAS CONSULTADAS:
---
[1] Lindorf H., Parisca L., Rodríguez P. Botánica clasificación, estructura y reproducción. Universidad Central de Venezuela. UCV. Colecciones Ciencias Biológicas. Caracas. 2006;584.
[2] Font Q. Diccionario de Botánica. Editorial Labor, S.A. 2012;1243.
[3] Schlichting C., and Levin D. Phenotypic plasticity: an evolving plant character. Biological Journal of the Linnean Society. 1986;29:37-47.
---

---
▶️ YouTube