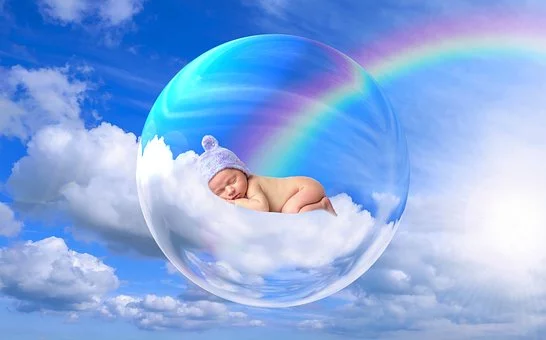 Pixabay
I adapt my post on one journey for a child whose French version can be found
here
.

July 2011
As expected, I hadn't slept a wink all night, too excited, stressed and impatient at the same time.
The day was going to be a trying one.
I left the house at about 5:00 a.m. to go to Bastia - Poretta airport, this time accompanied by my husband, to take the first flight to Marseille where a taxi was waiting for us.
Arriving in Marseille around 9 am and the appointment being only at 2 pm, it's on the old port that he dropped us off to enjoy a good breakfast on the terrace of a bar and relax while waiting for the time.
It was in fact difficult to take advantage of the moment and my husband being of a sickly punctuality, it's finally around 10 am that we set out to join the subway which would take us in all at most fifteen minutes to the hospital of Conception.
Once there and even though we were very early, I preferred to go directly to the PMA consultation because I suspected that there would be a minimum of administrative procedures to accomplish.
The secretariat told me that I had to go to another building specifically to the maternity consultations in order to register. It was probably a small detail that most of them would not have paid attention to, but it made me feel an indescribable anxiety in a second.
I'm going to have to go and register in the maternity consultations, no, but there's going to be lots of pregnant women there!
At that time, I admit I had a really hard time meeting a pregnant woman.
Once I arrived in the building, it was in a large hall that the waiting was done after having collected a ticket that indicated that there were no less than thirty people before me.
My doubts were confirmed, they were all pregnant, all with huge bellies and in fact everyone outside of me was pregnant...
I had tried to reason with myself but it was uncontrollable and it made me feel very guilty. How could I, with a kind nature like mine, come to have such negative feelings when I saw a pregnant woman? The worst thing was that as time went on, it got worse and worse.
Once the labels are in hand, it's quiet that we go back to a Chinese restaurant just opposite the hospital to enjoy this special day and wait for the time of the consultation.
It was 1:45 p.m. when I handed the labels to the secretary of the PMA who was going to create a file, our file, with all the necessary administrative information. After checking our National Identity Card, she invited us to sit in the waiting room. There were only two women in all and I suddenly felt relieved at the idea of not having to wait too long for the consultation.
"Mr. and Mrs...
— Yes, yes."
The doctor, a woman in her late sixties, invited us to sit down. The atmosphere was heavy, the office without natural light, very messy and all this mixture contributed to give a gloomy side to the consultation."
She asked me to explain what brought us to the PMA consultation. I was sure that we were going to get this question because I was unfortunately starting to have some experience, and I had prepared a "little summary" to be sure with the stress, not to forget anything. There were now eighteen years of history to be sifted through.
After taking at most ten minutes to tell all this, trying to be clear and not to let my emotions overwhelm me too much, she answered me with total disinterest:
"Have you informed the Paris hospital?"
If I could have been completely honest and natural I would have been more willing to answer him,
"but you didn't listen to me at all?
I have just told you that after our first consultation in Paris, which was just an information consultation, we had discovered during the blood test, my husband's illness and that we had stopped everything. So if you'd just paid me a little attention, you would have had your answer. I didn't need to cancel in Paris and for good reason I never confirmed!"
Instead, after turning my tongue in my mouth seven times, as my grandmother had taught me so well, I answered "yes".
The fact that she nodded confirmed to me, if proof were needed, that she really didn't listen to me very much.
She then asked me if I had the medical files and seemed surprised when I handed her our voluminous pouches. She took the time to consult the documents and, despite the fact that I had an ultrasound scan of less than a week in my file, wanted to do one more. Of course, as with the previous ones, they put a lead on my ovaries and for good reason, with my menopause already well advanced, they became more and more discreet.
She obviously did not notice anything more, new or less than what actually seemed to show a menopause.
After explaining to us that in addition to the file I had just given her, she needed two or three more little things, she told us the process and the deadlines.
On the functioning, I was surprised by the existence of a commission where the files were studied. She did not say any more about its interest nor its importance, but I understood that it was an obligatory passage and that the next one would take place in a little more than a month.
As for the deadline for receiving a donation, since we had a donor, we had to wait a year.
Wow, even if it was still long, it was 1/3 less time than in Paris two years ago. I was over the moon.
We had agreed not to tell the doctor that we didn't have a donor at the moment.
By the time we get everything in place and especially find our fairy, I will probably be so busy that maybe I won't see the time go by.
This was the spirit I had put myself in to make the wait less painful.
This appointment had given me hope, I had stars in my eyes and I told myself that with this state of mind, it would be less complicated to find a donor.
We now had a single priority, a single goal, a thought that haunted my days and nights,
find my fairy.
The very next day, after a well-deserved sleep in, I called my cousin Marjorie to tell her all about it and especially to get some advice on how she would proceed if she were in my place.
Of our conservation, I remember:
that I had to consider that in asking my family, my friends, what the answer might be, no! and that she didn't think I could hear and "take" that answer,
that it seemed to her that it was "simpler" to appeal to strangers leaving why not offer financial compensation.
I couldn't wait for my husband to come home so that we could decide how we were going to proceed, and finally take action.

You will have to wait for the rest, hoping that you enjoyed it, allowed you to reflect, and especially to learn more about medically assisted reproduction with oocyte donation.
See you soon.

If you missed the first parts:
One journey for a child #1
One journey for a child #2
One journey for a child #3
One journey for a child #4
One journey for a child #5
One journey for a child #6
To go further, here are some articles that I have selected with great care, unfortunately they are all in French because they are important posts for which I can't find an equivalent in English :


To support me, don't hesitate to use my referral links