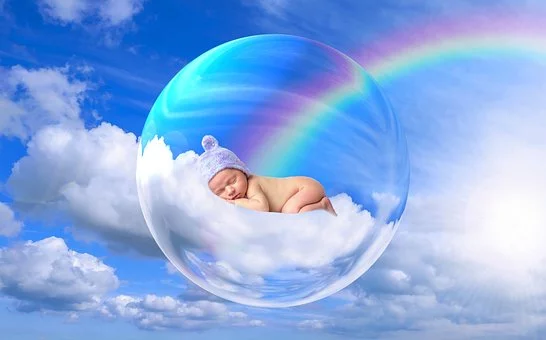 Pixabay
I adapt my post on one journey for a child whose French version can be found
here
.

I immediately understood from the blood test that my husband was sick. In accordance with his request (which of course I respect and understand) I will not tell you more about his illness.
One thing was certain, "his days were perhaps counted" so it seemed obvious to me, even if it was extremely painful, that it was necessary to put my desire to have a child "in brackets".
This interminable interlude had lasted about two years, at the end of which, after two successive therapeutic failures, he had made the expression that says lie,
never two without three.
We would have had to wait another two years to be sure of remission, but it was too much to "ask me". I had to fight again, there was not a second left to lose I was already 36 years old and my husband 43.
The next day, I looked at my to do list, which I had left aside, as if suspended in time. The first thing we had to do was to get closer to the High Court. This process, which was supposed to be only a formality, was for me the first obstacle in our fighter's path.
I had to get an appointment with the president of the court who was to collect our joint statement of consent to medically assisted reproduction with a third-party donor. I had already taken care to gather all the documents that were necessary.
I will just quote a few passages from the text that legislates in this area:
Who should I contact?
You must express your consent before the president of the High Court of the place of your residence or the place of the embryo storage centre if you reside abroad.
What are the consequences of your consent with regard to parentage?
Consent given to medically assisted procreation with a third party donor is governed by the rules of traditional filiation with regard to parents. The filiation will be established exactly as if the third party had not intervened. No filiation relationship can be established between the donor and the child. Consent to medically assisted procreation prohibits any action for liability and any action "for the purpose of establishing or contesting parentage" unless it is claimed that the child is not the result of medically assisted procreation or the consent is ineffective. […]
Source Reproductive Medical Assistance Center - Nimes Hospital Center (This text is only available in French because it is French law.)
"So far, nothing complicated! Objective of the day: to get an appointment".
I mentioned earlier that a number of documents were needed. Everything had been very simple to gather apart from the certificate of medically assisted procreation doctor in Paris because the exchanges had to take place by mail so it took a little time.
The documents to be attached to your request:
Reminder: these documents are essential to the processing of your file. You must ensure that the president of the High Court has all the necessary supporting documents. The latter may require you to provide additional supporting documents. [...] a copy of the document previously prepared by your practitioner.
Reminder: this procedure is completely confidential and no documents will be disclosed to third parties.
Come on, I'll go ahead, I'll go, I'll call and make the appointment.
"Hello, I'm undergoing medically assisted procreation and as part of an oocyte donation, I would like to make an appointment with the President.
— I'm sorry, didn't I understand correctly?"
Just after hanging up, I told myself that she really didn't understand anything at my request, yet I didn't feel like I was speaking "Chinese". She was supposed to check with the President and she'd keep me informed.
A few days later, she called me back to tell me that I had to send all the documents she was going to tell me and that after that I would receive a letter with a date for this interview.
I only listened in half because I had already gathered all the necessary documents and I just told him that I would come tomorrow to hand-deliver them to him.
I don't know why at that time, I had a feeling, an intuition that told me that it wasn't going to be easy. A few days later, I received a letter from the court.
I was so excited, it was fast.
I opened the envelope in less than a second, and without reading the contents I immediately searched for the date. No date, there was no date....
I remember telling my husband,
"It starts well, it's not possible everything is always complicated, eyes already filled with tears.
— Calm down, explain to me what's going on?
— the President wants more details on the doctor's medical certificate, in particular the causes that lead me to resort to oocyte donation.
— Well, you see, it's simple, don't get all worked up, just call Paris."
I hadn't answered him anything, but I understood that my intuition was confirmed. What was supposed to be a formality started off rather badly.
I also immediately understood that this was not going to be easy for several reasons. First of all, it was going to be a little long because once again the exchanges were going to have to be done by mail. Secondly, I am very familiar with the medical and judicial "environments". The doctor had necessarily filled in the certificate correctly because it is his daily life and I was far from being the first to have to benefit from an oocyte donation! More precisely, there were 190 children born in France thanks to this technique, 190 children, who would probably not have been born without it.
On the other hand, I doubted that this type of procedure would be very common for a President of TGI, moreover in Bastia.
Finally, I don't know if you remember, but the medically assisted procreation doctor was not at all "convenient" and I suspected that she would not respond favourably to this request, obviously due to medical confidentiality.
My intuition became a reality when I received the mail. I hadn't been too shaken because I suspected it. She replied in substance, that she had nothing more to say to a presiding judge of a regional court for the simple reason that she was subject to professional secrecy.
Well, I then decided to go with my husband without even warning of our coming, hoping secretly to be able to convince the secretary to come to me and even more ideally to speak with the President.
I had gone through all the emotional states in that narrow office where I felt oppressed.
We had not been able to convince them to just apply the law, their law. Worse still, the President had not even denied leaving his office for a few seconds to have the courage to look at me between the eyes and explain to me why he was doing this.
It is empty and without any real solution that we leave the courtroom. It was without counting on my determination and obstinacy. I had a fight to fight and it certainly wasn't going to be an obstacle. I was convinced that there was no point in insisting, we would not succeed. He was going to use and abuse his power and it was a foregone conclusion.
While searching on the internet, I quickly understood that we had a second choice. Instead of the court, I could approach a notary, it was the same, or at least I mean, the result would be the same.
On the other hand, of course, this process was not free of charge. So I called a notary to obtain the rate for this type of deed. You can imagine that once again the secretary had understood nothing of what I asked her. She told me that she would call me back when she knew the rate. It still took two days to tell me that it would be 2000 € and give me lots of details to justify this price. I had almost smiled at him to hear this justification. There was almost nothing to do at most a twenty-minute interview if it is done conscientiously five minutes if it is sloppy!
Well, if we didn't have a choice it would be the notary (I had taken care to get other quotes) but it bothers me to give such a large sum to get around the stupid and mean President. And then I thought I was going to try one last thing before "giving in to the easy way". I was going to reread meticulously the notice I told you about earlier, in particular the passage "who to contact". Fortunately for us, it was not the same as it is today. And in particular this passage,
You must express your consent before the president of the High Court of the place where you are resident.
At the time, there was no notion of place of residence. So, neither one nor two, I had snuck into the rift and I thought I had found the solution!
I was going to go around the obstacle and make an appointment with the President of the Ajaccio High Court (there are only two courts in Corsica), and in addition, it will give us a ride and change our minds a little.
The appointment was arranged very quickly and believe it or not, we didn't even have to send the documents. The President had made me tell the secretary that I only had to hand them in on D-Day.
Yeah, it was almost won, I had achieved my goals without wasting too much energy.
It's off to Ajaccio, it's interview day, I'm looking forward to it and I'm stressed,
I really hope it will go well, that it doesn't make us travel and drive five hours to do something I was supposed to be able to do five minutes from home.
The appointment went very well and everything was fine, I could check on my to do list this first step as validated.
We had met an extraordinary man in an office whose overloaded decoration had just come out of a museum. The President was a colourful character with a three-piece suit that looked many years old from the cut and a very large hat that gave him a very nice look. He does his job perfectly by explaining everything in detail and even beyond, wishing us every success in having a baby. He was full of empathy, caring.
He had finished the interview with his words:
"I ask you not to "brag" to the Bastia High Court of Justice that you won your case in Ajaccio.
— No worries, of course, I promise."
In truth, I had considered sending him a sacrosanct letter about my way of thinking, but I did not do anything about it because I had promised.
As a second step, I chose to go to the laboratories to analyze in order to carry out the long blood test to which we had to submit.


You will have to wait for the rest, hoping that you enjoyed it, allowed you to reflect, and especially to learn more about medically assisted reproduction with oocyte donation.
See you soon.

If you missed the first parts:
One journey for a child #1
One journey for a child #2
One journey for a child #3
One journey for a child #4