Greetings friends and followers of my oil engineering blog.
Giving continuity to my series of topics related to petroleum engineering and the oil industry in general, I bring you another important topic for the discussion and understanding of all interested parties, following a very brief introduction of the topic in question:

Introduction
All workover and repair activities include those operations aimed at reactivating a well that has lost its production capacity. These activities are complemented with repair activities, mainly to solve some damages in its completion and also to carry out the replacement of other tools that will help us to increase the production of each well.
How can you define the repair activities of an petroleum well?
The activities of repairing and reconditioning a well can be said to be those activities that contemplate a set of knowledge and skills to be able to repair a well that is potentially weakened in order to remain active in terms of production.
In these activities it is very common to lower steel cables, extract production pipes, extract suction rods, among others. Generally speaking, the operations in which it is necessary to enter a well to carry out corrective activities are those carried out after the well has been drilled, completed and put into production.
Image source. Wikimedia Commons
In the previous image we can observe a well that is being repaired by means of cable operations, in this activity the skill of the engineer is very important in what concerns the control of the well, when I refer to the control of the well I refer to the control of the pressures to avoid a lunge of formation fluids.
The equipment used to carry out the cable repair operations must be capable of withstanding the expected well pressures.
When these types of repair activities are performed, there is a certain standardization in terms of the classification of the pressures that the equipment used in cable operations can withstand. Among these are: 5000, 10000 and 15000 pounds per square inch, some wells are contained with 20000 psi and equipment is also being developed to perform repairs can withstand pressures of up to 3000 psi.
Economic study to evaluate the possibility of well repair work
One of the main factors that influence whether or not a well is rehabilitated and repaired is its economics.
Depending on the estimated production rate of the well after rehabilitation, it is determined if a well deserves corrective work to repair or improve the production performance of the well, otherwise it may be possible to enter the well but with the intention of pumping a cement plug to cover it and abandon it.
If the well has sufficient petroleum production capacity, a corrective operation is usually carried out in case of failure. These works may vary from changing the existing completion of the well, removing an electro-submersible pump to lower a new one, replacing mechanical pumping, among other activities.
What problems can a well in full production have to be repaired?
When the well is in full production of oil it is normal that it begins to produce sand and water, however this production of sand and water is normal to a certain extent, once petroleum production is reduced by this production of sand and water is when it should be decided by the intervention of the well and perform the respective activities of repair so that there is a control not only in the production of sand, but also a control in the production of water and gas.
As you can imagine, when a well is in full production of oil it needs the correct coordination and function of a set of equipment and elements that contribute to the correct production of oil, however time is an influential factor in the wear and tear of this equipment, causing mechanical problems that must be solved.
In order to repair a subsoil equipment, it is necessary to enter in the control of the well and repair the equipment that specifically is damaged, it is important to be clear and understood which is the equipment that presents failures, so that in this way there are no economic losses in a second entrance to the well.
Many times a certain well is running correctly as far as its production is concerned, however the occasion may arise when you want to increase production, this increase in production is another reason why the well should be reconditioned.
For this case it would not be a repair, since there is no mechanical failure in the subsoil equipment, but then we would be talking about a readjustment of the original conditions of the well, all with the intention of increasing its production.
There can be many more reasons to decide to overhaul a well in full production to raise production, or otherwise you can also repair any failure to maintain or raise production of it, however the reasons why the whole of engineers in production decide to enter a well and perform such activities will depend on the needs and interest of the moment.
Rehabilitation or repair of more common wells
Before naming and explaining the most common well refurbishment and repair work, It is necessary to reflect on the ability of engineering to possess the necessary logistics and equipment that are capable of carrying out repair work either onshore or offshore. For this I want to show you the following image, which illustrates the well intervention vessel Skandi Constructor, which has the logistical capacity and equipment necessary to repair and condition offshore wells.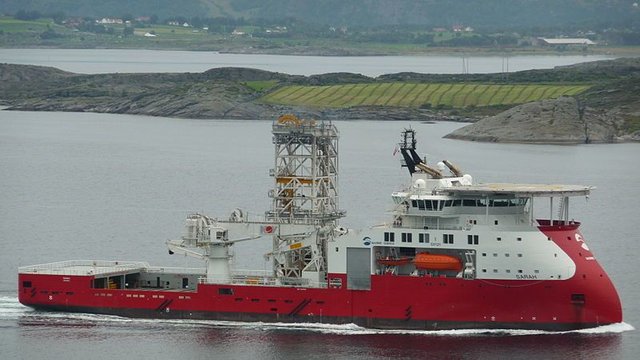 Image source. Wikimedia Commons
[1] Well repair work with Coiled tubing: In the petroleum industry, when wells are repaired or operated using this technique, reference is made to working with a very long type of metal pipe that can be wound on a very large reel.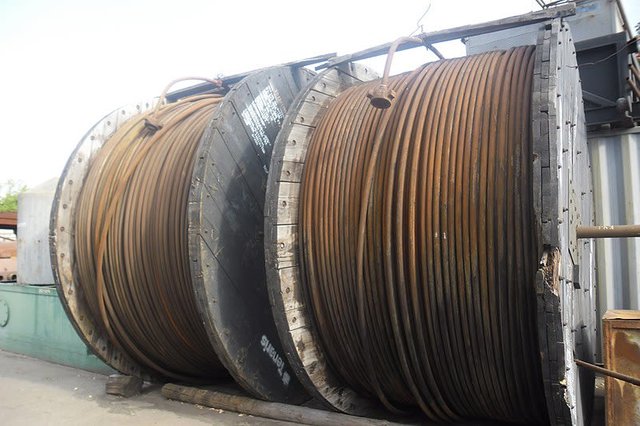 Image source. Wikimedia Commons
The advantage of repairing and/or refurbishing wells with this equipment is that any type of chemical can be pumped through the coil, while the displacement capacity is optimized as a result of the same pumping, that is to say, there is no need to depend on gravity for the displacement of fluids to be pumped into the well. The pumping can be quite autonomous, almost a closed system, since the tube is continuous instead of an articulated tube.
[2] Well repair work with Snubbing: Snubbing repair operations consist of repairing the well with heavy equipment, With this equipment you can run with bottom assembly (BHA) with a pipe chain using a hydraulic repair platform.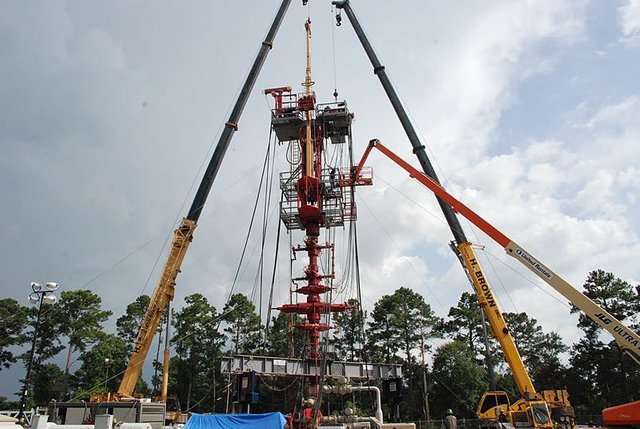 Image source. Wikimedia Commons
There is a marked difference of this technique that with those used using wire or spiral cables, the tube does not unwind from a drum, but forms and breaks as it enters and exits, like the conventional drill tube. It is of real importance to use this equipment, as it can support more weight than equipment with guava or coiled tubing.
Conclusion and final considerations
[1] Rehabilitation and repair activities are necessary above all to correct some element that hinders the normal functioning in the production of an oil well, especially considering that the useful life of a well is short and will always require repair and/or refurbishment in its lifetime, and should therefore be considered within the engineering and production programmes of a well.
[2] We must take into consideration various factors that are necessary to know the type of corrective work will be applied to a certain well, among these factors are: economic factors, hole geometry, among others, are elements that will determine the type of work to be performed.
[3] One of the considerations to be taken into account knowing the progress that has been made in engineering, and that together with the experiences in well rehabilitation and repair operations, is that even though a well has ceased production, it is necessary not to assume that the well has died, it is necessary to exhaust all possibilities, since there have been cases where a well assumed to be dead, some corrective activities have been carried out and has been produced again.
[4] When we perform the design and execution analyses of rehabilitation and repair of a well, we need to see it as a patient whose diagnosis will depend on medical examinations and presented symptoms, The correct medication and subsequent cure depend on it. When a well shows low productivity, it presents a series of symptoms, which, when correctly interpreted, gives us the correct choice of the type of corrective work or reconditioning to be applied in order to raise the production of the well.
References consulted and recommended
[2] Coiled tubing
[3] Snubbing
[4] Workover
---
"For all those who are passionate about mathematics, physics, chemistry, biology, education and engineering, I recommend the #steemstem label, it is a community that values quality intellectual and academic content, always preserving the originality of the publications, so it is recommended to all those friends of steemit who wish to publish using this label not to commit plagiarism."