Glucocorticoids are among the most widely prescribed drugs in the world. Applications for this class of drug have grown over the decades. So too has an awareness of the dangers they present...both to humans who take them, and to animals that absorb them because the drugs have leached into the environment.
Affected by Glucocorticoids in the Environment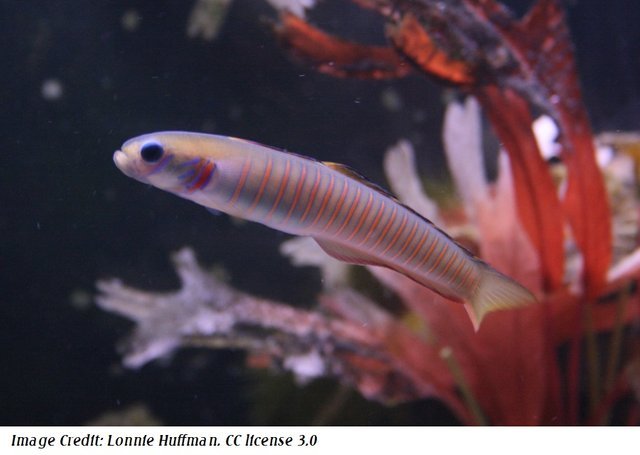 In a controlled study, five glucocorticoid formulations were introduced. Overall, some of the changes noted in the fish: liver chemistry, which influences circadian rhythm, glucose metabolism and immune response; the upregulation and down regulation of certain chemicals by the brain; decrease in the number of mature oocytes.


In 1948, cortisone was used successfully, for the first time, to treat a patient with rheumatoid arthritis.Today, the class of drugs to which cortisone belongs, glucocorticoids, has become the mainstay of treatment for between 56-68% of patients who have rheumatoid arthritis.
Glucocorticoids--GCs--are involved in a number of vital life processes. They help to control: metabolism, electrolyte balance, immune system function, mood stability, cognition, reproduction, cardiovascular system and growth. So, an excess or deficit of GCs can have a devastating effect on well-being, and even survival.

While GCs were first used to treat rheumatoid arthritis, it was discovered over time that they were powerful anti-inflammatories and could be helpful in a number of conditions. It is likely that readers of this post have used some form of GC. These medicines are prescribed to alleviate skin rashes, eye inflammation, asthma, bronchitis and a host of other maladies, including serious autoimmune diseases. GCs are even useful in the treatment of some cancers and, in certain circumstances, acute bouts of flu.




Undergo Changes Related to Glucocorticoid Exposure in Controlled Experiments
Decrease in the number of lymphocytes, plasma glucose increased, and female fish developed secondary sexual characteristics.


Glucocorticoids and the HPA Axis


The therapeutic effect of GCs resides in the role they play in what is known as the HPA Axis. This is a coordinated interaction between the hypothalamus, pituitary gland and adrenal glands.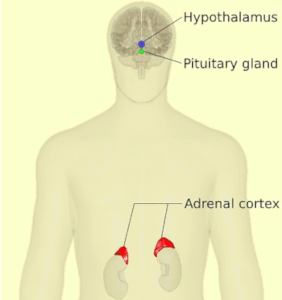 Anatomography CC2.1 Japan license
The hypothalamus receives a message that the body is under stress. The hypothalamus then releases a hormone, corticotropin-releasing hormone (CRH), and sends that hormone to the pituitary gland. The pituitary gland responds by releasing its own hormone, adrenocorticotropic hormone (ACTH). As this name suggests, ACTH is sent to the adrenal glands--two glands that sit on top of the kidneys.
ACTH instructs the adrenal glands to release cortisol--a powerful glucocorticoid. Cortisol goes to work on a number of body systems to deal with the stress condition. Some of the things that happen are: glucose levels are increased; blood pressure is increased; and blood glucose levels available to the brain are increased. The body is in alert status to deal with a stressful situation.
Brown Trout: Affected by Glucocorticoids in Controlled Experiments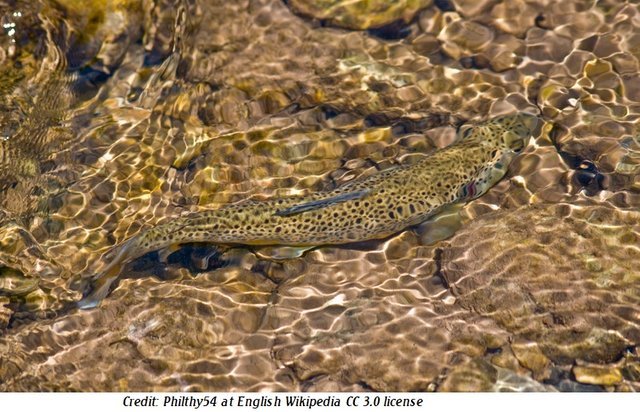 "... significant decrease in growth rate..." which varied with different levels of exposure.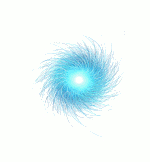 Turn It Off!!!
Because of all the changes instigated by release of cortisol, there has to be a point at which this accelerated flow of hormones stops. The signal to stop occurs when cortisol reaches a certain level in the bloodstream. The hypothalamus and the hippocampus receive this signal and begin to end the hormone surge.


Hippocampus (Marked in Red)


Cortisol is always present in the bloodstream of a healthy person. It is released in a steady daily rhythm, which peaks in early morning and wanes in the evening. In some conditions, there is too much cortisol...chronically stressed people, for example, may have elevated levels. And there are some conditions in which there is insufficient cortisol. This is the case in Addison's Disease. A deficiency also can result from long-term therapy with GCs.
Fish Get Stressed and Release Cortisol
It turns out, fish have a stress axis, also: the HPI axis. In this axis, the hypothalamus, pituitary gland and interrenal tissue coordinate to release cortisol when a fish is stressed. Recent research has shown that one way to assess long-term stress levels in fish is to measure the amount of cortisol that has accumulated in their scales.
As is true in mammals, cortisol plays a vital role in many life processes of fish.


HPI Axis in Fish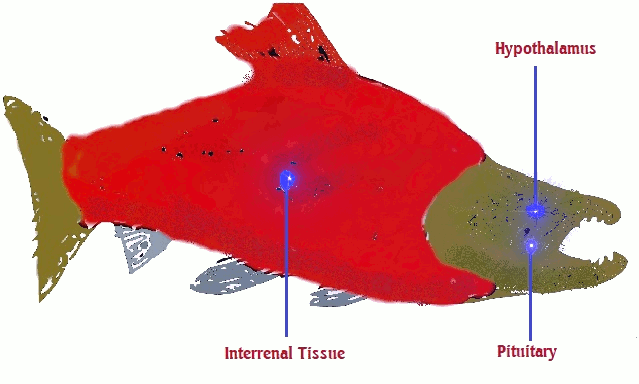 Salmon: research has shown that fluctuating levels of cortisol play a role in the life cycle of migrating salmon. Young salmon leaving spawning grounds show spikes in cortisol as they imprint their surroundings on their olfactory systems. It is essentially through their olfactory system that salmon will find they way back to the spawning grounds later in life.




Another example of cortisol in the fish life cycle may be seen in the bluebanded goby. Bluebanded gobies
mate in pairs.
The female lays the eggs and the male cares for them. Depending on circumstances, male can become female and female can become male. And, unlike many
sex-changing fish,
bluebanded goby sex transition can be bidirectional.
Cortisol plays a significant role in this transition. Higher levels of cortisol suppress feminization and enhance masculinization.
Bluebanded Goby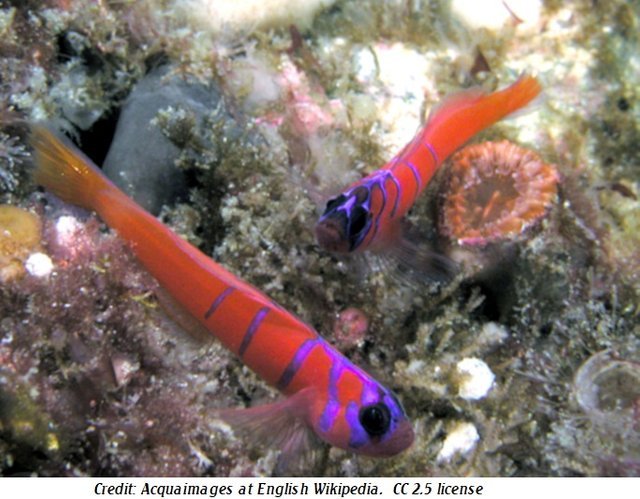 It is because GCs play a vital role in fish development and behavior, that scientists have been looking at the amount of these hormones present in water systems. For example, a 2007 study published in Environmental Science Technology reported that sewage discharge in China contained various concentrations of "prednisone, prednisolone, cortisone, cortisol, dexamethasone, and 6α-methylprednisolone"--all synthetic glucocorticoids.
Sewage Treatment Plant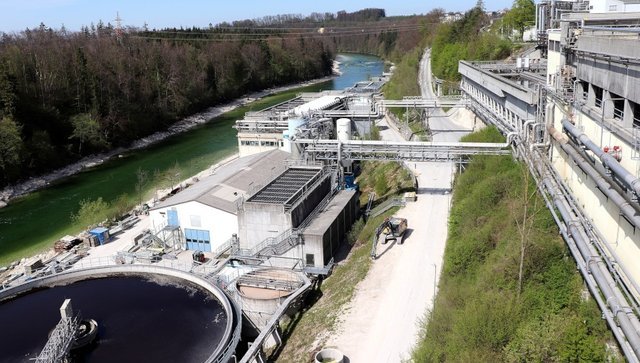 Another study, from the Netherlands, showed "...high glucocorticogenic activity in waste waters collected at various sites..."
And in yet another study, Japanese researchers found significant presence of glutococoricoids in effluence. Concentrations varied by season and/or water temperature.
In Summary
In 2012, Scientific Reports published a study that looked at glucocorticoids discharged into water systems. The findings of this study will serve as a summary for my blog. Researchers found:
..."previously unrecognized glucocorticoid activity in 27%, and androgen activity in 35% of tested water sources from 14 states in the US. Steroids of both classes impact body development, metabolism, and interfere with reproductive, endocrine, and immune systems. This prevalent contamination could negatively affect wildlife and human populations."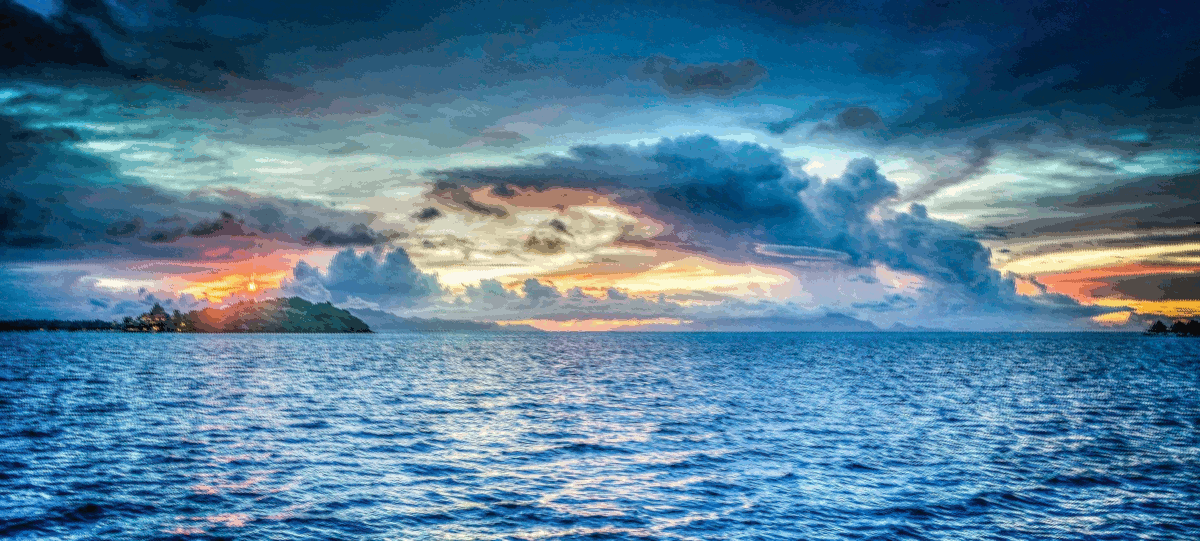 Thank you for reading my blog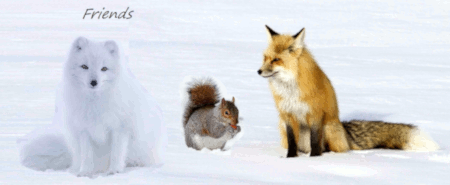 Steem On



Image Sources not Otherwise Credited
Fish Diagram:
Frontiers in Endocrinology
Sam Lin
Pixabay



Fish for GIFs

joakant on Pixabay



Pulsating light GIF darksouls on Pixabay



Sewage Treatment Plant
wafr onPixabay



End Picture, Seascape Bora Bora on Mariamichelle on Pixabay


Selected Sources Used in Writing This Blog