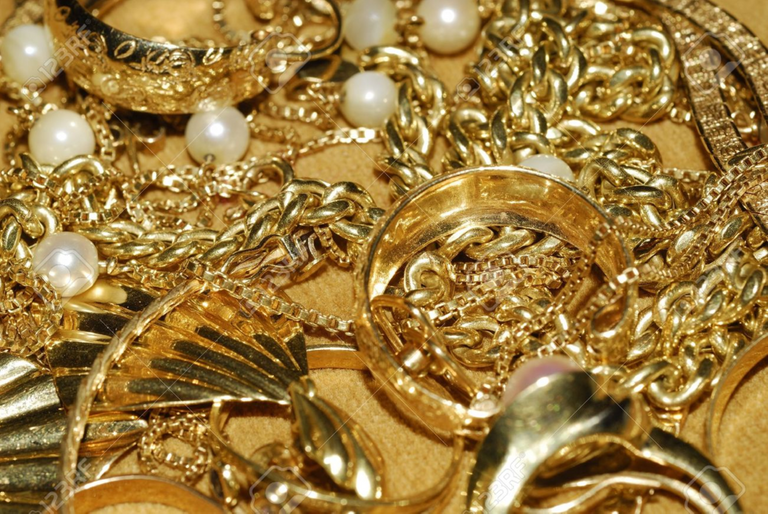 Hello again, I hope you had a great weekend. I want to start by saying I am not a big gold-bug and even less of a jewelry guy but I did want to go over the basics of gold fineness today. There are certainly others here that know much more about the subject and I would be happy to hear from them if I miss something. So without further ado let's look at a little bit about gold fineness.
Karat
There are a couple of different ways to measure the fineness of gold and today we will look at the karat (spelled with a "c" in Europe, I believe. Carat) system. Anyone that has bought gold jewelry will likely have heard this word used to describe the amount of gold in the jewelry but what does it actually mean?
The karat is a fractional measure of purity for gold alloys, in parts fine per 24 parts whole. 24-karat gold is pure or 24/24 parts gold, 18-karat gold is 18 parts gold, 6 parts another metal (forming an alloy with 75% gold), 12-karat gold is 12 parts gold, and so on.
The Math
You probably have this figured out already but just in case you are as "good" ;) at math as I am, here is the way to figure out how much gold is in that necklace you love.
If 24 is pure, or "whole" then just divide the karat of your gold jewelry by 24 so,
24k gold would be 24/24 = 100% or pure gold (minus .1% for impurities so, 99.9% pure in reality)
22k gold 22/24 = .916 or 91.6% gold
20k gold 20/24 = .833 or 83.3% gold
18k gold 18/24 = .75 or 75% gold
14k gold 14/24 = .583 or 58.3% gold
As you can see anything less than about 22k is pretty watered down so if you are looking at your gold jewelry as an investment keep this in mind. That is not to say that 18k jewelry is trash, it is just so far from pure that it is not good as an investment in general.
If you are interested in some "investment jewelry" check out Mene. They have some great stuff and it is all pure gold and platinum.
So there is a quick look at the karat system of measuring gold fineness. I hope this helps the next time you go to buy that perfect necklace for your loved one.