A new version of SteemPeak is now available. This release contains some changes to the Burm Promotion System and other minor improvements. Please keep in mind that the Burn Promotion System is still in the early stages and other changes can be applied in the coming days or weeks.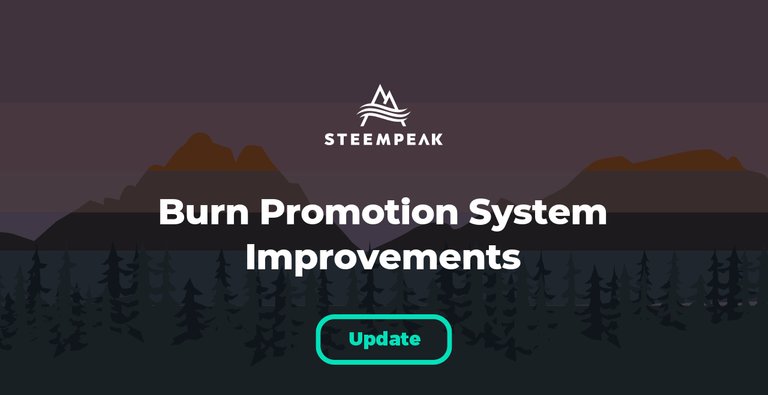 1. Burn Promotion System Improvements
During the past few days we received the first feedback from our users and we decided to do some changes that we hope will make the system much easier to use both for the promoter and the regular users.
This is a short recap of the changes introduced:
1. You can now select up to 5 topics for your promotion. The bonus multiplier used to compute the promotion score will be adjusted according to the number of selected tags:
   - 1 tag:  x10 bouns
   - 2 tags: x8.75 bonus
   - 3 tags: x7.5 bonus
   - 4 tags: x6.25 bonus
   - 5 tags: x5 bonus
  
2. To promote a post in the general category (visible in all topics) a 20% fee is required

3. A post promoted in the general category will be included in the top 30 posts only if the amount burnt is greater than 10 STEEM

4. Promoted posts can now be dismissed/hidden (similar to what's already available for featured posts)

This is the new Promotion page with the latest updates. Every detail should be included so you can easily know how yours promotion will be evaluated and the expected results.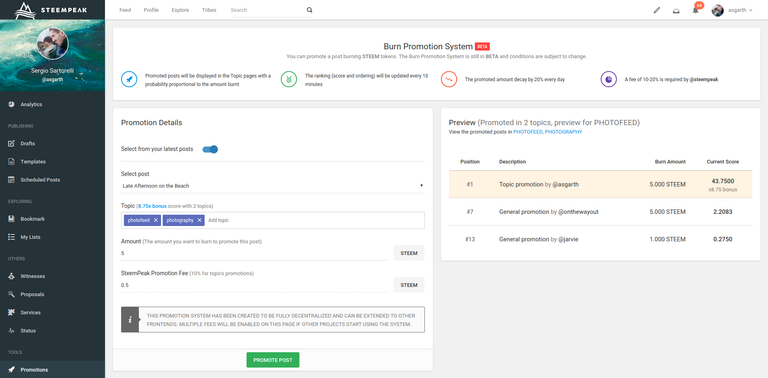 Also there is now an option to promote your post right from the Publish page (thanks to @cardboard for the suggestion).

2. Better integration with Scobot
The Feed page on the Tribes is now up to date with the latest API available in Scotbot and the load speed of tribes feed should be greatly improved.
This is the new API used to retrieve the feeds for a specific tribe:
http://scot-api.steem-engine.com/get_feed?tag=asgarth&token=PAL&limit=20

3. New Maintenance pages
I've also created some new pages that should be displayed when we are working on SteemPeak and the website is temporary in maintenance mode and not available.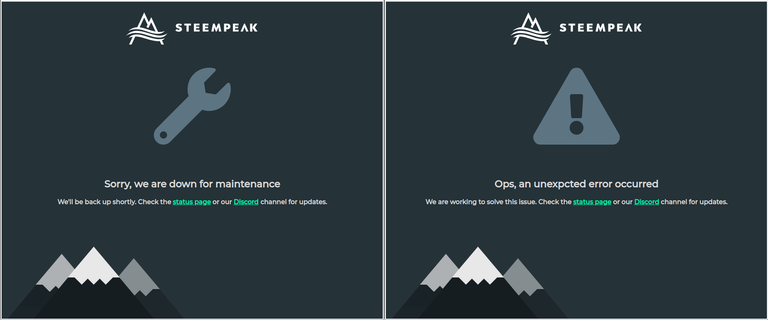 4. Some bug fixes and minor improvements
As always some minor fixes and improvements across the website ;)
---
Support the @steempeak witness/proposals
Now is probably a nice time to remind you of the ways you can support the development of @steempeak.
Recently we submitted a proposal to the Steem Proposals System (SPS). You can review the proposal here and directly on the proposal page.
If you agree to the proposal and you think the points mentioned add value to Steem consider supporting it using the above links or directly with this link.

---
We also run a witness server to help produce the blocks for the Steem Blockchain. You can vote for our witness so we are in a position to process more of them.
Vote on out profile page: @steempeak
Vote on the witness page: https://steempeak.com/witnesses

Using Keychain: You just have to click and approve the transaction
Using SteemConnect: You'll need access to confirm the transaction with your Active Key at least
---
The SteemPeak Team
About us: https://steempeak.com/about
Join us on Discord: https://discord.gg/6hCAcVp