A new version of SteemPeak is now available. With this release we started using the Global Blacklist API service provided by @themarkymark and also included some improvements to make it easier to search for posts ;)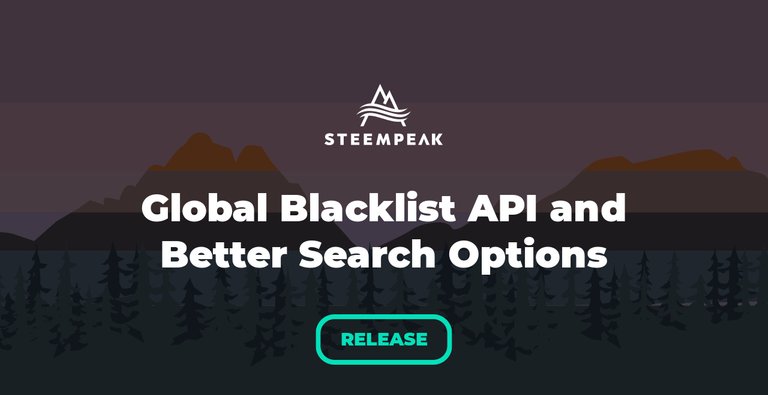 1. Global Blacklist API
With this release we are starting to integrate the blacklist services provided by @themarkymark. You can read more about the service here and here.
A quick preview of the warning included when an user is on one of the supported blacklists:
And the same warning on a post:

This is a free service available to everyone and integrated by other dApps too. If you want to support the project consider approving the corresponding proposal (on this page https://steempeak.com/proposals/themarkymark) or voting for @themarkymark as a witness (you can do this on his profile page).
---
If for some reason you prefer to disable this warning you'll be able to do it on your Settings page:

2. Easier access to post search
With the current release I revamped the search box available in the top bar to include posts too. The ability to search for posts has been introduced a while back (read more here) but until now it was only accessible on the search page (https://steempeak.com/search). With this release posts are included in the results provided when using the quick search bar.
A quick preview of the new panel:

3. Two new tribes
Two new tribes have been enabled: Steem San Diego and Nobel.

4. As always bug fixes and minor improvements
As always some new fixes are included and improvements to make the website better and faster ;)
---
Vote for the @steempeak witness
Now is probably a nice time to remind you that we run a witness server to help produce the blocks for the Steem Blockchain. You can vote for our witness so we are in a position to process more of them.
Vote on out profile page: @steempeak
Vote on the witness page: https://steempeak.com/witnesses


This works for all witnesses BTW
Using Keychain: You just have to click and approve the transaction
Using SteemConnect: You'll need access to confirm the transaction with your Active Key at least
---
The SteemPeak Team
About us: https://steempeak.com/about
Join us on Discord: https://discord.gg/6hCAcVp