A new version of SteemPeak is now available. A new 'status' page is now available and we included some improvements to increase the website stability in case the are issues with some API nodes.
---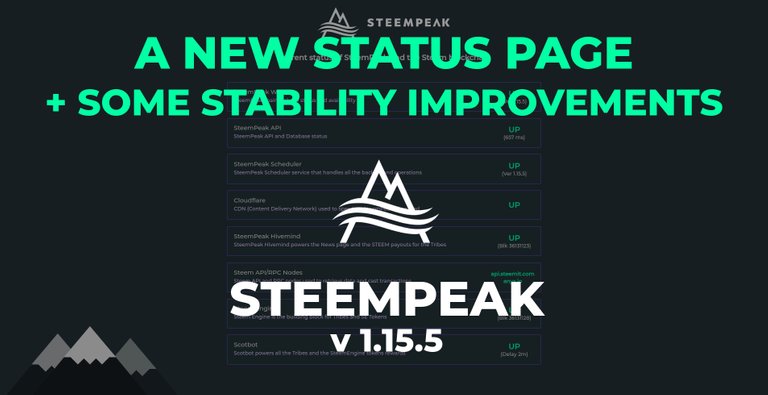 1. A new SteemPeak Status page
A new Status page is now online and can be used to monitor all the components/services required by steempeak.com (ironically the biggest feature of this new release is not really part of the main 'SteemPeak' application).
This is a very simple page hosted on a different service that will be online also when the main SteemPeak website is not available. The services checked are the main services used to power steempeak.com so it's a good place to check that everything is working as expected. As always feedback are welcome (we already received some great feedback in our Discord channel).
Check out the page directly or just have a look at the screenshot: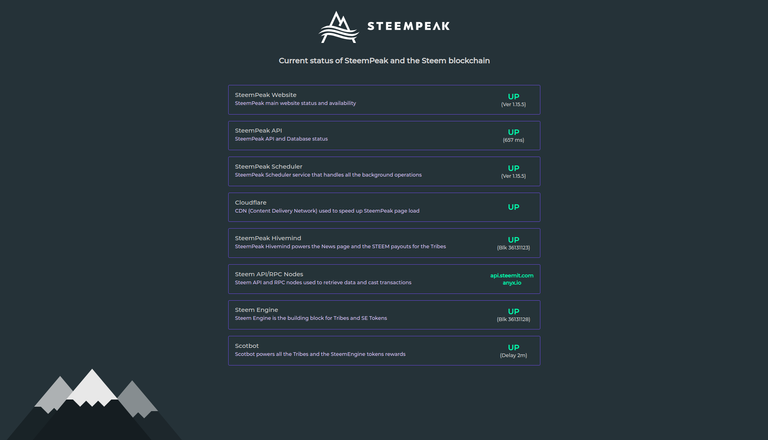 This page is still work in progress ...I (@asgarth) plan to do some improvements and share it as an open source project ;)
2. Some stability improvements
With this release there are some improvements to how the API nodes are selected and an option to force the use of a specific node if not all of them are working as expected.
3. Improvements in the Proposals page
The Proposals page have been redesigned a bit to help users find the proposals they are looking for. If you have not done so already check it out (https://steempeak.com/proposals). We also have a proposals submitted, feel free to support it at this link if you like the idea ;)
4. Two new tribes have been enabled
Also we have some new tribes: ReggaeSteem and Lago.

Full Release Note:
Other than the major changes described above there are other small fixes and improvements. This is the full list:
- New Status page available at https://status.steempeak.com
- Some stability improvements
- An option ot 'force' the API node used to fetch data
- Improvement on the Proposals page
- 2 new tribes: ReggaeSteem and Lago
- As always some minor bugfixes and improvements

---
Vote for the @steempeak witness
Now is probably a nice time to remind you that we run a witness server to help produce the blocks for the Steem Blockchain. You can vote for our witness so we are in a position to process more of them.
Vote on out profile page: @steempeak
Vote on the witness page: https://steempeak.com/witnesses


This works for all witnesses BTW
Using Keychain: You just have to click and approve the transaction
Using SteemConnect: You'll need access to confirm the transaction with your Active Key at least
---
The SteemPeak Team
About us: https://steempeak.com/about
Join us on Discord: https://discord.gg/6hCAcVp