A new version of SteemPeak is now available. This release is mostly focused on minor improvements and small fixes that I (@asgarth) wanted to publish before starting to work on a bigger release ;)
---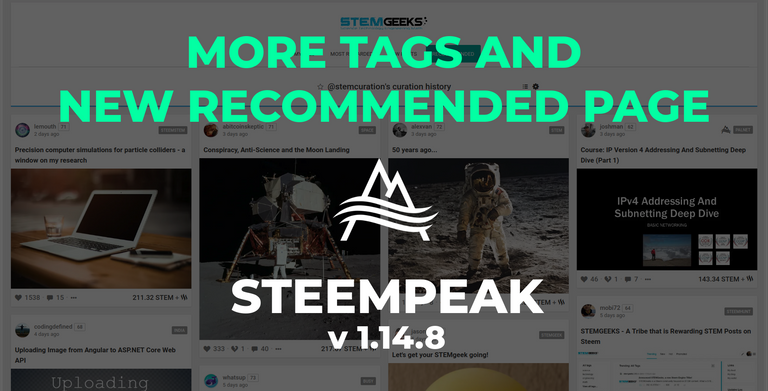 Also if this is a minor release we have some new features worth a small dedicated paragraph.
1. Allow more than 5 tags for posts
This have been requested by lot of users, so we increased the limit of tags allowed on a post to 10 (we can easily increase this again if required). Now should be easier to include all the tags for your favorite Tribes when publishing a new post.
Also the main tribe tags are always included in the suggestions and there is an indicator to easily find them. Once added to the list, tags tribes are highlighted to easily recognize them:

2. A new Recommended page with Tribe curated contents
Some Tribes created a curation account used to highlight and reward the best post in their community. This is in my opinion a great opportunity to easily show great contents relevant to the tribes itself.

To view these posts a new page is now available for the following tribes: STEMGeeks, Steemleo and Steemace. It's easy to add the same features to others, so let me know if there is an official account that upvote the best posts in one of the other tribes ;)
3. New Tribes
Both STEMGeeks and CreativeCoin have been added to the tribe list.
Full Release Note:
Other than the major changes described above there are other small fixes and improvements. This is the full list with the (hopefully correct) users who reported/suggested the each point:
- Allow up to 10 tags on new posts
- A new Recommended page for Tribes with a curation account
- Disable .gif preview on mobile when using the compact view
- Improve checks on permlink command in Publish
- Hide Steem Engine payout when the amount is ZERO (thanks @enforcer48)
- Fix witness button in the Support page (thanks @dimarss)
- Avoid translating Partiko referral link to SteemPeak (thanks @doggodfroglog)
- Handle SBD conversion requests with Keychain (thanks @thekittygirl)
- Fix an invalid link in the tribes page that prevent the post title to clicked (thanks @mattclarke)
- Add a check when leaving the Publish page with pending changes (thanks @josephsavage)
- Fix Keychain error in Firefox when publishing a post with beneficiaries (thanks @nealmcspadden)
- Improve post word counter to better handle MD/HTML tags (thanks @sjarvie5)
- As always some minor bugfixes and improvements

An huge thanks to @enforcer48, @dimarss, @doggodfroglog, @thekittygirl, @mattclarke, @josephsavage, @nealmcspadden, @sjarvie5 and all the others who constantly help us improving SteemPeak ;)
WITNESS
Now's probably a nice time to remind you that we run a witness server to help process the blocks for the Steem Blockchain. You can vote for our witness so we are in a position to process more of them.
Vote on out profile page: @steempeak
Vote on the witness page: https://steempeak.com/witnesses


This works for all witnesses BTW
Using Keychain: You just have to click and approve the transaction
Using SteemConnect: You'll need access to copy paste the Active Key at least
---
The SteemPeak Team
About us: https://steempeak.com/about
Join us on Discord: https://discord.gg/6hCAcVp